Shanwei Authorities Continue Arresting Villagers
December 24, 2005 12:00 am Last Updated: December 24, 2005 12:00 am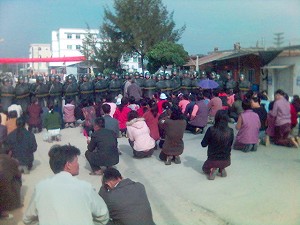 CHINA — Following the Chinese Communist Party's (CCP) continuous arrest of the villagers participating in defending their rights in the December 6 gory and sanguinary incident , it is estimated that over 200 Dongzhou villagers have been sent to exile. In some instances, most members of a family are exiled, leaving children alone at home. Dongzhou villagers are appealing to the international community to pressure the CCP to "Stop arresting people. Living like this is miserable! Please ask the United Nations to save us!"
At around 10pm on December 22 , the Dongzhou Village authority in Shanwei City lured into arrest two villagers, Huang Xishu and Gu Jiao, who had sneaked back to visit their families.
Holidays Used as Snare Tactic
December 23 is Winter Solstice and is the time of Winter Festival where many gather together and share the warmth and company of family. Villager Huang Xishu from Dongzhou No. 2 Village and Gu Jiao (by sound) from Dongzhou No. 3 Village, who had been in exile, came home for the festival to visit their families, but were arrested by Shanwei authority at around 10pm that day. According to sources, Huang Xishu was reported by someone, while Gu Jiao was lured by the village official.
According to a description by Mrs. Gu Jiao, the local police sent the former secretary of the village committee of CCP, Huang Xilai to talk to her, asking her to turn in her husband and talk with the government. Huang Xilai said that so long as Mr. Gu comes back the government would abolish the case and would definitely not arrest him. In the end, after Mr. Gu came back, he was taken away by Huang Xilai and has not returned home or been seen ever since. Gu's wife is worried and angry, and has tried many times to get the so-called "government constituent" to get her husband back. She said, "The government is scamming the villagers again!"
Over 40 Residents Missing
One villager told the reporter that the villagers who had been arrested known to her alone include village representatives Huang Junrang, Lin Hanru, Huang Xijun, Huang Xijun's elder brother Huang Junping and younger brother Huang Junran, and villagers Chen Zelong, Chen Jinsong, Chen Jinhe, Zhuo Lianfu, Chen Xiangjia, Wen Zhen (by sound), and many others whom she does not know. By now, there are still close to 200 villagers in exile. According to the villagers, among the team leaders of the work teams alone, over 40 people are missing. Huang Xi, who was arrested the night before, was one of them.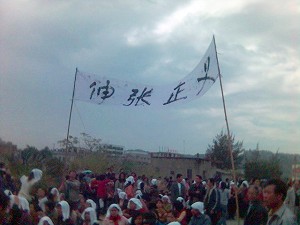 Recently, the Shanwei government adopted a policy of conciliation in Dongzhou village, and began to give out rice and offered to help the villagers pay for their medical insurance. However villagers did not buy it. One Dongzhou resident told the reporter that not many people went to get rice from the government, and they had never heard of medical insurance.
The New Year and Chinese Lunar New Year are approaching soon and many villagers will be mourning the death of their loved ones who've died in the "Shanwei Massacre", and will be missing those that are in hiding and fearing the worst if they are caught for having protested the illegal appropriation of land for the building of a power plant.
There was news that some of the villagers being arrested were beaten until they were vomiting blood. Close to 200 villagers, who are still in exile, do not dare to return home. The Dongzhou villagers continuously appealed to the reporter, "Save us. Ask the United Nation to save us!" "Do not arrest people any more. What a miserable life we lead!"
Related articles:
Massacre in China Draws Global Attention
Shanwei: Father Pleads Guilty For Son, Arrested Villagers Tortured
After Massacre Terror Continues in Chinese Village
Shanwei Shootings: Photos from Shanwei
Shanwei Shooting: Photo Gallery
Bloody Suppression of Farmers in Shanwei; 70 People Shot to Death by Police
Chinese Police Shoot Villagers, 33 Dead, Over 20 Missing
Video Link (Chinese)
Video Link (Chinese)
Video Link (Chinese)