Shanghai Women Have Hard Time Finding Home-Owning Husbands
March 2, 2006 12:00 am Last Updated: March 2, 2006 12:00 am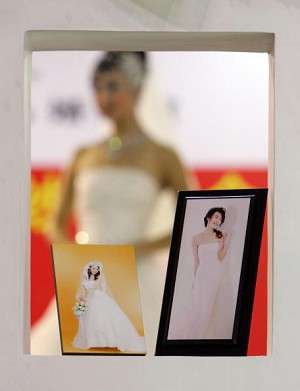 According to a survey of Shanghai residents, the number of females aged 25-40 does not exceed the number of males in the same age range. But in this group, it seems that Shanghai ladies have difficulty getting married, especially women who are educated, have a high social standing, a good income, are older, or are tall. These "high-end" women worry that they may never get married. Such objective factors as age, height, and education are the main criteria used to choose a partner. However, the standards have been raised to include occupation and living conditions, which makes it even harder for most women to find a potential husband.
According to a survey of nearly 600 male and female marriage-seekers, conducted by a marriage agency, "living in the husband's home" and "having a stable occupation" are two unchangeable preconditions for choosing a husband. They are at the top of the list.
The survey showed that the tradition of living in a home owned by the husband is still dominant. The eligible males who own their own homes or who have the ability to buy a house, are more in demand. The males who live with their parents or who want their wives to share the cost of buying a house are rejected by most Shanghai women.
The survey found that 92 percent of females require their men to own a house or to have the ability to buy a house. Thirty percent of the males surveyed would rather bear the burden of buying a house than live in a home owned by his wife.
The males surveyed said they look for females with occupations such as employees of foreign enterprises, teachers, healthcare workers or nurses, bank clerks, accountants, or government clerks. The female respondents required males who work in foreign enterprises, are government clerks, employees of financial companies, or who are professionals.
The requirement of only marrying a male with a post-secondary school education is also an important factor that makes it difficult for women in Shanghai to find a spouse. The survey showed that nearly 40 percent of Shanghai women require their spouses to have at least a Masters degree. On the other end of the scale, less than one percent of women would be content if their spouses had only a high school or college diploma.
Experts reported that universities in China have expanded their enrollments in recent years, which has resulted in a lot more educated women. Thus, highly qualified men are in short supply. Consequently, the experts surmise, the tradition of males surpassing females in education and income rules out any chance of the unqualified males falling in love, which reduces even further the choices of the "high-end" ladies .