A Shanghai man, 48-year old Duan Huiming, died from severe injuries received after he and other petitioners from Shanghai were intercepted by authorities. Duan Huiming died on January 2, 2006 at Shanghai Ruijing Hospital.
When his house was illegally demolished by Chinese authorities to make room for a new construction project, Duan Huiming went to Shanghai to petition.
On December 3, 2006, Duan Huiming and a dozen other Shanghai petitioners were dragged into a vehicle to be taken back to Shanghai by officials responsible for intercepting petitioners in front of Nong Ji Guest House at Qian Men in Beijing. In the vehicle, officials pushed and hit Duan Chunfang because of the seating arrangement; Duan Huiming was pushed off the vehicle when he tried to protect his younger sister.
Shanghai petitioner Wang Liqing said, "There were 12 officials beating up just one person (Huiming). They bashed him and kicked him with their shoes. He was beaten so badly that he was bleeding in the brain and from other organs."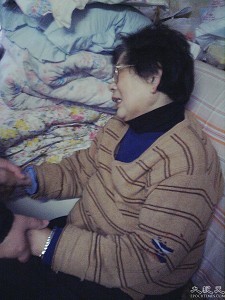 Throughout the incident, Section Chief Gao Weiguo was outside the vehicle and over 50 other Shanghai Municipal officials, policemen and special policemen were watching. Duan Huiming was beaten up with blood all over his body. Duan Chunfang was beaten up and suffered severe facial injuries. None of the officials tried to stop the beatings according to the petitioners.
Duan Chunfang confirmed that all those officials assigned to intercept petitioners are retired armed policemen or retired special policemen. They are just like joint defense forces that are hired by the Shanghai municipal government as officials for intercepting and beating up petitioners.
Duan Huiming was escorted back to Shanghai by the Shanghai government's intercepting officials on train No.1461. His head, chest and waist were injured very badly, with blood all over his body and he was unable to walk. The Shanghai Huangpu Sub-branch of the Police Station used the charge of "disturbing the peace" to detain him at the Huangpu Detention Center. On December 4, the authorities sentenced Duan Huiming to labor camp for one year and then they sent him in.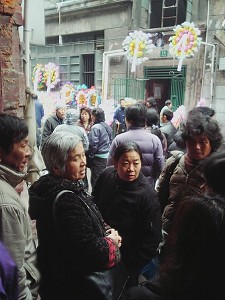 At the labor camp, on December 28, Duan Huiming suddenly passed out and he was sent to the Shanghai Ti Lan Qiao Hospital. The hospital immediately classified him as critically ill.
On December 31, policemen forcibly transferred Duan Huiming from the hospital to the Waitan Police Substation. Duan Huiming insisted on not leaving the police substation to go back home because he understood the authorities were trying to evade their responsibilities. He was immediately beaten up by four policemen including Jin, the Vice Bureau Chief of the police substation. Three policemen dragged Duan Huiming who already couldn't move out onto the street by force. Those policemen used a police car to take Duan Huiming to the front of his sister's home and then they left.
On December 31, family members took Duan Huiming to the Shanghai Municipal Government but they were ignored.
On January 1, 2007, policemen from the substation took Duan Huiming's family members and relatives to the Shanghai Municipal Government to ask the municipal government to pay for him to see a doctor.
The Shanghai Municipal Government Appeals Department decided to let the Jiao Hua Group offer 400,000 yuan (US $ 50,000) to Duan Huiming for his medical fee. After 5p.m. on January 1, policemen used police cars to take Duan Huiming to the Shanghai Ruijing Hospital.
Dun Chunfang said, "The physical exam by the hospital showed that all bodily indicators were below par. Doctors diagnosed that external force caused his chest blood vessels to be broken and bleeding severely; there was severe bleeding of the upper alimentary canal, critical chest injuries and bleeding on his back and kidney. A CT exam also showed that blood blocked the inside of his brain."
On the afternoon of January 2, at about 2:20 p.m., doctors in the emergency ward of the Shanghai Ruijing Hospital announced the death Duan Huiming after they unsuccessfully tried to resuscitate him.
A doctor from Ruijing Hospital cited "acute leukemia" as the cause of death on Duan Huiming's death certificate.
Over one hundred people daily have come to Duan's home to mourn for him since January 3. His family refused to sign to cremate the body; instead they requesting an autopsy be performed to determine the true cause of death. Other petitioners want to appeal for him and they also hope they can find an attorney to file a lawsuit. At present, Shanghai petitioners are collecting signatures. So far over 110 people have signed.