Shanghai Free Trade Zone: As Good as It Sounds?
September 24, 2013 7:11 pm Last Updated: September 25, 2013 12:47 pm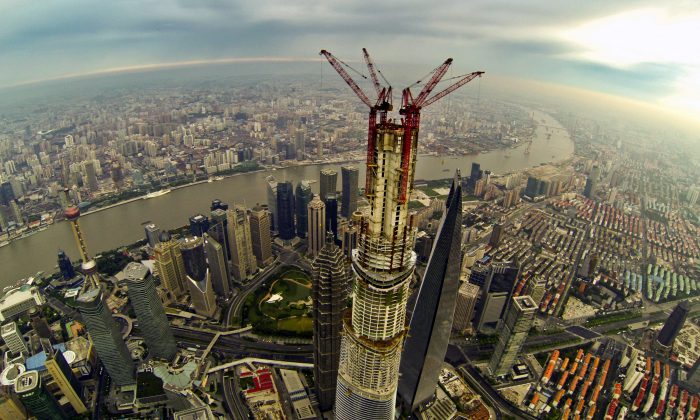 In Shanghai's newly created Free Trade Zone, free conversion of the Yuan is now possible, and banned websites such as Facebook and Twitter are being rehabilitated.
But don't get your hopes up for real economic or political change in China: While the Chinese authorities are trying to relax censorship and create a feeling of Hong Kong-like uniqueness, analysts worry that the project to be but a misguided policy that exacerbates financial woes and further encourages corrupt business.
The Free Trade Zone was launched in August by the Chinese State Council, the equivalent of the Communist Party's government cabinet. The 10 square mile area in Shanghai covers the Pudong district, the port of Yangshan, and an international airport. The regime hopes that removing import and export duties and liberalizing communications will attract foreign capital that would otherwise be directed towards Southeast Asia.
The South China Morning Post, a newspaper in Hong Kong, reported that according to a source in the communist regime, Chinese policymakers need to cater to an international audience in order to encourage investment from foreign firms.
"If they can't get onto Facebook or read The New York Times, they may naturally wonder how special the free trade zone is compared with the rest of China," the source said, according to the Post.
The announcement that banned sites would be permitted inside the zone provoked ire online. Beijing Cook, a popular netizen, wrote: "The Communist Party first deprived us of all our basic rights, calling it 'walking the socialist path.' Now, it gives the rights back to you in a developed coastal city, calling it adhering to 'reform and opening up.'"
Another poster, Xuxianqishilu, looked to an earlier historical era: "The Chinese government has made many claims to foreign audiences that China's Internet is free and open. This time it finally admitted that it uses censorship? The Shanghai Concession is coming back; the foreigners enjoy firewall-free browsing. Shall Chinese and dogs be granted use of the same online rights?"
The Shanghai International Concession of the late 19th and early 20th centuries was a result of treaties between Western powers and the ailing Chinese imperial court, and was widely seen to be unfair.
According to Chinese Premier Li Keqiang, the Free Trade Zone is meant as an economic experiment, for which "Shanghai has the requisite qualification and foundation."
"In order to face the challenge of the economic globalization, China should expand through institutional reform innovation. The regional Asia-Pacific headquarters of multinational companies should be invited to shift to China. This is a fleeting opportunity," Li said in a report by regime mouthpiece Xinhua.
But not all see the zone as a plus.
Cheng Xiaonong, a Chinese economist who used to edit the academic journal Modern China Studies, said that the idea that foreign investment will flood into China because of this zone is "outdated," and that a lot of money may actually be Chinese funds being taken out and then brought back into the country.
Cheng added that to prevent a flight of capital from other parts of China due to the free exchange of the yuan in the new zone, Chinese authorities have made a rule that companies registered in the Free Trade Zone cannot move their money into China, and vice versa.
Frank Xie, an economist who regularly comments in the overseas Chinese press, suggested that Chinese businessmen and their official enablers often have ways of circumventing such policies. The zone could, he said, open the door to increased corruption and rent-seeking behavior on the part of Party officials. If there was an exodus of domestic capital from elsewhere in China, it may exacerbate reserve shortages in state-owned banks and cause instability in China's financial system, he said.
"Making the Chinese currency fully convertible could help China better assimilate into the world economy, reduce trade friction, and ease Western concerns of currency manipulation, but this partial reform in the zone of only 10 square miles will not achieve that goal. Besides, the regime relies on control of the economy to maintain stability and their grasp on political power, so it's not likely that they will relinquish so much control over the economy by breaking up state monopolies," Xie told Epoch Times.
According to Chinese financial analyst Liao Shiming, while the developments in Shanghai pose an apparent threat to Hong Kong's position as an economic stronghold, as long as the city can maintain its independent legal system and freedom, Shanghai will not be able to overtake Hong Kong as China's top financial center even in 30 years.
Frank Xie took up the same question in an article in New Epoch Weekly, a partner publication of Epoch Times. "If Li Keqiang's 'reform" does not ensure social justice and sound rule of law, but ignores freedom of the press and expression, the Chinese economic system will prove hypocritical and even damaging."