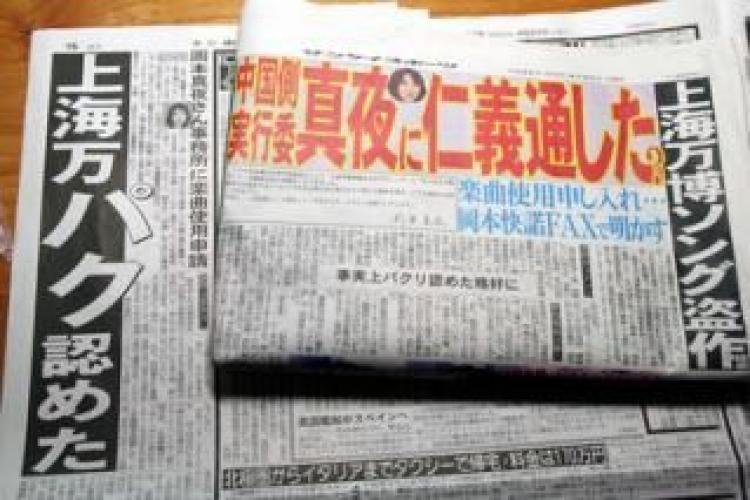 The Shanghai World Expo will pay 300 million Japanese yen (approximately US$3.2 million) to Japanese singer Maya Okamoto for plagiarizing her song, according to a report published on Japanese news websites last week.
The song Right Here Waiting for You 2010 was used for the month of promotion leading up to the opening of the Shanghai World Expo and organizers had reportedly spent 10 million yuan (US$1.46 million) producing the song.
Soon after its premiere on Chinese television on April 1, Internet users pointed out that 95 percent of the melody was identical to Japanese pop singer Maya Okamoto's Stay the Way You Are from 1997.
Japan's major media outlets widely reported on the case. One TV commentator complained of the response to the plagiarism revelations: "This whole situation should be the other way around. First they should have gotten permission before using the song. Yet, they have neither apologized nor given a public statement. Generally, these cases should also involve reimbursement, shouldn't they?"
From office stationery to international brand name cars, Hello Kitty plush toys to amusement parks, the impression of China being a "nation of plagiarists" and a "paradise of piracy" has become deeply rooted in the Japanese mind. The popular outcry in Japan was stronger this time, since the apparent pirate was a government agency rather than a private company.
36-year-old Maya Okamoto rose to fame in the 90s from a performance of her original song, Tomorrow.
Though Stay the Way You Are was not her most famous song, the scandal with the Shanghai Expo has turned things around for her career, which went downhill some years ago. She will soon be releasing a new album expected to top the charts.
A comparison of the original ballad with the Shanghai Expo version is available here
Read the original Chinese article