Five fully vaccinated workers tested positive for COVID-19 at Shanghai international airport, China, the municipal government said on Saturday.
It came as China's top epidemiologist Zhong Nanshan said that the effectiveness of vaccines against the variant diminishes six months after the first dose.
The city's Pudong International Airport recorded two cases on Friday, including a Chinese national and an Ethiopian national, both in their 40s. Authorities soon sealed off the neighborhoods where the two lived.
Local authorities then rolled out overnight testing in an attempt to halt the fresh outbreak, finding three more cases on Saturday. Some residents were woken at 3 a.m. to do nucleic acid testing, online posts show.
The five are cargo workers at the city's airport and follow the case of a nurse from a local hospital testing positive on Wednesday though also being fully vaccinated.
All these cases came from priority groups for vaccination.
The highly transmissible Delta variant has been detected in more than a dozen Chinese cities since late July.
Due to the spread of the latest strain of the CCP (Chinese Communist Party) virus, the busiest Chinese airport, by freight volume, has suspended all cargo traffic since Friday afternoon, including loading and unloading of international freight and cargo.
Shanghai had tested tens of thousands of its locals by Saturday morning, including close and secondary contacts of the five airport workers.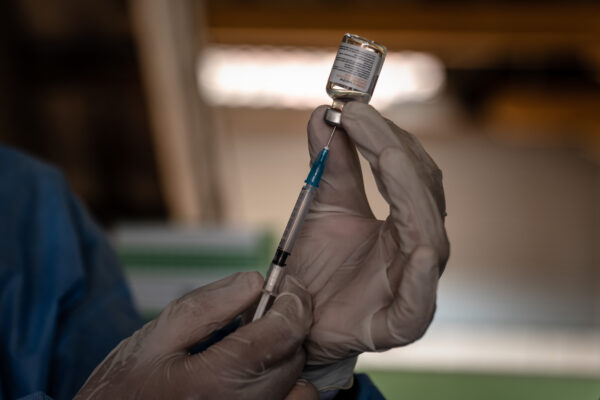 Vaccine Efficiency
China's top epidemiologist Zhong Nanshan said on Friday that the effectiveness of vaccines against the variant was diminished after half a year, including the China-made ones such as Sinovac.
He denied the initial shots had failed, but suggested a third dose will be needed to boost immunity.
In early August, Zhong claimed that Chinese vaccines provide 100 percent protection against deaths and intensive care admission.
But countries who had inoculated over half of their populations, largely with China-made vaccines, have failed to see a hoped-for reduction in new infections. Chile, a country relying on Chinese vaccines, declared on Aug. 5 that it would administer booster shots to recipients of the Sinovac vaccine.
Studies in the country found the vaccine less effective compared to Pfizer and AstraZeneca, and dropped in efficiency in preventing symptomatic illness months after inoculation.
China has not confirmed whether it will administer foreign vaccines as booster shots for its fully vaccinated population.
The national figure for Saturday's new confirmed cases was 32, according to the National Health Commission. China also reported 19 new asymptomatic CCP virus cases, not being classified as confirmed infections.