Shaheen Stage Mini Hockey Tournament
Hockey—Mini Hockey
April 18, 2013 5:11 am Last Updated: April 18, 2013 5:52 am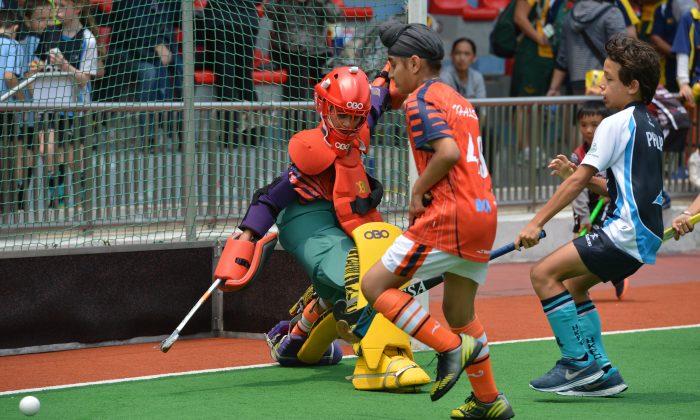 A group of hockey players and officials from the Australian Country Touring team came to add their support to the Shaheen Mini hockey tournament and some members of the Women's squad played a demonstration match against the Shaheen U12 team last weekend in Hong Kong.
Twenty-eight teams, with players aged between 5 years and 12 years old, assembled at King's Park Hockey Stadium on Saturday April 13 to take part in the fourth Shaheen Mini Hockey Tournament.
Teams were split into U8, U10 and U12 age groups. Each age group was sub-divided into two sets to initially play round robin matches. The winners from each set played Semi-final matches against the second placed team from the other set. Similarly third and fourth teams played Semi-final matches for the Plate.
Many school and club coaches were on hand to help organise their teams and urge them on in their quest for gold. Some of Hong Kong's top level players were in attendance, as were key officials for umpiring and presentations.
There were impressive trophies for the winning teams and individual certificates for the winning team members. All of the youngsters had a great time and some of the winners were overjoyed to receive the awards.
It is a great tribute to the Clubs and schools in Hong Kong that volunteers give up their time and, in many cases, money to bring on youngsters in Hockey and many other sports—they do a great job.
Winners:
U12 Cup: Winner HKFC (Hong Kong Football Club), Cup Runner up (R/U) KCC (Kowloon Cricket Club).
U12 Plate: Winner Shaheen Sports Club, R/U DBIS (Discovery Bay International School).
U10 Cup: Winner Khalsa, R/U Valley.
U10 Plate: PLK (Po Leung Kuk), R/U DBIS.
U10 Bowl: Harbour School.
U8 Cup: KCC, R.U HKFC.
U8 Plate: GALA, R/U Harbour School.
U8 Bowl: DBIS.