Severe Sandstorm Sweeps Through Northwest China
April 28, 2010 5:58 pm Last Updated: October 1, 2015 8:16 pm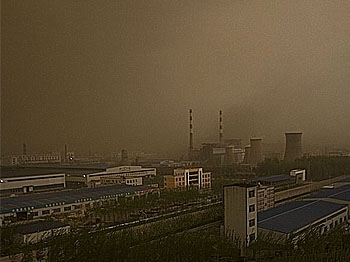 A severe sandstorm in northwest China last weekend killed at least four people and injured five, according to an official Chinese media report Tuesday. Satellite maps indicate that 6.7 million people and 135 million hectares (333.45 acres) of land were affected, according to China National Radio.
The sandstorm started in Gansu Province on Saturday afternoon and swept through regions of northwest China, including the Xinjiang Uyghur Autonomous Region, the Inner Mongolian Autonomous Region, and Qinghai Province.
Of the four people reported dead, three were in Xinjiang and one in Gansu. One person in Xinjiang is still missing.
Xinhua Net reported that a 60-year-old female from Shiqiao Village in Gansu's Zhangye City died in a fire sparked by blowing combustible raw materials belonging to Zhangye Shengyuan Chemical Company Ltd.
Minqin County of Wuwei City in Gansu had to evacuate 460 people, and there were five injuries and 13 fires caused by the blowing sand. The official website of Gansu Province reported a direct economic loss of 250 million yuan (US$37 million) in the county of Minqin alone.
In Xinjiang, the gale caused a huge fire which damaged 14,000 vegetable greenhouses, causing an economic loss of 550 million yuan (US$80 million), according to local authorities quoted in China Daily on Sunday.
Yellow dust storms continued to hit regions in northern China's Hebei and Shanxi Provinces and eastern China's Shandong Province on Monday.
According to the State Forestry Administration of China, the rare sandy and dusty weather recently encountered in many regions of China could cause hazardous air pollution problems, affecting 23 million residents.