Severe Drought, High Temps and Drying Rivers Taking Toll in China
May 29, 2007 12:00 am Last Updated: May 29, 2007 12:00 am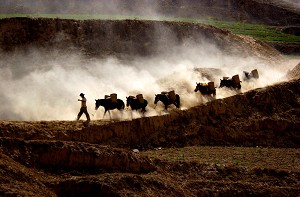 According to mainland China media reports, nearing the beginning of summer, already high temperatures continue to rise to that of midsummer, which is very rare. Many Northern provinces have severe drought with visible cracks crisscrossing the dry land. Twelve major mountain rivers out of 18 have partially dried up in the southern area of Ningxia City of Gansu Autonomous Region. Suining City in Sichuan Province had drought in the spring so severe that a 70 some-year-old man said, "This is the most severe drought in my entire life."
Surviving Severe Drought in Gansu Depends on Snow
The report shows that many cities in Gansu encountered various degrees of drought and the drought has brought great difficulties to local agricultural production and the lives of farmers. Since the beginning of summer, the temperature has continued to rise, but the amount of rainfall has been very low. The severe drought has affected over 14 million mu (2.3 million acres) of farmland and over 12 million mu (nearly 2 million acres) of crops in the province. Over 800,000 people have drinking water problems.
Ma Fang, a 75-year-old man from Touzhai Town, holding water from the cellar, said, "We have not had rain for many years. We just had some snow a few days ago. Water from melted snow that we saved can last until May." Ma Fang lives in a village, which is further out from Huining County, where there was only 70 mm (.0042 inches) of rainfall in 2006. There is a severe water shortage for the local farmers.
"Water is more precious than gold. I have lived 67 years and I have never seen a drought like this. This is the fifth year that we have had severe drought," said Wang De, an old man from Hexipo Village.

Severe Spring Drought in Sichuan
Suining City in Sichuan Province encountered severe drought in 2006, and again this spring. Shichanggou Village is surrounded by mountains and steep hills on three sides, and has no river channels. Vegetation and crops depend completely on rainfall. This village has become one of the most severely affected areas after the past three uninterrupted years of drought.
Mr. Liu, a 79-year-old man, came on crutches to check his rice field. He said that the spring drought in Suining City is the most devastating drought in his entire life.

Miyun Reservoir Lake Bed in Beijing Exposed
There have been seven consecutive years of drought in Beijing since 1999. In the spring of this year rainfall decreased and the water level of Miyun Reservoir dropped so low, due to the successive years of drought, that many areas of the lake bed were exposed. Local farmers let their sheep graze in the restricted area of Miyun Reservoir and steal fish.