While many Canadian politicians stayed away from recent events celebrating the establishment of communist rule in China amid heightening Beijing-Ottawa tensions, a few did take part, as did leaders of Canadian pro-Beijing groups, with some of the latter also taking part in celebrations in Beijing.
The events marking the 70th anniversary of the founding of the PRC were organized by groups well known for their links to the Chinese Embassy and consulates.
Gloria Fung, president of Canada-Hong Kong Link, says the leaders of many of these groups have been very vocal in reiterating the official lines of the Chinese regime.
"They actually label the Hong Kong people to be rioters, which is exactly the same tone as what the Hong Kong government, as well as the Beijing government, has announced," Fung said.
Defence Minister Harjit Sajjan was widely criticized online and by Hong Kong pro-democracy groups after attending a Sept. 22 event in Vancouver to celebrate the founding of the communist People's Republic of China (PRC). Sajjan's campaign office later said he attended in his capacity as a candidate in the upcoming federal election. Online photos of the event, with China's consul-general in Vancouver Tong Xiaoling in attendance, also show Conservative Senator Yonah Martin, B.C. junior cabinet ministers Bruce Ralston and George Chow, and a number of other politicians taking part.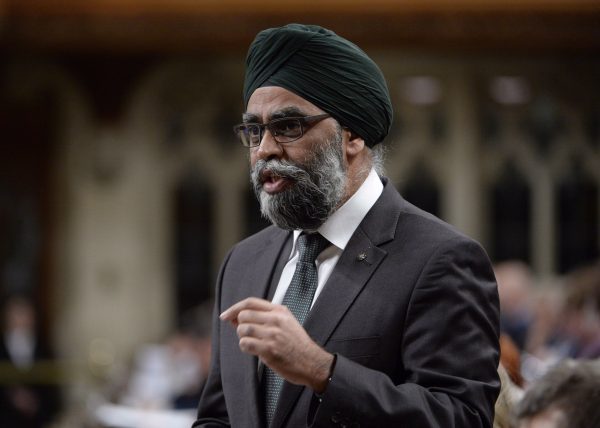 Tensions between Ottawa and Beijing are at an all-time high, with Canadian citizens still detained in China following the arrest of Huawei executive Meng Wanzhou in Vancouver last December, and many Canadian exports to China still blocked. Recent state crackdown on pro-democracy protests in Hong Kong and the persecution of other groups in China have added to the sensitivity of Canadian politicians taking part in pro-Beijing events.
70th-Anniversary Flag-Raising
In the East, Toronto Mayor John Tory refused to attend flag-raising ceremonies marking the event this year, and flag-raising ceremonies in Richmond Hill and Vaughan were cancelled after objections from the community. However, the city of Mississauga proceeded with its event on Oct. 1, as did the city of Markham on Oct. 5. The Mississauga event was attended by Progressive Conservative (PC) MPP Kaleed Rasheed, Mississauga city councillor Ron Starr, and Chinese consul-general Han Tao. In Markham, Mayor Frank Scarpitti and the consul-general both spoke at the event.
Earlier, an outdoor event to mark the anniversary outside Queen's Park in Toronto on Sept. 28 was attended by Ontario NDP MPPs Peter Tabuns and Chris Glover, with Tabuns speaking at the event. Consul-general Han Tao also spoke, saying that the Hong Kong government "has the will and ability to take all necessary measures in accordance with law to curb violence and restore social order as soon as possible."
The consul-general attended another event to mark the 70th anniversary of the PRC on Sept. 29, this time at a Sheraton hotel in the Toronto area, with a number of other Canadian politicians including the federal minister of small business Mary Ng and Liberal MP Geng Tan. Also attending were Ontario PC MPPs Vincent Ke and Aris Babikian, and a representative of PC MPP Billy Pang, who all presented congratulatory proclamations to the event organizers. Several GTA city councilors were in attendance as well, including Toronto city councillor Jim Karygiannis, Markham city councillor Isa Lee, and a few others.
Ke, who grew up and studied in China, was a "student cadre" during his university years there, a position requiring strict adherence to the ideology of the ruling Chinese Communist Party (CCP). Later, after he moved to Germany for advanced education, he was an executive of his university's Chinese Students and Scholars Association (CSSA). CSSAs are organized with the support of Chinese consulates and embassies and are known for supporting Beijing's party lines, such as protesting campus events related to human rights concerning China. An archived Chinese-language page of Ke's candidacy website before he won in the provincial election shows him listing "influencing the provincial government's policy toward China" as one of the reasons Chinese people should vote.
Both Ke and Karygiannis, a former Liberal MP who was among the most frequent users of free junkets to China while an MP, often attend events organized by pro-Beijing groups in the Toronto area. Earlier this year, the two attended a ceremony celebrating the founding of the "Tibetan Association of Canada," a group marred by controversy for faking a letter of support from Prime Minister Justin Trudeau, whose office later confirmed the letter wasn't issued by him. Tibetan groups in Canada have said the group is supported by the CCP and is meant to "divide the Tibetan community in Canada."
Beijing's Influence
Both events in the Toronto area in late September were organized by Weng Guoning, president of the Confederation of Toronto Chinese Canadian Organizations (CTCCO). Weng has been active in organizing events against the Hong Kong pro-democracy demonstrations, including an August event also attended by former Ontario cabinet minister Michael Chan. Chan was the subject of a warning to his government by the Canadian Security Intelligence Service over fears that he was under the influence of Beijing, according to The Globe and Mail.
In an interview with the Chinese state-owned China Daily in August, Weng said, "I would like to take this opportunity to pay our high respect to the outstanding Hong Kong police officers who have been on the job, performed their duties, showed no fear, and endured a lot of humiliation."
CTCCO is among a number of pro-Beijing organizations that have run newspaper ads against the Hong Kong protests. Some of the many such groups that have placed such ads are the Chinese Benevolent Association of Vancouver, which organized the event in Vancouver that Sajjan attended; Chinese Canadians for China's Reunification; the National Congress of Chinese Canadians; the Canada Confederation of Fujian Associations (CCFA); and the Council of Newcomer Organizations (CONCO), an organization founded by MP Geng Tan.
CONCO's current executive chairman Zhu Jiang and a number of other heads of pro-Beijing groups were invited by Beijing to attend the military parade and other events in China marking the 70th anniversary of the PRC. In the online Chinese publication Super Life, Zhu is reported as saying he was invited to the event by the Chinese Consulate in Toronto as well as the United Front Department of the Xinjiang region. Xinjiang is where the Uyghur Muslims are currently facing persecution by the Chinese regime. Zhu also attended a reception held by the Central Committee of the CCP.
Outreach to 'Key Chinese Interest Groups' Overseas
According to Gerry Groot, senior lecturer in Chinese studies at the University of Adelaide in Australia, the United Front is mandated by the Chinese communist regime to outreach to "key Chinese interest groups, including ethnic Chinese abroad, and representing and influencing them."
"In its simplest terms, the UFWD [United Front Work Department] is about uniting those who can help the Party achieve its goals and neutralize its critics," Groot wrote in a paper in The Conversation.
Clive Hamilton, an author and professor of ethics at Charles Sturt University in Canberra, says the agency's activities in the West are typically focused on "suppressing dissidents, winning overseas Chinese to the CCP cause, and mobilizing them to act in support of Beijing's political and strategic interests."
"It aims to 'influence the choices, direction, and loyalties' of its targets by overcoming negative perceptions and promoting favourable perceptions of CCP rule in China," Hamilton wrote in a commentary.
Promoting Beijing's Causes
Also attending the celebratory events in late September and early October in Beijing, according to online photos, were Shao Yihang, an executive of CCFA, and Wei Chengyi and Ping Tan, both past executive members of the CTCCO and fixtures in pro-Beijing causes in the Toronto area. The two took leading roles in convincing the Toronto District School Board to keep Beijing's Confucius Institute program in 2013/2014.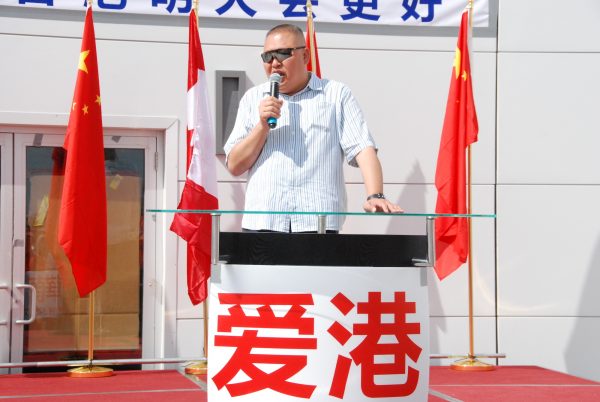 The Epoch Times has also obtained photos showing past CTCCO president Peter Lin, Beijing Association president Yang Baofeng, and Toronto Dragon Festival organizing committee chair Jian Zhang, whose organization received tens of thousands of dollars in funding from the Canadian government, attending the events.
As reported previously by The Epoch Times, Yang said in a speech at the August rally against the Hong Kong protests that "Hong Kong is China's territory … Those who humiliate our national emblem and our national flag must be executed/punished."
The Chinese term used by Yang has the dual meaning of "to punish" or "to execute," with the latter being the more common one. Yang was also at the forefront of efforts to keep the Confucius Institute in Toronto schools.
Questions of Allegiance
Fung says the fact that these heads of pro-Beijing groups have been invited to take part in celebrations in Beijing indicates "they have contributed to and promoted the official Chinese line in Canada."
She says this also raises questions of allegiance, and whether they are acting in Canada's interest or that of the Chinese regime's. She adds that the concerns are beyond just attending and even organizing events in Canada that "glorify a regime that has been bullying countries and also holding Canadians as political hostages," it also relates to issues involving Beijing's attempts to influence and manipulate those abroad for its own interests.
"I don't consider them to be acting in the best interest of our country. They are only promoting the official line of communist China on Canadian soil," Fung says.