Seven-Year-Old Girl: 'I Will Give You My Tears in a Cup'
April 5, 2008 12:00 am Last Updated: April 5, 2008 12:00 am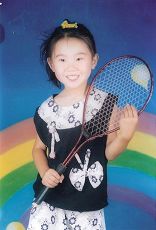 Gong Yu is a beautiful, lively, seven-year-old girl who lives in Yilan County, Heilongjiang Province. A child at this age should be carefree and looked after by her parents; but Gong Yu can only look at the picture of her parents and cry uncontrollably. She often writes to her parents and sends them pictures to express her feelings.
Once she wrote, "Dad, when you come home, I am going to give you my tears in a cup." She also wrote, "Mom and dad, please hurry home, I am good and very obedient now!"
Gong Yu's parents are Falun Gong practitioners. After the Chinese regime started suppressing Falun Gong on July 20, 1999, the fate of little Gong changed. Her father was sentenced to five years in prison for being unwilling to stop the practice. He is still in prison now, and as a result of repeated tortured and maltreatment, has become mentally unstable. Her mother, Li Yanjie, left home to avoid the same fate.
Since her father's arrest and her mother's escape, Gong's bright smile has disappeared. The words coming from her mouth are all heavy and serious. She told her friends, "My father does not recognize me now. He doesn't look like the father I knew before, and I don't get to see my mother at all."
She often told others, "I truly wish my father and mother would come home soon, truly wish that kind people would rescue my father, truly wish the Chinese government would not persecute Falun Gong any more, so that all children like me can have their parents around."
In early 2000, Gong's father Gong Fengqiang went to Beijing to appeal for Falun Gong and was detained for 34 days. During that time, he was brutally beaten by Yilan County police. They pricked his fingers with toothpicks, and rubbed his ribs with sharp-ridged objects. He was also beaten and shocked with electric clubs.
In the evening of August 12, 2000, Yilan County police along with a reporter and video cameraman forced their way into Gong's house and took her father away. At the time, Gong was not yet a month old. Her grandmother fainted in the yard while chasing after Gong Yu's father as he was being carried away.
On December 26, 2000, her parents took the then five-month-old child to Beijing to appeal for the right to practice Falun Gong. When the police wanted to arrest them, her mother held her and managed to avoid being arrested. However, they were destitute and homeless for a long time as it was unsafe to return to their home. Her father was arrested and sent back to Yilan county detention center. He was imprisoned in a labor camp for two years and was not sent home until he became seriously ill from the torture he received in the camp.
After her father returned home, he was fired from his job and could only rely on taxiing people on a tricycle for a living. Despite all that, the family of three was reunited. On December 12, 2006, Gaoleng Forestry Bureau arrested her father again. Fortunately her mother escaped, but had to avoid going home again. Gong was six by then.
After this arrest, her father was brutally beaten until he passed out many times. He also was subjected to all kinds of torture, and eventually became mentally unstable. He would carelessly hit others, bite his own tongue (his tongue has been badly injured), and stare straight ahead. He became unable to talk or eat, and did not recognize anyone, not even his daughter Gong Yu.
Despite losing his sanity, Gong Fengqian was still sentenced to five years in prison, and was sent to the Lianjiangkou prison in Jiamusi City. He has not received any medical attention and his symptoms are worsening.
Gong Yu's grandfather went to Xianglan Prison to inquire about his son's condition, and to request reinvestigation and medical treatment. A guard said, "There is an order from Beijing that Falun Gong practitioners can be treated any way we want—there is no need to follow regulations. As long as he is alive, we are going to keep him, even if he is dying."
Presently, Gong Yu's mother is still wandering about, and her grandmother is bed-ridden with heart disease and arthritis. Her grandfather's illness has relapsed as a result of the incessant worrying about his son; but he still insists on seeking help, hoping his son can be treated in time to regain his sanity.
Gong Yu is still hoping that her parents will return home soon, hoping that her grandparents will get well, hoping that there will be no more violence or suppression of kind people, and hoping that all children will be able to live happily with their parents.