Summer camp can be a magical place for youngsters to make memories in the outdoors. But why should adults be left out of the fun? Can a family retreat together to share in this summer rite and grow closer?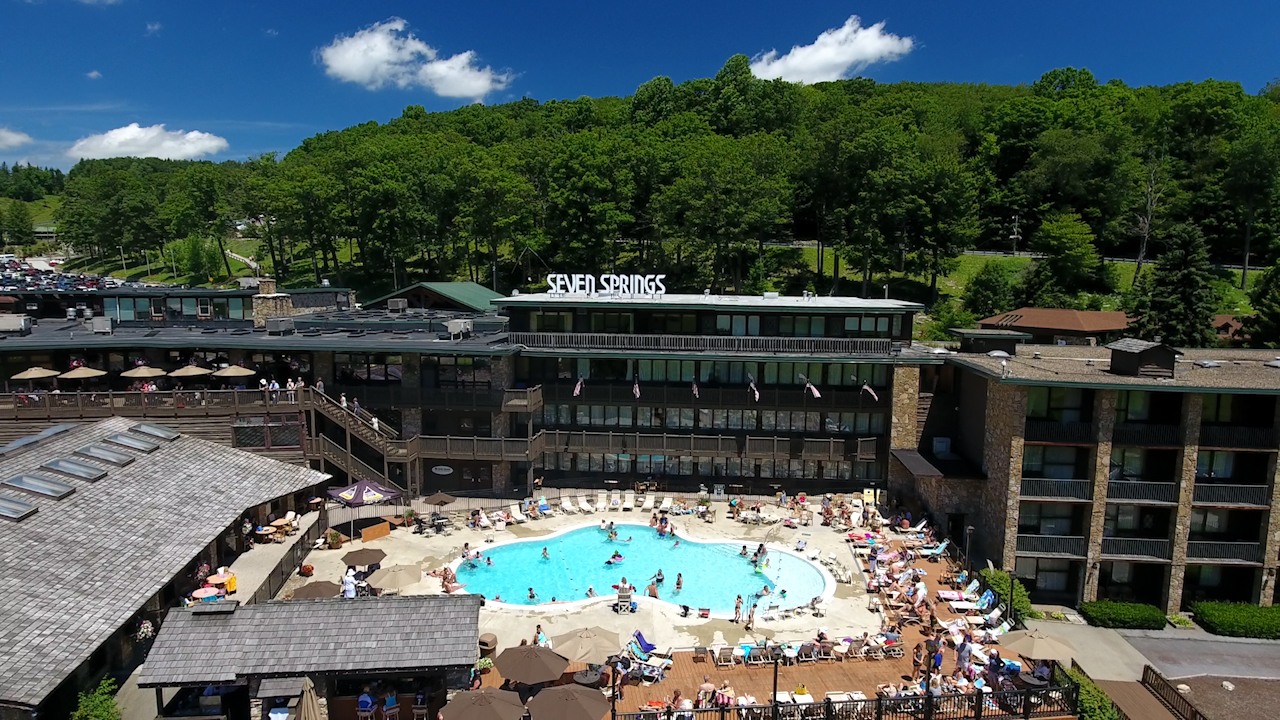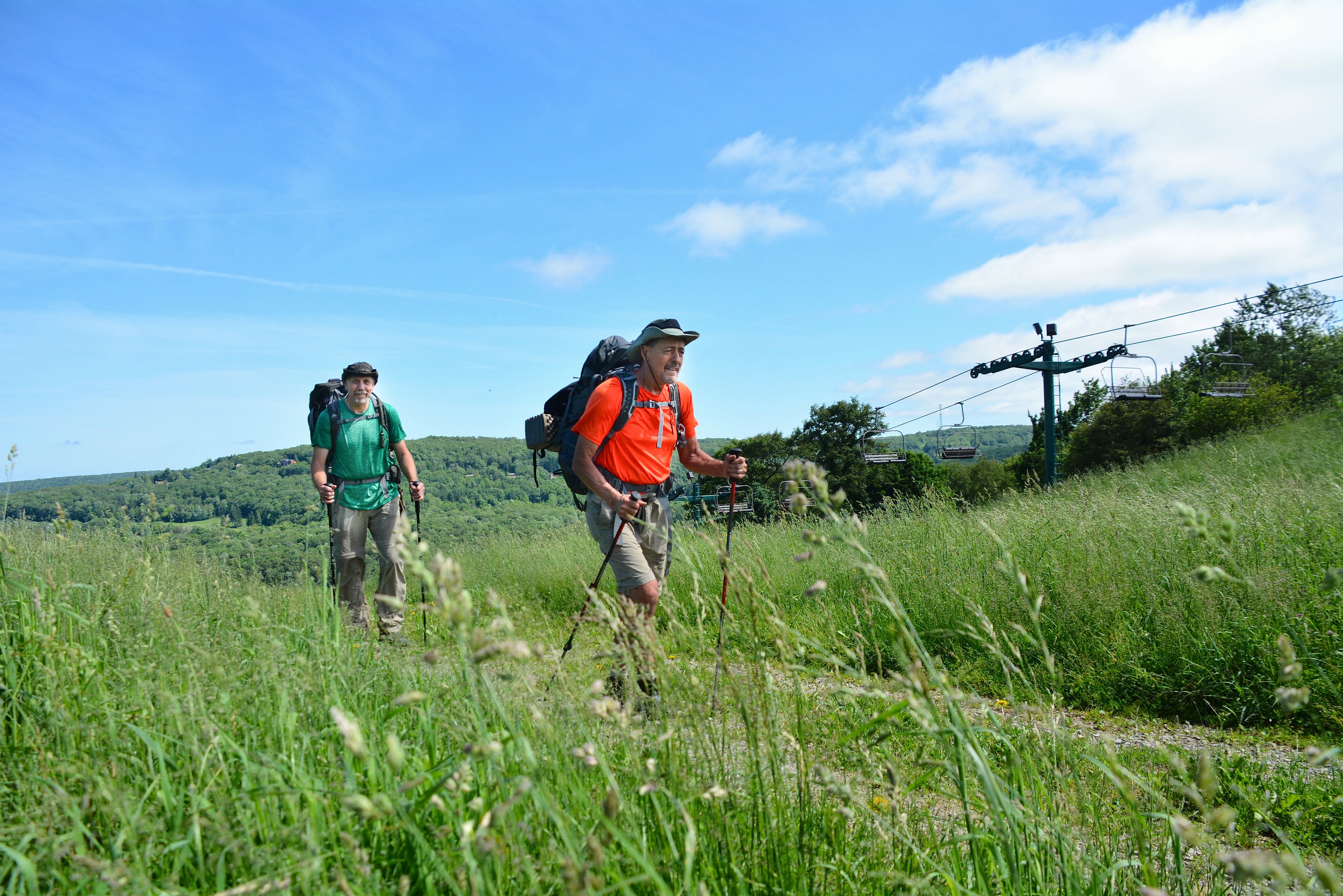 That was the premise of my family's recent trip to Seven Springs Mountain Resort in southwestern Pennsylvania. Located one hour's drive from Pittsburgh and three hours from Washington D.C, the winter ski resort transforms into a summer adventure playground for families.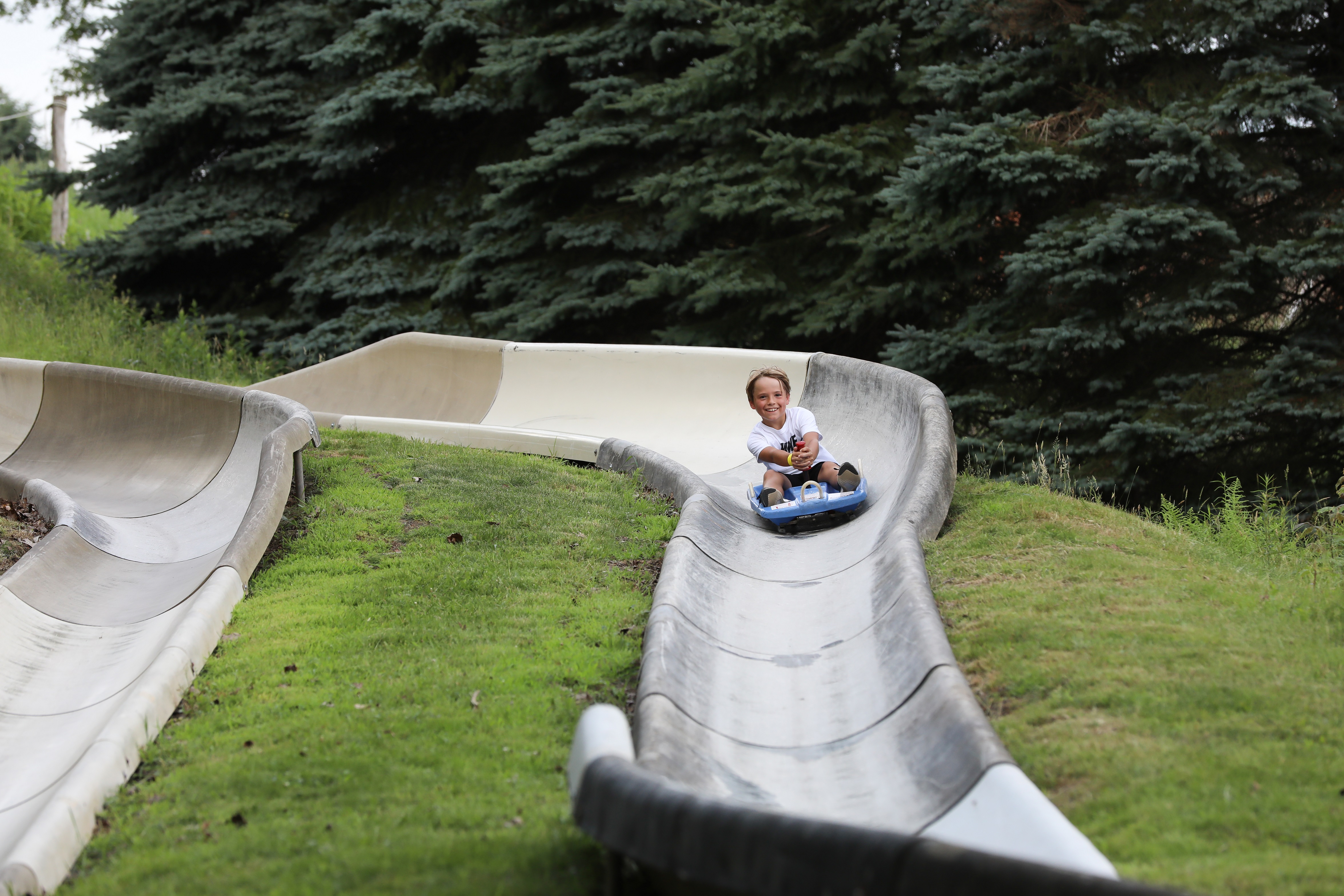 Although we arrived past midnight and weary, we were warmly greeted with a laid-back rural mountain hospitality that we'd appreciate for the next three days. We stayed in the stone and log cabin-style lodge in a pair of adjoining dog-friendly rooms where our ground floor patios provided easy access to the grassy lawns. The next day, I saw how the rolling mountains seemed to encircle the lodge in every direction, creating expansive vantage points from every window and walking path.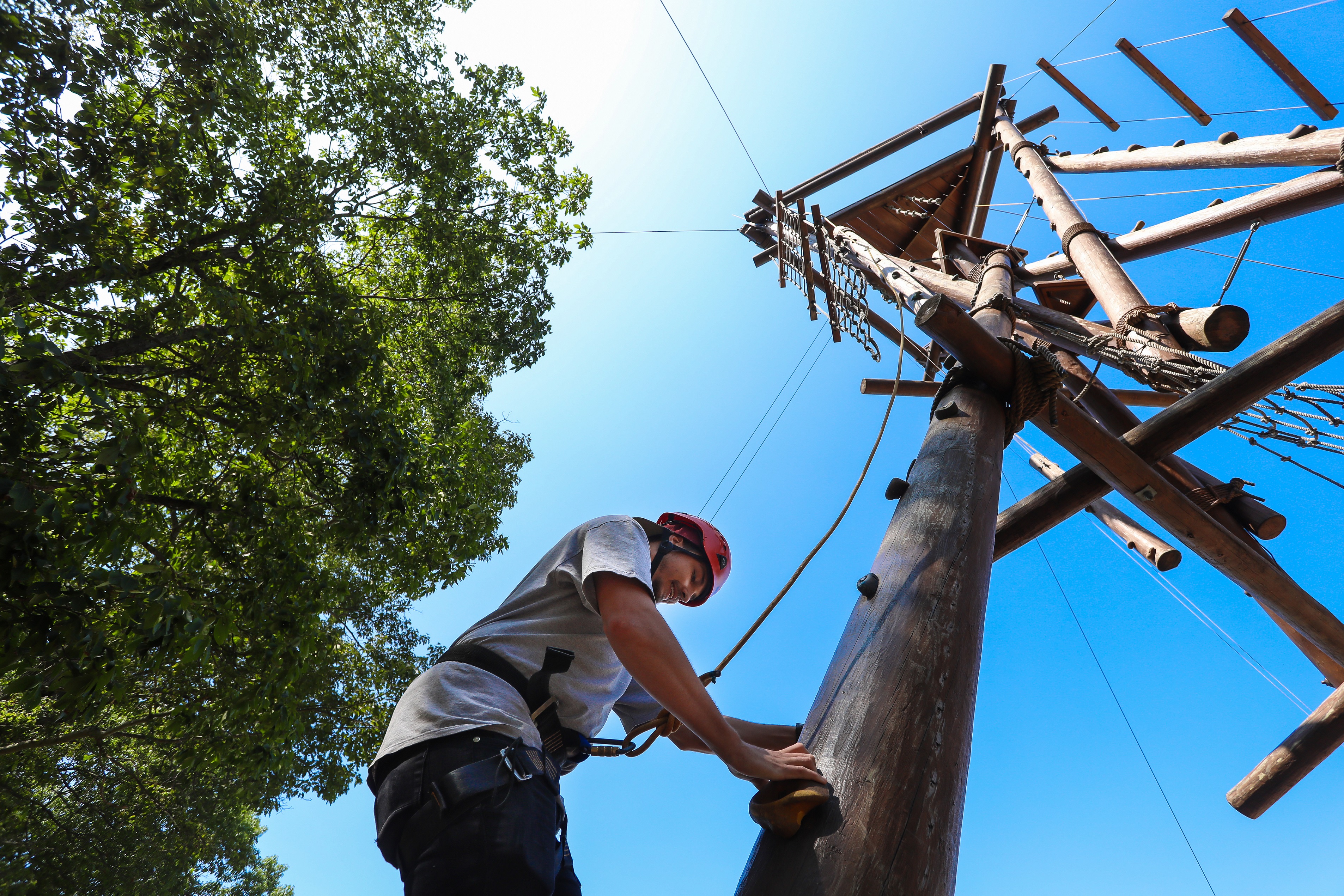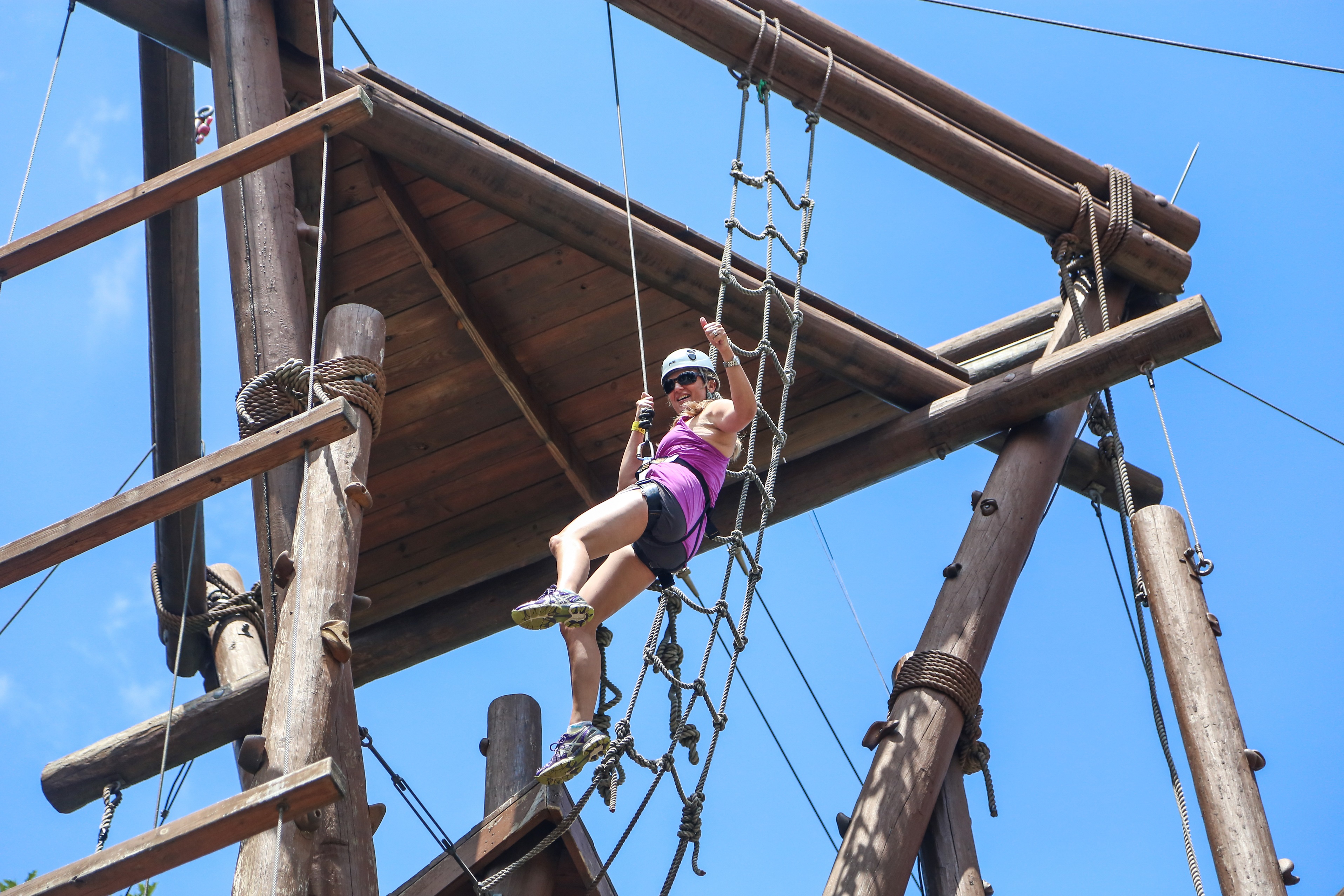 All Day Adventure Pass
When reviewing the resort's long list of activities, I realized we needed to prioritize. We opted for the All-Day Adventure Pass that includes unlimited access to alpine slides, a 50-foot-high climbing tower, a "Trampoline Thing," rock climbing walls, paddle boats and boards, and unlimited chairlift rides. Also included are lawn and court games such as bocce, horseshoes, pickleball, and disc golf (golf with frisbees). As if that wasn't enough, in the evening, there is unlimited indoor bowling and mini-golf all included with the pass.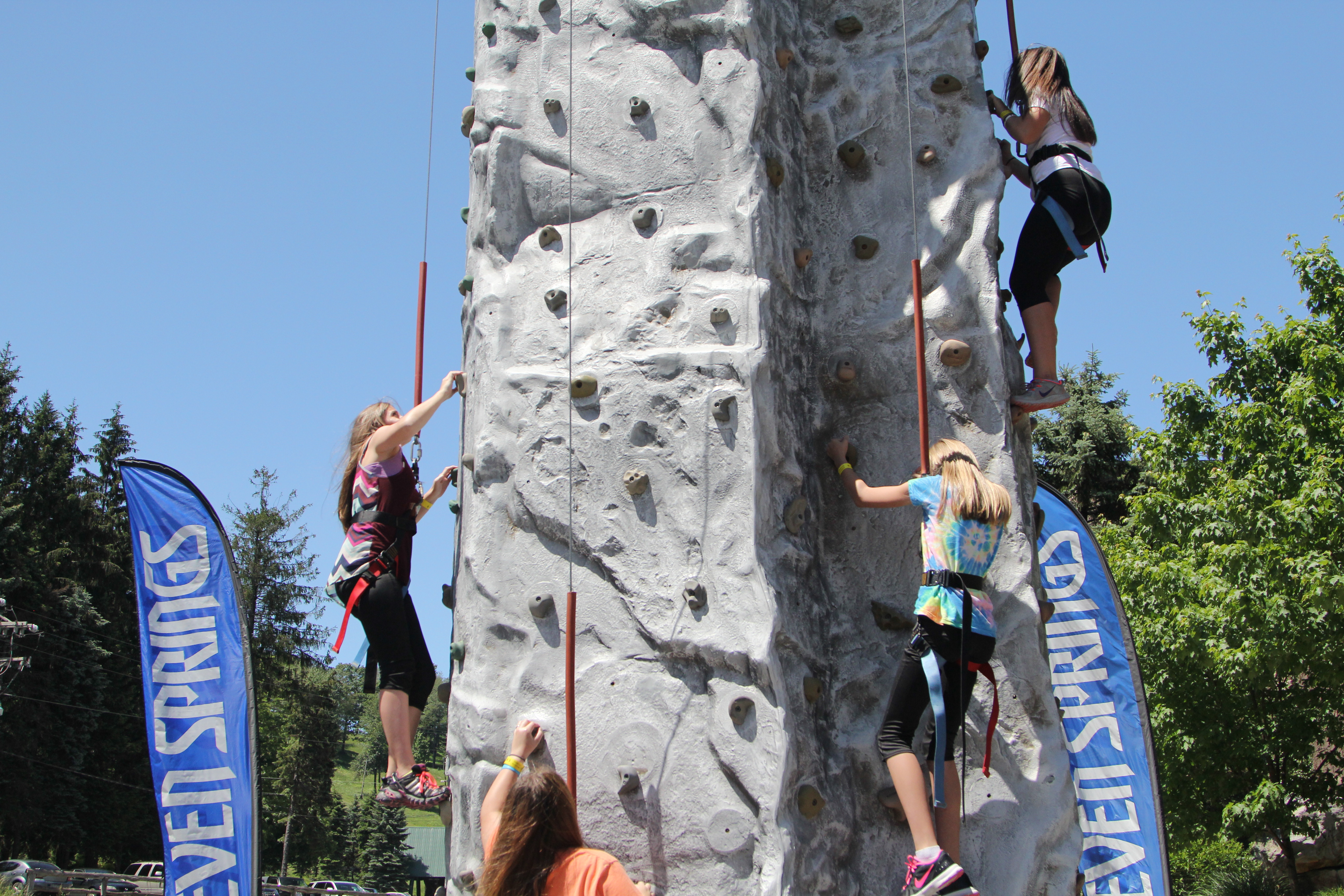 After the kids warmed up on the climbing walls and trampoline at the base of the ski mountain, we rode the chairlift to the top. There we mounted two-wheeled sleds and sped down the Alpine Slide, a mini-bobsled track with 2,000 feet of twists, turns, and drops. The exhilarating experience was like combining a roller coaster where you're on a set track, with driving a car or bike, where you can control your own speed. While I would have liked to have spent the whole afternoon mastering the slide, the kids were eager to try more activities.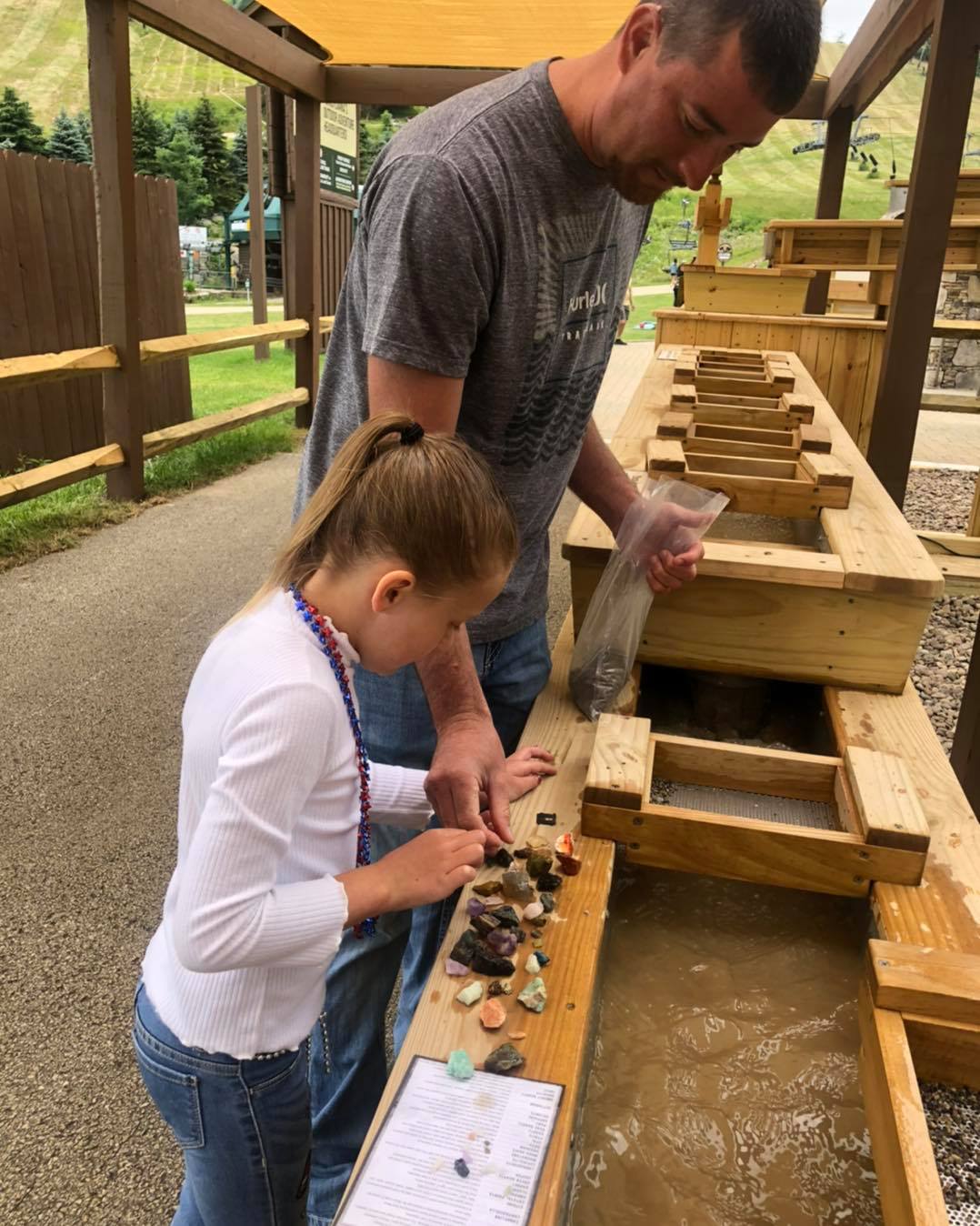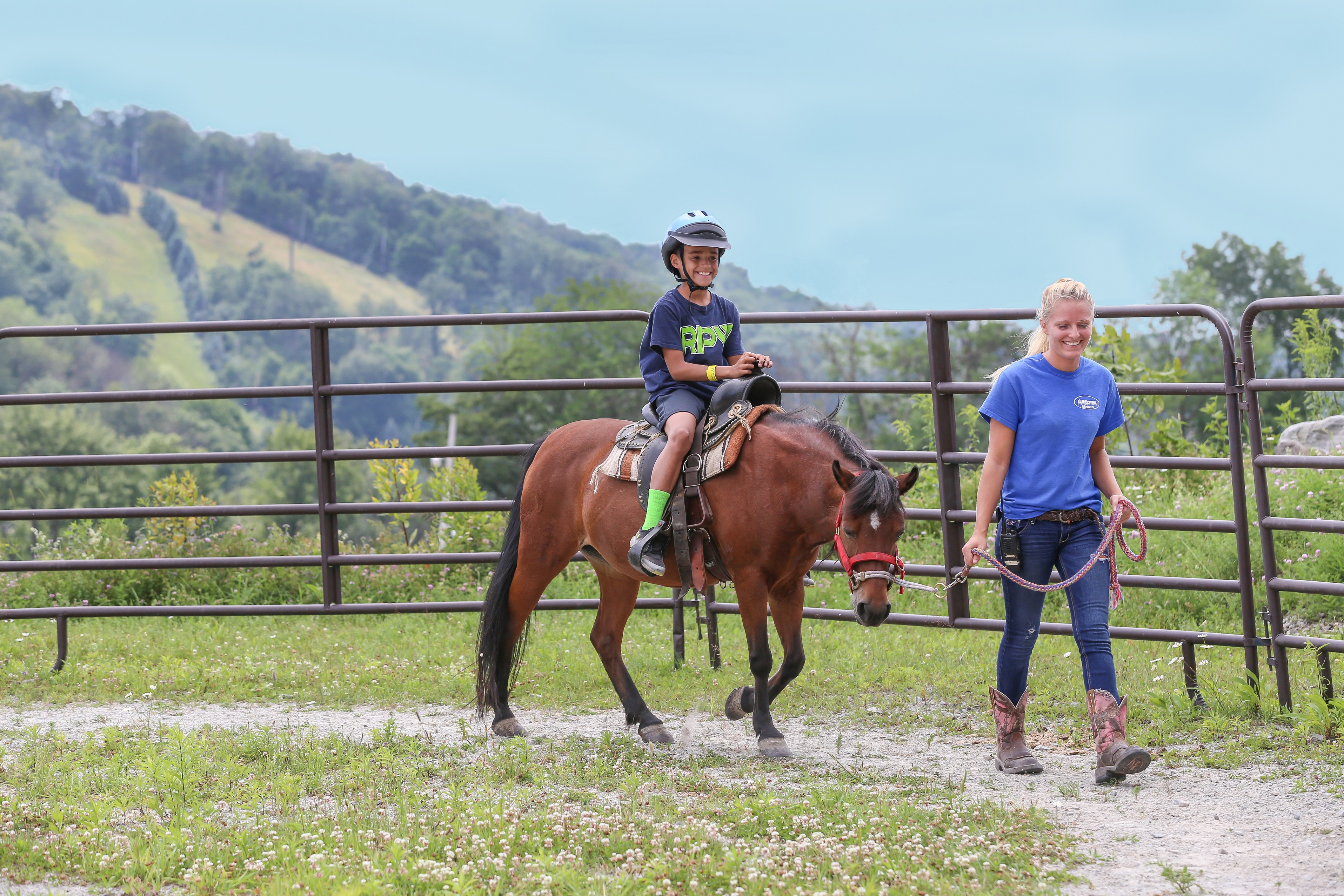 Next we took on the Alpine Tower, an intimidating climbing feature with numerous routes to the top. On his first try, my son made it halfway before fear set in and he signaled to the instructor that he wanted to come down. She slowly belayed the rope attached to his harnessed waist until his feet gently returned to the ground. After some mental reflection, he wanted another try. Climbing slow and steady, he triumphantly pulled himself atop the wooden platform and rang the bell to signal victory. I cheered his name and told him to raise his hands above his head for a picture as if he summited Everest. Then with the encouragement of the instructor, and his newfound confidence, he began his belay to descend from the 50-foot high platform.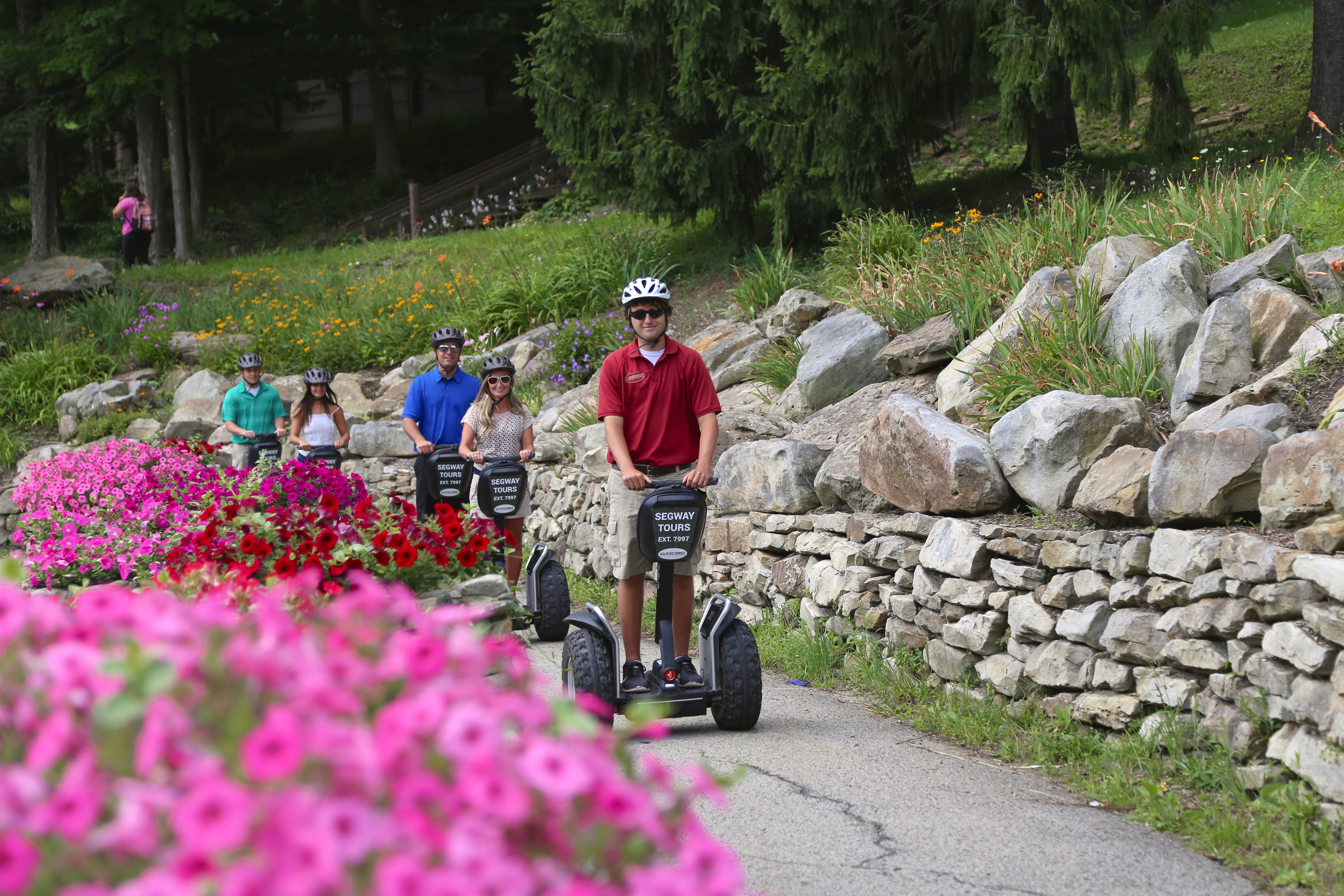 Screaming Hawk Zip Line
In addition to the variety of relatively quick activities included with the Adventure Pass, there are many other pursuits that take more time and guidance, such as mountain biking, axe throwing, horseback riding, clay shooting, segway electronic scooter tours, and fly fishing.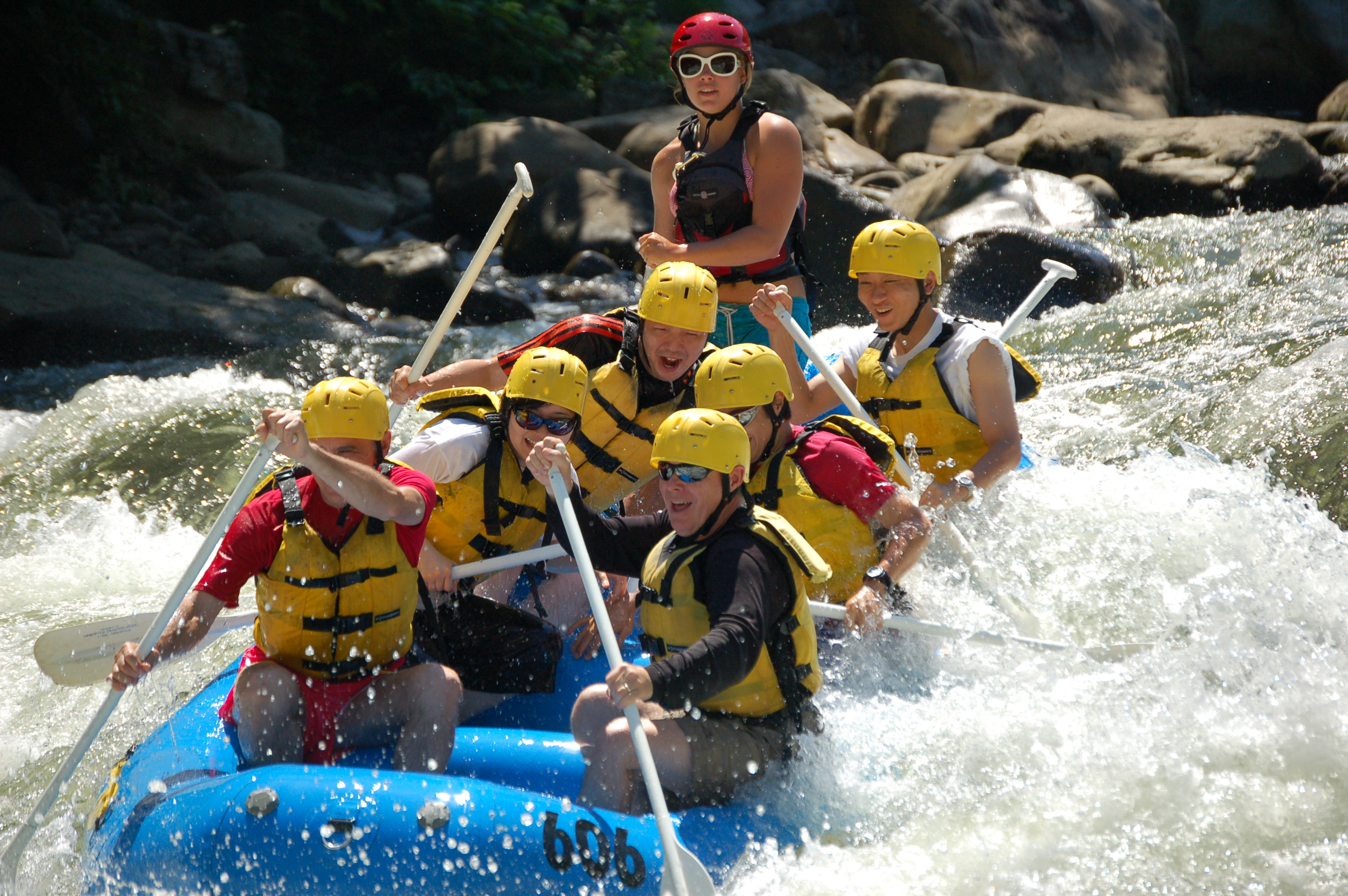 With so many activities to choose from, we talked the kids through their options. Without any hesitation, they chose the Screaming Hawk Zipline—a course that consists of four zips that cover 2,000 feet, a cargo climb, a sky bridge, and the course ends with a "trust fall." The Screaming Hawk requires reservations as it sells out quickly. This was a great family activity, and it was fun to see the kids address their fear of heights and experience the sensations of gliding through the air.
As our two-person team of guides told us, "We do the clipping, you do the zipping!"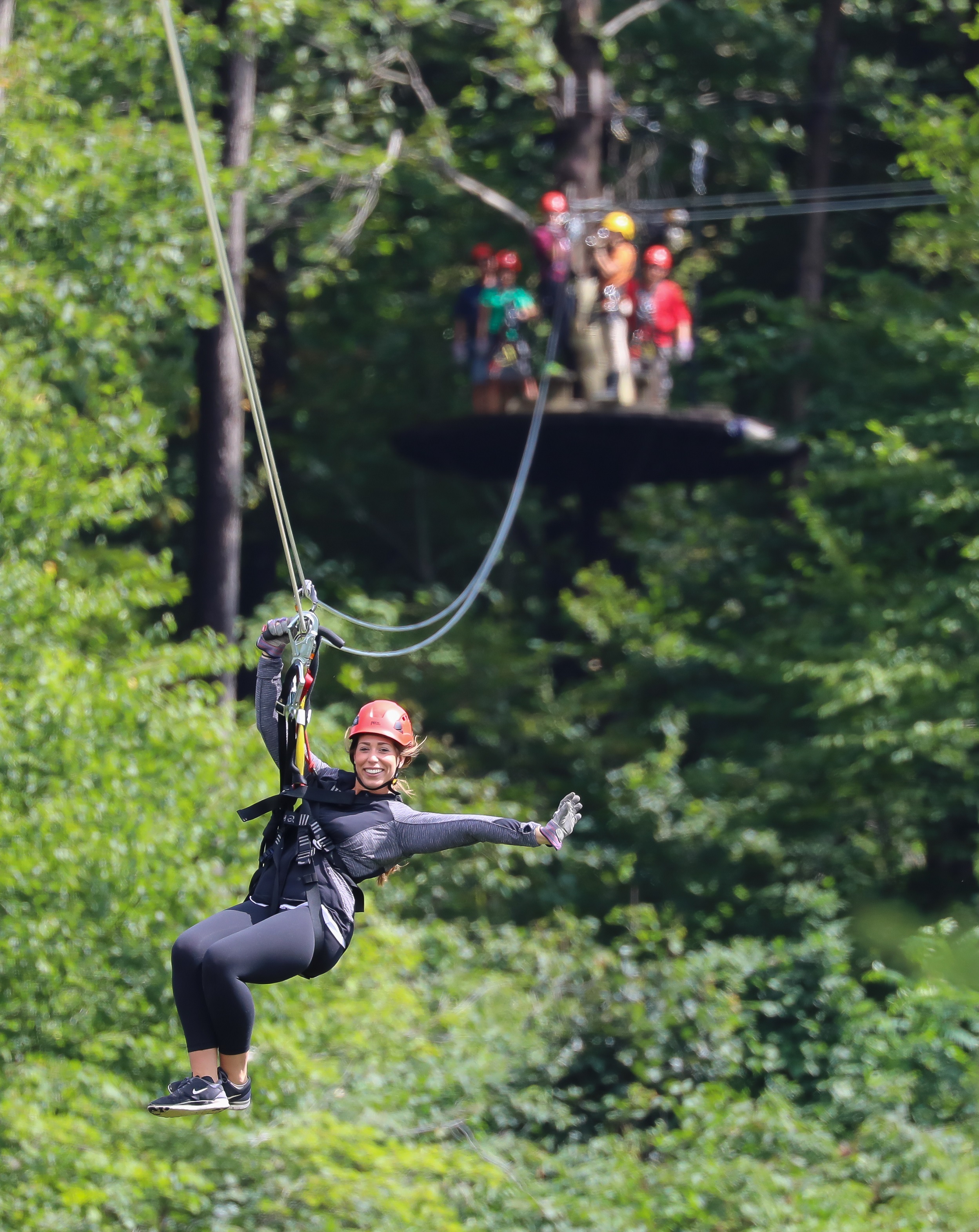 The guides were able to direct our motley group of strangers of various heights, weights, athletic abilities, and ages to all enjoy the experience of flying. We quickly gelled into a team, tightly huddling together on small wooden platforms in the sky. One by one, the instructor would help us clip onto the next zip and send us flying. It was priceless to see each person's facial expressions as he or she whizzed off to the next platform hundreds of yards downhill.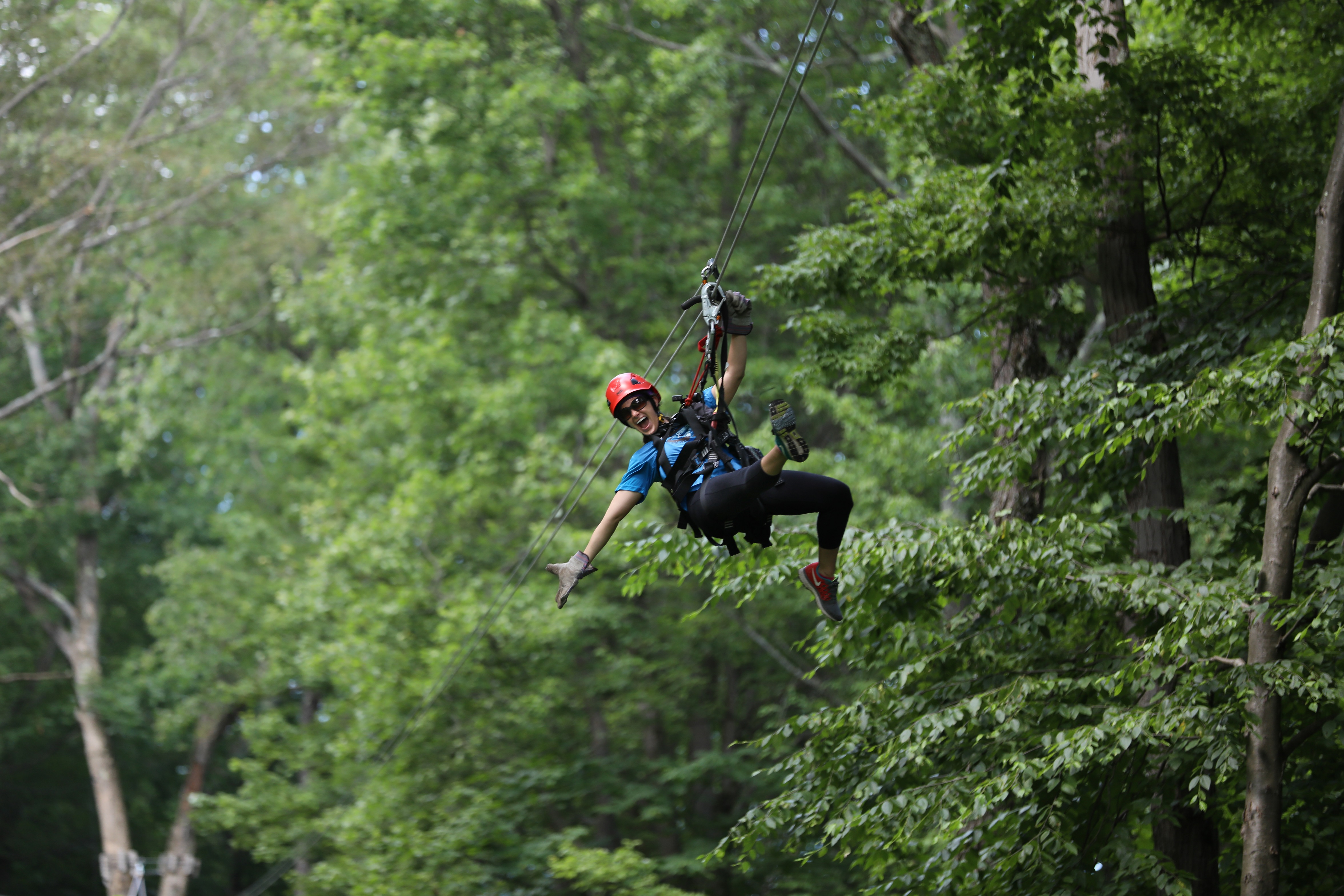 The Screaming Hawk was the kids' favorite, and there were other highlights that kept them engaged and away from their screens. They especially enjoyed the activities that rewarded them with prizes, such as gem mining. They were given a kit from the activity center and instructed to sift and shake a tray in a sluice box with water to reveal various colorful rocks such as amethyst and rose quartz. They "mined" a whole bag of geological keepsakes.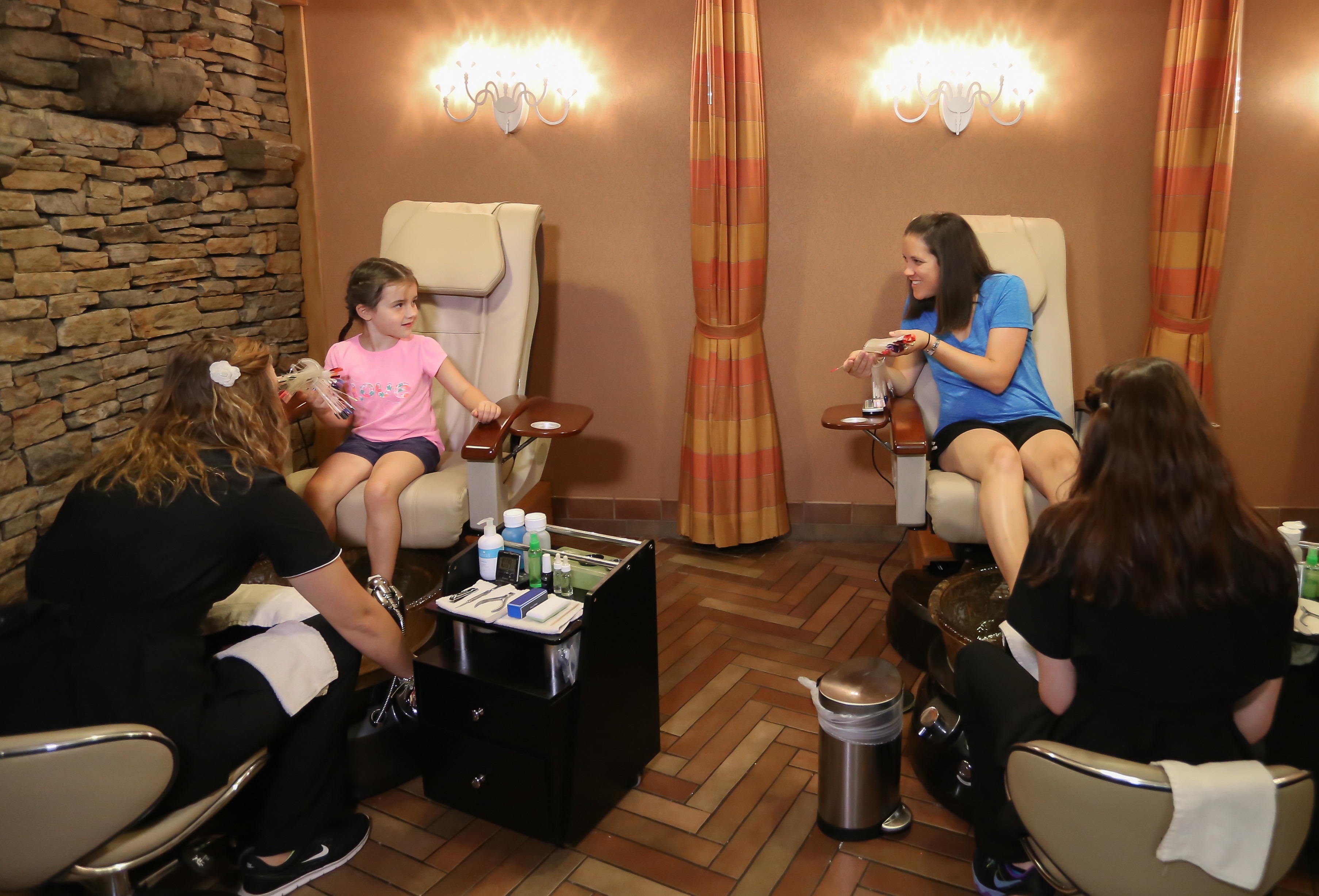 Another activity reminiscent of a boardwalk was the Bear Trap Fun Zone arcade, where they would play video games and old school attractions such as skee ball and basketball shoot in exchange for tickets that could be traded in for various trinkets and gifts. We also squeezed in a round of bowling before dinner in the lodge's quaint lanes, which felt like we were in a private mansion's basement.
While there were so many things to do, it was often the simplest activities that were the most enjoyable. We spent time every day walking the mountain trails and relaxing with cold drinks at the indoor/outdoor swimming pools and hot tubs.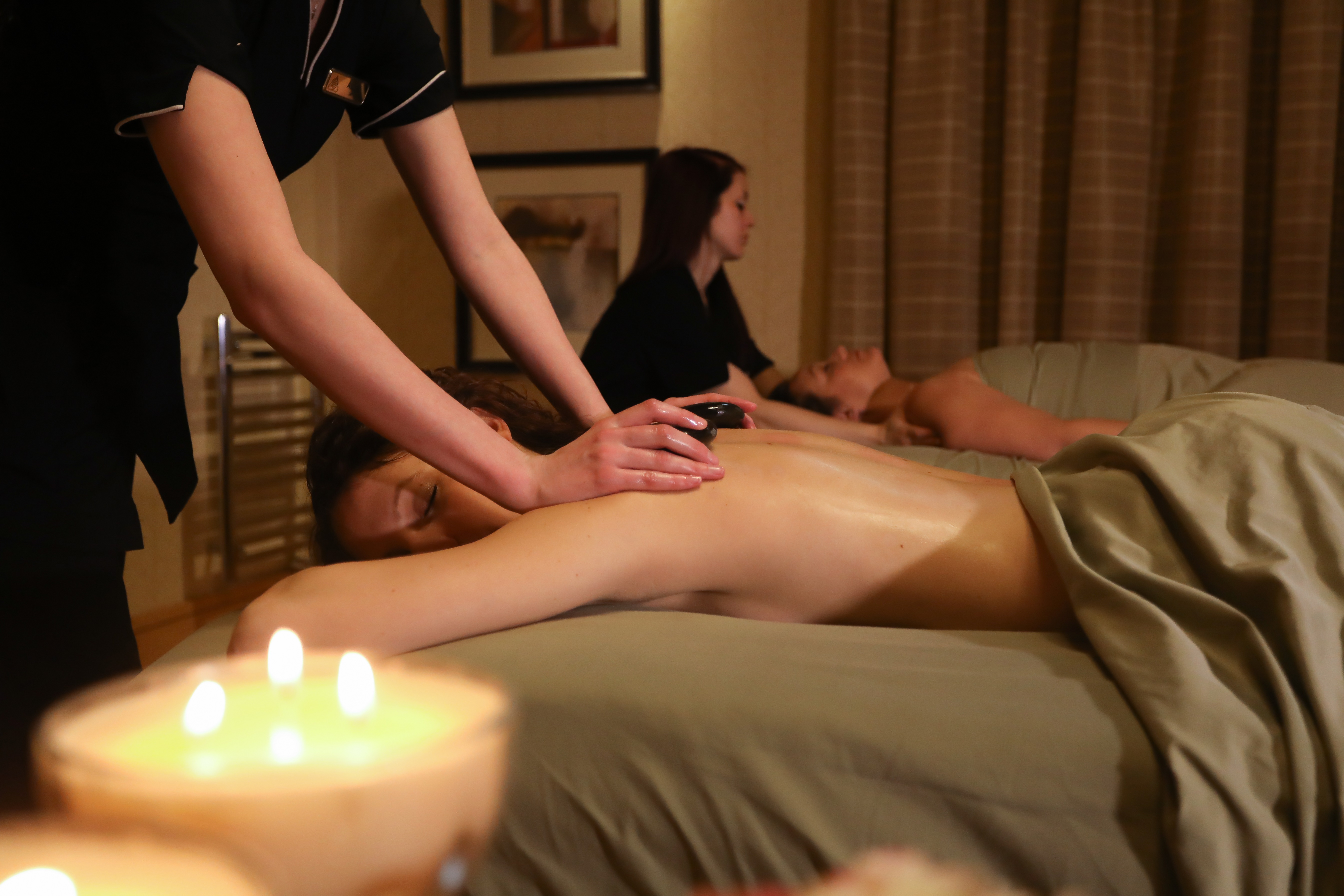 Dining 
We enjoyed leisurely daily breakfasts and sweeping views of the ski slopes from the floor-to-ceiling windows at the Slopeside Restaurant. Between sips of coffee, I planned the day's fun while looking up at the horizon where the dewy green slopes met the blue sky.
For lunch we ordered food and drinks at the pool, and we also made our way to the onsite bakery and ice cream parlor, Gingerbread Dreams.
We also enjoyed an evening of fine dining at the on-mountain restaurant Helen's. When we arrived, there wasn't a single empty table on the festive lawn and stone patio that overlooked a quaint pond and wooden bridge. We enjoyed the mood set by the piano player's jazz standards and the temperate summer evening. Helen's features local and organic comfort fare. We started off with a cheese and charcuterie plate, watermelon caprese salad, and crab bisque. For entrees, we tried the chimichurri scallops, grass-fed Kansas City Strip, and finished off with coffees, teas, a "Chocolate Blitz" and crème brulee.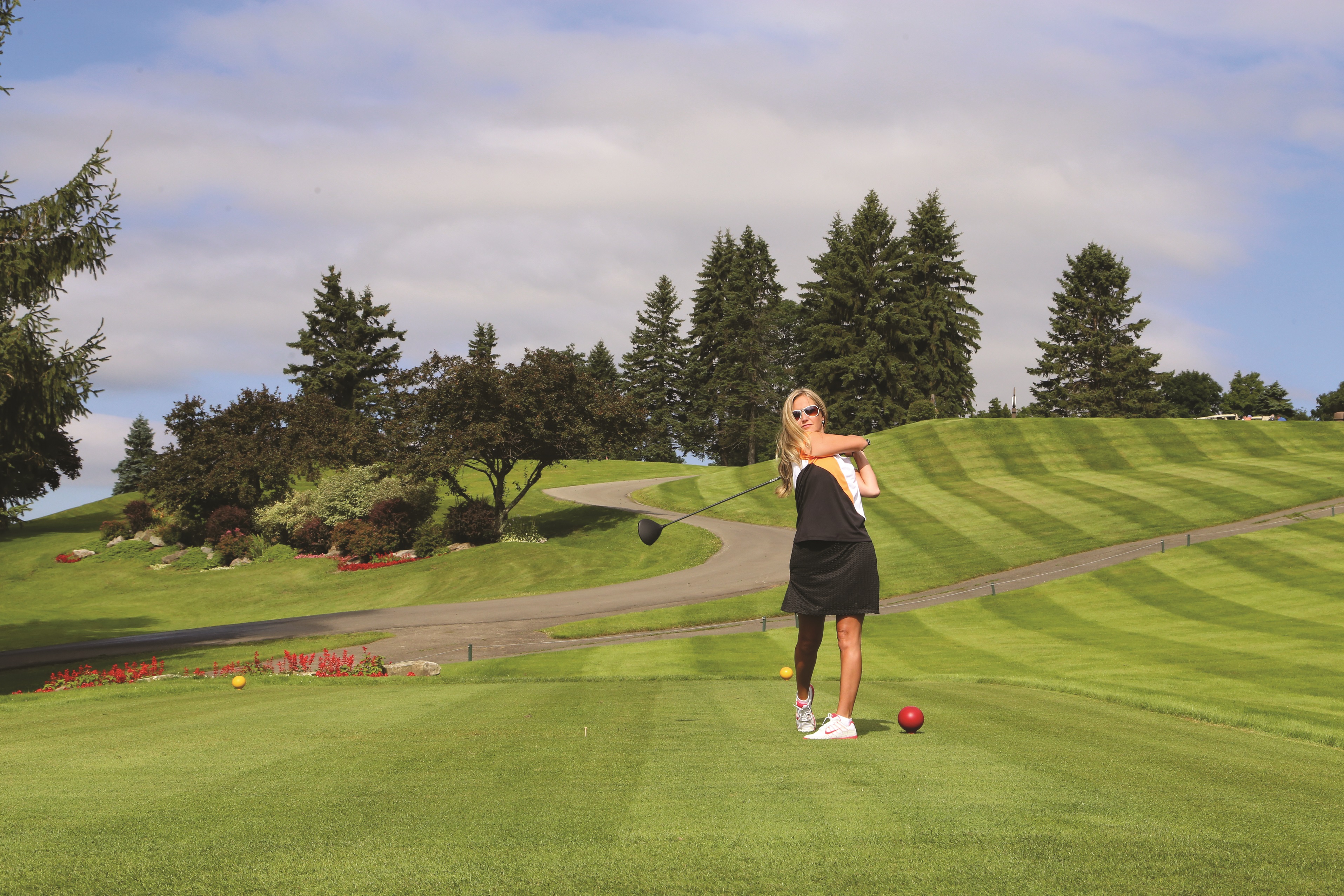 Golf and Spa 
While most of our time was dedicated to entertaining the kids, my wife and I were looking forward to some rejuvenation at the resort's Trillium Spa. We contemplated a couples massage but opted to take turns so one of us could stay with the kids. The masseuse patiently worked all the major muscle groups, gently loosening built-up knots. After my massage, I was feeling limber and left my wife and 10-year old daughter at the spa to enjoy further pampering with a mother-daughter manicure and pedicure.
While the ladies were bonding, I took my 8-year-old son out for his first round of golf at the Seven Springs Golf Club, which boasts sweeping views of the three corners of Pennsylvania, Maryland, and West Virginia. The course was lush and relaxed with very few golfers about. My son's highlights were getting to drive the cart and making that ping sound when his driver would occasionally make clean contact with the ball.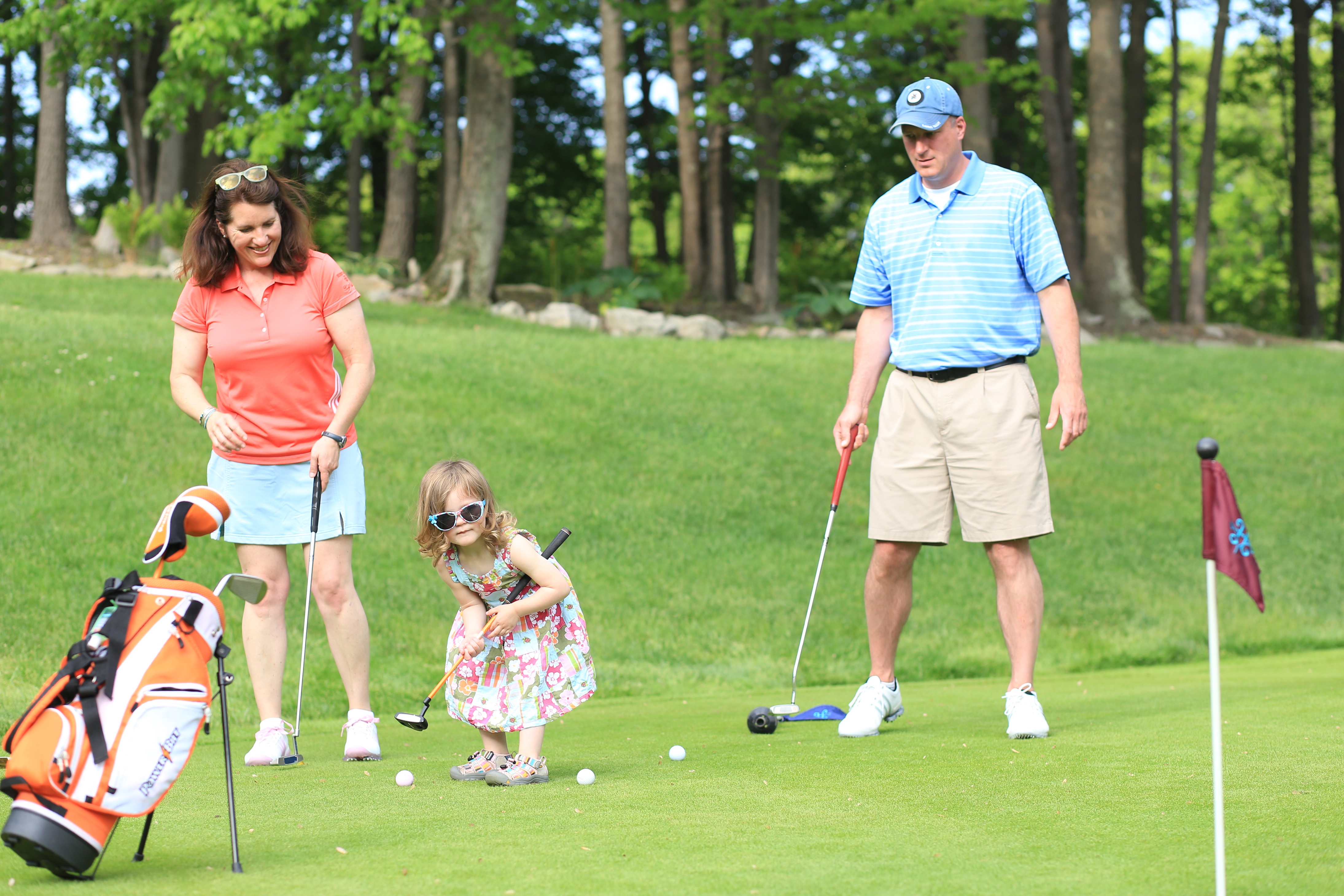 After our three-day stay was over, my only regret was leaving so many adventures unexplored. I'd recommend planning a longer stay to would-be visitors if possible.
And while time may be a finite resource, we did indeed prove to ourselves that summer camp can be enjoyed by the whole family.
The author was a guest of Seven Springs Mountain Resort.