Bethany Benson, 22, was on a road trip in the passenger seat of a vehicle, with her feet on the dashboard as her boyfriend drove.
But an accident ahead of them caused a vicious domino effect that left Benson—a college student who had almost completed degrees in history, French, and education—in the hospital.
A motorcycle and a car collided, then a tractor-trailer slammed on its brakes to try to avoid the crash. Benson's boyfriend smashed into the back of the vehicle.
Doctors say Bethany likely suffered serious injuries because she had her feet on the dashboard. The force of the airbag, which deploys at 200 mph, was the culprit, the Toronto Star reported.
Airbags are meant for protection but can present danger, too. The NHTSA noted that because they deploy so rapidly, serious injuries—even fatal in some cases—are likely if the "occupant is too close to—or is in direct contact with—the airbag when it first begins to deploy."
The airbag hit Bethany's hamstring, pushing her feet up and through the windshield, and causing her knees to slam into her eyes.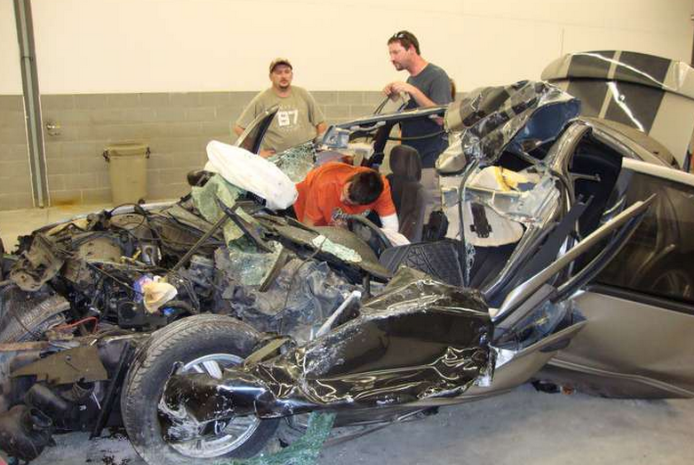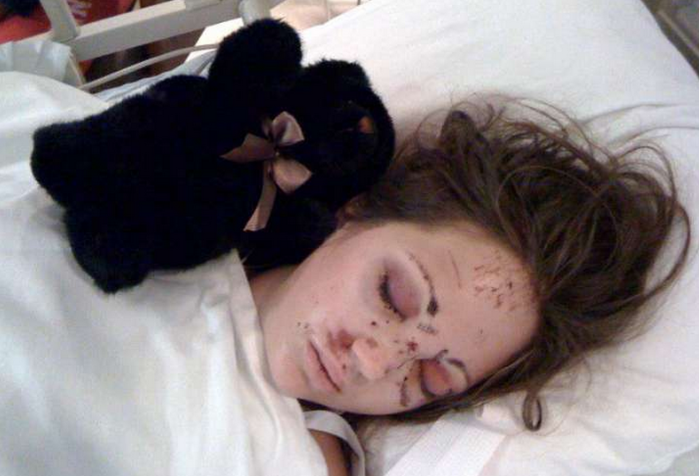 Benson was left with a broken nose, a shattered left eye socket, a fractured cheekbone, and 11 broken bones in her feet. She also suffered brain injuries in the incident.
"I always used to put my feet up" in a car, she told the Toronto Star. "It's easier on the back if you have your feet up. I never even thought that it could be so dangerous."
Many of Bethany's injuries have since healed but she still has to endure constant pain despite medical treatment.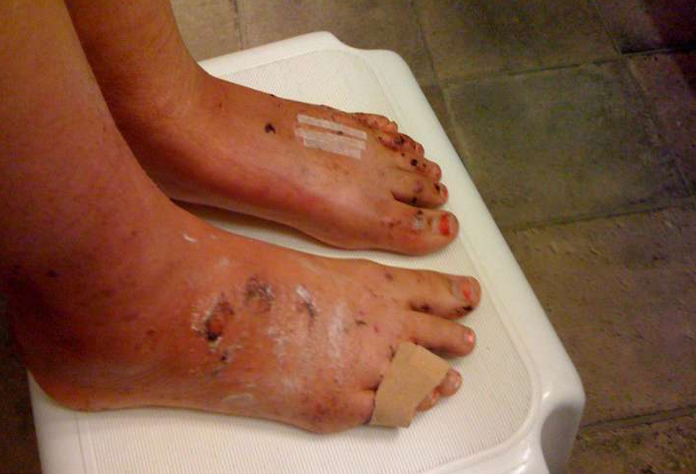 The effects on the brain have been the most pronounced, changing Bethany into a different person.
"I got back a different daughter," her mother, Mary Lachapelle, told Driving CA. "I lost a sweet 22-year-old who worked full-time and put herself through university. She was on a great path. I got a 13-year-old with anger issues."
Bethany noted that if her feet were the floor at the time of the crash, she would have survived the crash in better shape. Now she wants others to know about the hidden danger.
"Now I see people doing it all the time and it just bothers me because they don't know how dangerous it is," she said. "I just want to scream at them, to tell them not to do it, because they might end up like me."
Months ago, the Chattanooga Fire Department in Tennessee, posted on Facebook about the dangers of feet on the dashboard.
"While traveling this weekend, I noticed many passengers had their feet on the dashboard of their car. Airbags deploy between 100 & 220 MPH," the post read. "If you ride with your feet on the dash and you're involved in an accident, the airbag may send your knees through your eye sockets."
One person responded to the post, saying they suffered serious injuries.
"At 19 I went in a trip to visit my now husband… I had my right foot on the dashboard… it was a beautiful day… windows down, radio up… cruising with my friend in her new mustang… she hit a stopped car doing 65 mph… no one in the car was injured except for me… the airbag crushed my ankle, damaged my knee, broke my femur in 2 places and I had multiple face lacerations (from the airbag and my leg hitting me in the face)… this is very real… I've had multiple surgeries… I have 3 huge scars on my leg, knee and ankle…I walk with a limp sometimes," one user wrote.