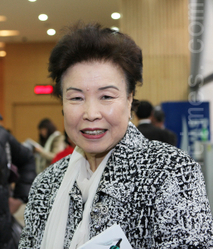 ANYANG, South Korea—In attendance at the final performance in South Korea of Shen Yun Performing Arts New York Company, on March 4, Kim Bong Im, director of the Seoul Opera Company, praised Shen Yun, saying it was a top-notch performing arts company whose dance attains the acme of perfection.
Kim Bong Im, who had seen Shen Yun last year, sent well wishes to the New York-based company in anticipation of its arrival. Watching this year's all-new production, she said with delight, "Really marvelous, well-done."
She praised Shen Yun as a performance company of excellence. To achieve this artistic level, performers have to go through a lot of rigorous practice and training, she said. "Live orchestral performance, vocal solos, really wonderful. Really marvelous, well-done."
Touched by the program The Choice, a dance in which a young man who is a policeman in China must choose whether to protect his close friend from college. She is a follower of Falun Dafa, which has been persecuted in China for more than a dozen years.
Kim Bong Im said, "So great is the program The Choice. It's hard to imagine the Chinese Communist Party suppressing kind people. Through the arts, Shen Yun presents it in such a touching way."
She was also impressed by the costumes and props that span China's regions, dynasties, and ethnicities, calling them "splendid." "I was stunned by fans used as lily pads in the dance Lotus Leaves, and by the choice of proper costumes, which is a skill; arts presentations involve a lot of skills."
She said admiringly, "All aspects of Shen Yun are perfect, including the live orchestral performance, dance, costumes, colors, and so on; everything is perfect. … Greatly inspiring."
Taking the world by storm since its inception in 2006, Shen Yun Performing Arts is recognized as the world's premier classical Chinese dance and music company. Kim Bong Im praised Shen Yun for its devotion to reviving authentic Chinese culture.
Having served as a college music professor for 25 years and as an opera company director for 40 years, Kim Bong Im wondered if an opera company was likely to present dance as beautifully as Shen Yun. Dance was often presented in Korean opera, but performers failed to reach such a high standard, she said. "But when I watch Shen Yun, the group dances in particular leave me stunned; performers move or jump simultaneously, as if it were performed by a single person." she said.
"The Shen Yun performance is wonderful, the music being very remarkable, very beautiful. Their dance attains the acme of the arts, a dance group at the highest level," she said.
She looks forward to seeing Shen Yun when it returns to South Korea next year.

Shen Yun a Perfect Combination of Chinese and Western Music
Mr. Kim, who migrated to South Korea from China about a year ago, said, after seeing the performance, "I've never seen such magnificent stage effects and such beautiful music … The synchronization of the backdrops and dancers was seamless."
Before moving to South Korea, he had been in the music and art worlds for over 20 years and had participated in various large-scale shows and concerts.
Commenting on the live music performed by the Shen Yun Orchestra, Mr. Kim said, "When listening to the music in Shen Yun, I liked to close my eyes in order to listen to the subtle parts. However, the performance on the stage was so wonderful that I just couldn't stop looking."
He said it was the first time he had seen such a perfect combination of Chinese and Western music, and that, when seeing Shen Yun, his eyes and ears were busy appreciating every part of the performance.
"I've seen a Shen Yun video … but the feeling of seeing the show in person is quite different," he said.
With his eyes brimming with tears, he continued, "It's beyond my imagination. It is indeed great."
Shen Yun has captivated South Korean audiences. Many celebrities have highly praised Shen Yun's perfect demonstration of traditional Chinese culture. Commenting on this phenomenon, Mr. Kim said that, as an overseas Chinese, he was proud to see traditional Chinese culture is so popular among Oriental and Western audiences alike.
Reporting by Li Daina & Amy Lient and Wen Long & Billy Shyu.
Shen Yun Performing Arts, based in New York, tours the world on a mission to revive traditional Chinese culture. Shen Yun Performing Arts New York Company will now continue to top venues in Taiwan, Australia and New Zealand.
For more information, visit ShenYunPerformingArts.org.
Read the original Chinese article
Read the original Chinese article