A senior UK Conservative MP who accused ministers of intimidating dissenting MPs to secure support for Prime Minister Boris Johnson said he's due to speak to the police.
William Wragg, vice-chairman of the 1922 committee—a committee of all backbench Conservative MPs—said on Friday that he will be meeting a detective from the Metropolitan Police in the House of Commons "early next week."
Wragg alleged on Thursday that a number of Conservative MPs who wanted Johnson to resign as prime minister were facing "intimidation" and "blackmail" from ministers—an allegation echoed by Chris Bryant, a labour MP sitting on the chair of the Commons Standards Committee—who alleged on Friday that "about a dozen" Conservatives MPs recently told him they had either been threatened by government whips, and in some cases "the prime minister himself," with having funding cut from their constituencies or promised funding if they voted "the right way."
But several senior Conservative MPs said such allegations do not represent the experiences they had as they had never been blackmailed or heard of other MPs subjected to blackmailing, with one MP dismissing the accusation as complete nonsense.
It's another major escalation of the so-called "Partygate" affair that led to a number of Conservative MPs calling for the prime minister to resign.
Johnson was accused of knowingly attending a lockdown-breaching garden party in No 10 before the prime minister admitted to being present for 25 minutes to "thank groups of staff" and said he believed it was a work event. The debacle has prompted enormous political backlash against Johnson—who's urged to resign by opposition Parties as well as some of his own backbenchers.
Six Tory MPs have publicly declared no confidence in Johnson before an investigation into a series of partying allegations, conducted by civil servant Sue Gray, is expected to conclude next week.
If the 1922 Committee chair receives no confidence votes from 54 MPs, a leadership election would be trigged.
Responding to the blackmailing allegations, a spokesman for Johnson said No 10 "would look at it very carefully" if presented with evidence, but he declined to say whether there was any investigation taking place or if any evidence was being sought out.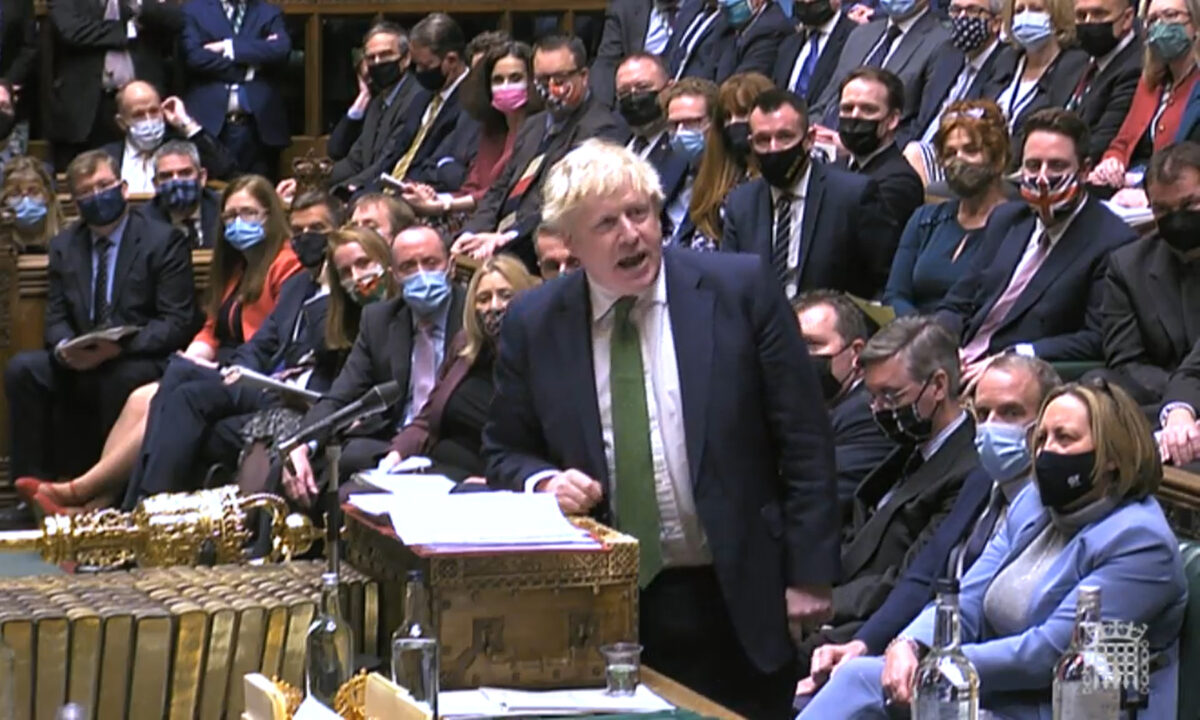 Speaking to The Telegraph on Friday, Wragg said No 10's offer to investigate was "kind" but he'd rather leave the investigations "to the experts."
Bryant told BBC Radio 4's "Today" programme on Saturday that he had spoken to "about a dozen" Conservatives in recent days who had either been threatened by government whips with having funding cut from their constituencies or promised funding if they voted "the right way."
"I have even heard MPs alleging that the Prime Minister himself has been doing this," the Standards Committee chair alleged.
"What I have said to all of those people is that I think that is misconduct in public office. The people who should be dealing with such allegations are the police.
Bryant said the alleged behaviour is illegal, adding: "We are meant to operate as MPs without fear or favour. The allocation of taxpayer funding to constituencies should be according to need, not according to the need to keep the prime minister in his job."
Former Tory MP Jerry Hayes also voiced support for Wragg, saying he's not "a snowflake" or "someone who can easily be bullied."
But Conservative MPs Tom Tugendhat, Bob Seely, and Adam Holloway have said they had never heard of any blackmailing of MPs.
Tugendhat, chair of the Commoner Foreign Affairs Committee, said he was never blackmailed even though he had "not always been the government's biggest supporter" and had voted against the government.
Tugendhat said he had always had a "very close … and indeed a very productive relationship with whips," and that he's "waiting to hear more about this."
Seely told Times Radio that he didn't recall "ever being threatened by them once" when he voted against the government."
The Defence Committee chair said he believes Wragg "has to do what he wants," but called for caution so things don't get blown "out of proportion."
Asked if he thinks it is right that the claims are investigated, he said: "Well, I do think we need some calm heads and what is occasionally said in the heat of the moment does not necessarily mean you have to get the police involved."
"I would caution a little bit of calmness from all sides in this, I really would," he said.
Another Conservative MP Adam Holloway also said he had "never known anything like" what the allegations described in 16 years, and said that's "what happens in American politics," adding, "It just doesn't seem to work that way" in the UK.
When asked whether Johnson's position as prime minister is tenable amid controversy about Downing Street parties, he added: "I don't believe in trial by television.
"Let's hear what the civil servant Sue Gray has to say. I think she's reporting on Wednesday," Holloway told PA news agency.
The Met told The Epoch Times it's not able to discuss any future meetings, but "as with any such allegations, should a criminal offence be reported to the Met, it would be considered."
No 10 didn't respond to The Epoch Times' request for comment.
PA contributed to this report.