Norfolk Southern CEO Alan Shaw on March 22 offered his "full-throated endorsement" for "many provisions" in a bipartisan Senate bill to strengthen railroad safety regulations but he would not commit to promoting the legislation's passage.
Shaw's testimony before the Senate Committee on Commerce, Science, and Transportation was similar to the remarks he delivered at the Senate Environment and Public Works Committee hearing last week and at a Pennsylvania state legislative panel earlier this week.
Lawmakers at both gatherings expressed frustration for what they have called "vague" responses by Shaw. On March 22, several Senators criticized the CEO for not directly answering their questions.
On March 1, Sen. J.D. Vance (R-Ohio) and Sherrod Brown (D-Ohio) introduced the Railway Safety Act of 2023, a bill aimed "to prevent future train disasters like the derailment that devastated East Palestine."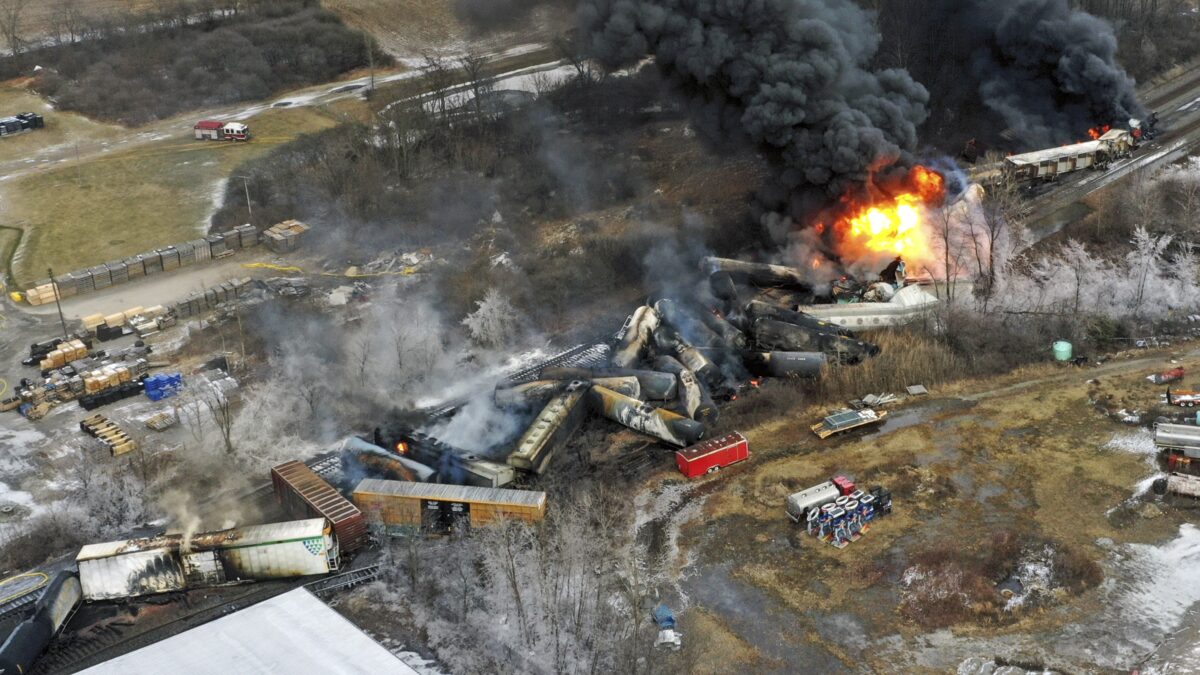 The bill takes steps to improve rail safety protocols, such as enhancing safety procedures for trains carrying hazardous materials, establishing requirements for wayside defect detectors, creating a permanent requirement for railroads to operate with at least two-person crews, and increasing fines for wrongdoing committed by rail carriers.
The Railway Safety Act was widely discussed at the March 22 hearing.
Wayside Bearing Detectors
During Vance's exchange with Shaw at the hearing, Shaw agreed to support increases to the frequency of wayside bearing detectors and mandatory first responder notification requirements, which are provisions included in the Railway Safety Act.
"Presently, there is no federal regulation requiring the installation of sensors for overheating parts on railway lines.  The most common of these sensors detect the difference between the outside temperature and the wheel and axle assembly of a railcar as it passes by. If there is a failure in this equipment, wheels lock up, and friction between the metal wheel and metal track creates heat and sparks.  If there is enough heat for long enough, the car's wheel and axle assembly will fail, and the train will derail. This is what caused the disaster at East Palestine. These facts are not in dispute," Vance said during his remarks.
Norfolk Southern on March 6 announced that it was installing more sensors on its tracks, Vance noted, but "the Senate should not be satisfied with a voluntary standard outlined with blurry legalisms.
"Phrases from their announcement, 'develop a plan,' 'anticipates adding,' and 'where practical' are not enough, not when towns across America are at stake," the senator said.
The National Transportation Board's preliminary report indicated that the East Palestine derailment occurred on a portion of the track where detectors were 20 miles apart, Vance explained.
"We propose to require detectors every 10 miles," he said.
"Currently, there are about 6,000 hot bearing detectors on the rail network, averaging approximately 20-30 miles apart, depending on the railroad and the traffic on a rail line."
Shaw had said he will "support legislative efforts to enhance the safety of the freight rail industry." But he did not address multiple pieces of the Railway Safety Act, including designating trains that transport flammable liquids as highly hazardous and increased fines for safety violations.
There are "areas in which we believe Congress could go further with safety legislation," Shaw said, noting stricter standards for tank car design and research into technology to detect issues with rail cars as two examples.
'You're Not Having a Good Month'

Sen. Amy Klobuchar (D-Minn.) asked Shaw if he would back the Railway Safety Act, and he responded, "We are committed to getting better."
During an exchange at the Senate Environment and Public Works Committee hearing on March 9, Shaw told Sen. Ed Markey (D-Mass.) that Norfolk Southern has "invested over a billion dollars in safety. And last year, our number of accidents was the lowest it had been in the last 10 years.
"Our safety stats, senator, continue to improve, and I am committed to making Norfolk Southern's safety culture the best in the industry," Shaw added.
"You're not having a good month," Markey replied.  It seems like every week, there's another accident that Norfolk Southern is a part of in our country. And what I'm hearing from you is just this great confidence that you have in your system. But I'll tell you, this was to show overconfidence breeds complacency and complacency breeds disaster," Markey added.
On March 22, Markey and Shaw had another tense exchange.
Markey asked Shaw if he would support a law mandating at least a two-person crew on all freight trains, which is a provision in the Railway Safety Act.
"Senator, we'll commit to using research and technology to ensure the railroad operates safely," Shaw said.
Clyde Whitaker is the Ohio State Legislative Director for the International Association of Sheet Metal, Air, Rail, and Transportation Workers (SMART). He was asked by Markey if he thought the East Palestine derailment "would have been far worse if there hadn't been multiple crew members on board."
"Absolutely," Whitaker said, noting that railroads would have one-person crews if they "had it their way."
Markey turned his attention back to Shaw and asked again, "Will you commit to a two-person crew on all trains?"
"Senator, we're a data-driven organization. And I'm not aware of any data that links crew size with safety," Shaw said.
Who is Responsible?
Sen. Peter Welch (D-Vt.) grilled Shaw on who was responsible for preventing the East Palestine derailment.
Shaw, who said in previous testimony that the crash was preventable, said, "We are responsible for safety on our network and working within the entire industry to enhance safety."
Welch then inquired, "Okay, let me understand this. You've just reluctantly acknowledged A) it's preventable, and B) it was your responsibility to prevent it. Am I incorrect?"
"Senator, I'm taking responsibility to enhance safety throughout the entire industry," Shaw said.
Welch told Shaw that his remark "sounds like a lobbyist response."
"It's like before executives come in here, they go to charm school," Welch continued. "And they're told to take responsibility without taking responsibility.
"Small communities have something that's really very, very special," Welch added. "It's trust. You trust one another. And there's been a breach of trust here."
On Feb. 3, a Norfolk Southern freight train carrying 151 cars derailed in East Palestine, an eastern Ohio village of 4,761 residents located around a mile from the Pennsylvania border.
The crash ignited a fire that burned for two days. Of the 38 cars that veered off the tracks, 11 contained hazardous chemicals. Fearing that there would be an explosion, authorities on Feb. 6 decided to release vinyl chloride from five cars into a trench and burn the toxic chemical, sending a massive cloud of black smoke into the sky that could be seen for miles and was likened to the mushroom cloud caused by a nuclear weapon.

Before the burn and release, residents in East Palestine and surrounding communities were given an evacuation order by Ohio Gov. Mike DeWine and Pennsylvania Gov. Josh Shapiro.
On Feb. 8, DeWine held a press conference in East Palestine, lifting the order and telling residents it was safe to return to their homes.
Since then, though state and federal agencies have said testing shows that the air and water are safe, many residents have reported headaches, nausea, burning eyes, skin rashes, and other ailments.
A Resident's Story
East Palestine resident Misti Allison appeared at the hearing and shared her story about how the derailment has impacted her family and the community.
"I'm here to put a face on this disaster. This isn't just a political issue. It is a people issue," Allison said. "Everyone who lives in East Palestine is aware of the trains that pass by, but we've never really thought about them. Now, we can't think about anything else.
"We now know that train carried multiple toxic petrochemicals when authorities conducted a controlled burn. It was like a bomb went off—a bomb containing vinyl chloride, which releases dangerous chemicals. When burned, these chemicals never go away: chemicals such as dioxins, which are not safe at any level and cause damage that may not show up for years," Allison added.
"Two days later, our government told us it was safe to come home. But is it safe?" she continued. "People and animals in my community are sick. The EPA tells us the data is fine, while independent researchers say that there are high levels of carcinogens all around us. Who do we trust?"