Senator Malcolm Roberts has called on the federal government to cut funding to the University of Queensland if it continues to act as "an agent for the Chinese Communist Party (CCP)."
Roberts' comments were in reference to the university's actions against student activist Drew Pavlou and his subsequent suspension from the university for two years.
The Queensland senator said the 11 allegations against Pavlou, which were cited as the reasons for his suspension were "absurdly trivial and borderline hysterical."
Exact details of the allegations have been kept confidential from the public, however, it is alleged that they are linked to Pavlou's on-campus activism in support of Hong Kong's 2019 pro-democracy rallies.
"The recent expulsion of a fourth-year philosophy student, based on his outspoken views against China, has exposed the influence of a communist dictatorship on an Australian university," Roberts said in a media release on June 1.
UQ Chancellor Peter Varghese said on May 29 that he was concerned with the decision handed down against Pavlou.
"There are aspects of the findings and the severity of the penalty which personally concern me," Varghese said in a statement.
"In consultation with the vice chancellor, who has played no role in this disciplinary process, I have decided to convene an out-of-session meeting of UQ's Senate next week to discuss the matter."
Roberts said the University of Queensland (UQ) received more than 43 percent of its income from the federal government in 2019, and 20 percent from international Chinese students.
"UQ needs to remember where the bulk of their funding comes from and they need to assure the Australian taxpayer that they are an Australian university," he said, "and not an overseas agent of the communist party."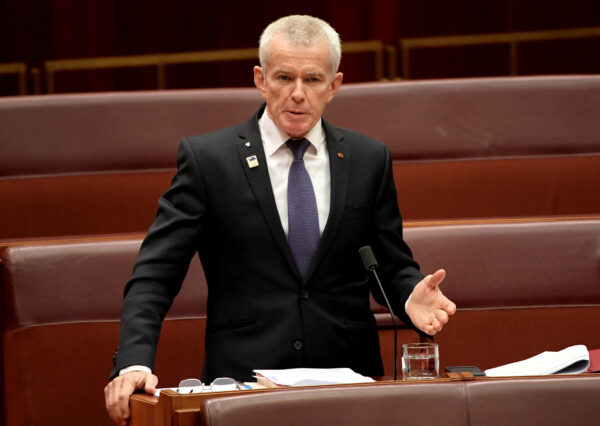 "This is another example of the recent worrying trend at Australian universities that is curtailing free speech and promoting left-wing ideology," said Roberts.
Pavlou's Protest
Last year in July, Pavlou helped organise a rally on university grounds in support of the major pro-democracy protests occurring in Hong Kong.
The rally turned ugly when pro-CCP students arrived, sparking violent confrontations.
Tasmanian Senator Eric Abetz's told The Epoch Times the situation was a "troubling exertion of undue power and influence by the communist dictatorship on Australia's universities."
Pavlou is currently seeking a protection order against the Chinese Consul-General of Brisbane Xu Jie, who published a statement on the consular website applauding the actions of the pro-China students calling their acts "patriotic behaviour."
At the same time, Pavlou's lawyer Mark Tarrant has lodged an official complaint with the university demanding Xu Jie be dismissed from his honorary position as an adjunct professor at UQ.
UQ had stated a week earlier that Xu's actions amounted to a breach of its code of conduct.
As a result, UQ Chancellor Peter Varghese announced the university would "no longer offer honorary professorships to any serving foreign government official."