Sen. Leo Housakos, one of the senators behind a pending motion to sanction Chinese officials for rights violations, says the Canadian government "shouldn't tolerate any threats from the Chinese regime" after Beijing's ambassador threatened "very firm countermeasures" in response to the motion.
"Nothing is more egregious than the Chinese ambassador threatening the Canadian government," Housakos said in an interview.
Housakos, a Conservative and former speaker of the Senate, and fellow Conservative Sen. Thanh Hai Ngo plan to table a motion next week calling for Ottawa to use the Magnitsky law to sanction Chinese officials involved in human rights abuses in Hong Kong and mainland China.
"It's meant to hold accountable members of the Chinese and Hong Kong regimes who are trampling upon what are clearly fundamental human rights and the fundamental rule of law," Housakos said.
In response to the proposed motion, China's ambassador to Canada Cong Peiwu said on Dec. 5 that Beijing would "firmly oppose this type of behaviour" and that it would cause "serious damage" to relations between the two countries.
"We'll make very firm countermeasures to this," Cong said. "It is not in the interest of the Canada side, so we do hope that we stop this kind of dangerous activity."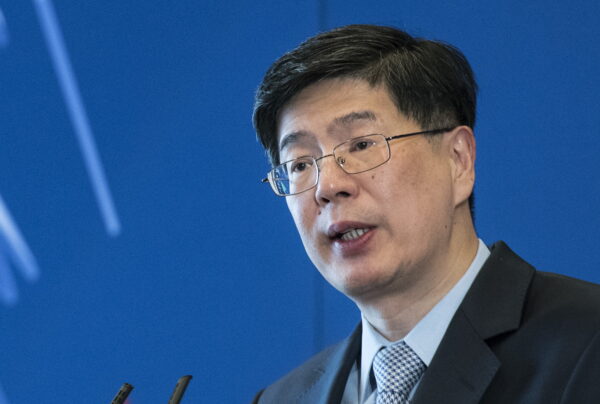 Following Canada's arrest of Huawei executive Meng Wanzhou in December 2018, China has arrested two Canadians, Michael Kovrig and Michael Spavor, sentenced two other Canadian citizens to death on drug smuggling charges, and blocked agricultural imports from Canada.
Cong's remarks are part of a pattern of increasingly forceful words leveled at Canada by Chinese ambassadors in recent times. Cong had earlier warned Canadian parliamentarians not to follow U.S. lawmakers' lead in passing legislation to sanction Chinese officials over the crackdown in Hong Kong. His predecessor, Lu Shaye, had called Canada and its Western allies white supremacists for calling for the release of Kovrig and Spavor.
"It's a joke to call Canada a country that supports white supremacy when currently they [Beijing] have millions of minority Muslims [Uighurs in China's Xinjiang province] whom they are brutally trampling upon their basic right of freedom of expression and religion," Housakos said.
The senator criticized Ottawa's performance on China, saying the government has been "slapped around" but has not taken appropriate action in response.
"They seem to be appeasing and kowtowing to China's brutal behaviour," Housakos said.
He notes that it's because of the lack of action on the part of the government that he is tabling the motion.
"We are a G7 country, we have economic leverage, we have political leverage, and it's high time that Mr. [Prime Minister Justin] Trudeau stands up and defends Canadian values," he said.
One of the actions Canada should take is "showing the door" to Huawei and China's state-owned Bank of China in Canada, Housakos said.
"They [Beijing] are not preoccupied with the international rule of law; their main concern has always been the bottom line. So we have to make it clear to them that we're not going to do business with a regime that is undemocratic and has no respect for human rights."
With files from The Canadian Press