The Senate Conservatives are keeping Sen. Denise Batters in their caucus despite her ousting from the national caucus by leader Erin O'Toole for launching a petition to review his leadership.
A spokeswoman for Senate Conservative leader Don Plett said on Nov. 18 that "Sen. Batters is still a current member of the Senate Conservative Caucus," according to The Canadian Press.
The confirmation comes despite the fact that Plett issued a statement in support of O'Toole after he removed Batters from the national caucus on Nov. 16.
"As always, I continue to support Erin O'Toole's strong and principled leadership to unite the Conservative Party of Canada," Plett had said on Nov. 16.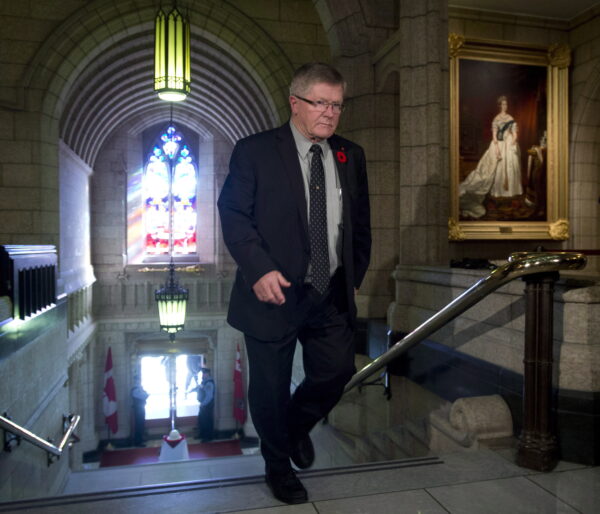 There are currently 17 Conservative senators in the upper chamber.
Batters, a Saskatchewan senator, launched a petition on Nov. 15 calling for a leadership review of O'Toole in the next six months, citing his reversal of core policies without seeking input from caucus and party members, and then losing the election by "every measure."
The next day, O'Toole removed her from the national caucus.
"As the Leader of the Conservative Party of Canada, I will not tolerate an individual discrediting and showing a clear lack of respect towards the efforts of the entire Conservative caucus, who are holding the corrupt and disastrous Trudeau government to account," he said in a statement on Nov. 16.
Former Conservative MP David Sweet, who commented in support of Batters on Twitter, said that "thousands" have already signed her petition, and that "dozens of former colleagues" have expressed concerns about the Tory leadership to him.
"This is far more than one Senator expressing frustration with leadership!" he wrote.
Former Conservative MP Phil McColeman also lent his support to the petition and said he was "honoured to sign it."
"Conservatives of all stripes are stronger when we are unified," he said in a statement on Nov. 18. "Delaying a leadership review until just prior to the next election will only serve to fracture our party further."
Batters' office declined comment for this story.
After her expulsion from the national caucus, Batters said in a statement that a fellow Conservative Senate Caucus colleague, alluding to Sen. Michael MacDonald, had even gone further several weeks ago by calling for O'Toole's resignation, yet he was not expelled.
"Why the double standard?" Batters said.
The Conservative Party suspended national council member Bert Chen in October after he launched a petition calling for a review of O'Toole's leadership.
After Batters launched her petition, several Conservative MPs spoke in support of O'Toole and the importance of maintaining party unity.
"I stand in full support of @CPC_HQ and our leader @erinotoole," Conservative Party Deputy Leader Candice Bergen said in a tweet on Nov. 15.
"I invite Senator Batters to focus on the issues that matter to all Canadians. The only winners in her exercise are Justin Trudeau's Liberals," Conservative MP and House leader Gérard Deltell said on Twitter on Nov. 15.
With files from The Canadian Press