Sen. Chuck Schumer Endorses Bill de Blasio for NY Mayor
September 20, 2013 1:00 pm Last Updated: October 1, 2013 10:02 am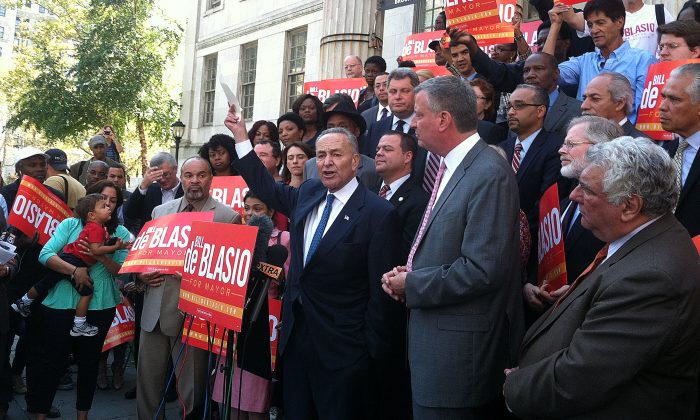 NEW YORK—U.S. Sen. Chuck Schumer from New York formally endorsed Democratic mayoral candidate Bill de Blasio on Friday from the steps of Brooklyn Borough Hall. 
The endorsement was the latest in a week which has seen many big name politicians back him for mayor, including Gov. Andrew Cuomo, who endorsed de Blasio on Monday.
Schumer, who is a Brooklyn resident as well as the mayoral hopeful, called de Blasio a "quintessential New Yorker."
Schumer's values align with de Blasio's, particularly in his fight for the middle class, which has become a cornerstone of the de Blasio campaign.
"I know because of who Bill de Blasio is and what he has done, that he will focus like a laser on getting the poverty level down and median incomes up," Schumer said.
Schumer said the two both believe in a progressive, pro-growth policies.
"Bill and I describe ourselves the same way," Schumer said. "We are pro-growth progressives."
De Blasio said he was truly honored to receive the Senator's endorsement, saying he is the "face of Brooklyn to our nation."  
Schumer appeared to give de Blasio a glowing review about his policies, but would not give a solid answer when asked if he agreed with de Blasio's proposal to raise taxes to pay for a universal pre-kindergarten program.
"I have led the charge in Washington to make sure the wealthy pay their fair share," Schumer said. "My job is not to tell the city what policies to make for the city. My job is to get as much federal help to the city as possible. That is what I will do."
De Blasio's plans to pay for the pre-kindergarten program by raising taxes on New Yorkers who make over $500,000. He said the 0.4 percent increase would generate $534 million in additional revenue.
The plan would need approval from the state legislature and Governor Andrew Cuomo's signature. Republicans in the senate have called the plan a "non-starter," especially in an election year for state politicians. Gov. Cuomo has not commented publicly on the proposal.
Schumer's name was recently thrown around as a potential presidential candidate, but he took to Twitter on Thursday dismissing the notion. The senator confirmed he would stay out of the race in 2016, saying he ran for president of Cunningham Junior High School in 1964. 
"I lost and I am not running for president again," Schumer said. "One loss in that office is enough. I have never lost anything else."