The Senate will pass the U.S.-Mexico-Canada trade deal on Jan. 16, Sen. John Barrasso (R-Wyo.) said on Wednesday.
Barrasso, the number three Republican in the Senate, made the vow after a slew of Senate committees advanced the revised North American trade pact.
Speaking on the Senate floor in Washington, Barrasso said: "We're going to pass USMCA tomorrow." Sen. Roy Blunt (R-Mo.), another member of the Senate Republican leadership, said he also expects the final passage vote on Thursday.
The Senate passed a motion on Wednesday afternoon to proceed to consideration of USMCA, or H.R. 5330. That set a timeline of 20 hours of debate or less until a vote will take place.
Other Senate Republicans signaled on the floor that the vote will come before the Senate takes off for the weekend and before the impeachment trial is slated to start next week.
"I expect it will be received for final Senate consideration in the next few days," Senate Majority Whip. John Thune (R-S.D.) the number two Republican in the body, said.
"We're looking forward to this chamber passing the USMCA this week and sending it to the president's desk," Sen Marsha Blackburn (R-Tenn.) added.
Committees made fast work of the bill.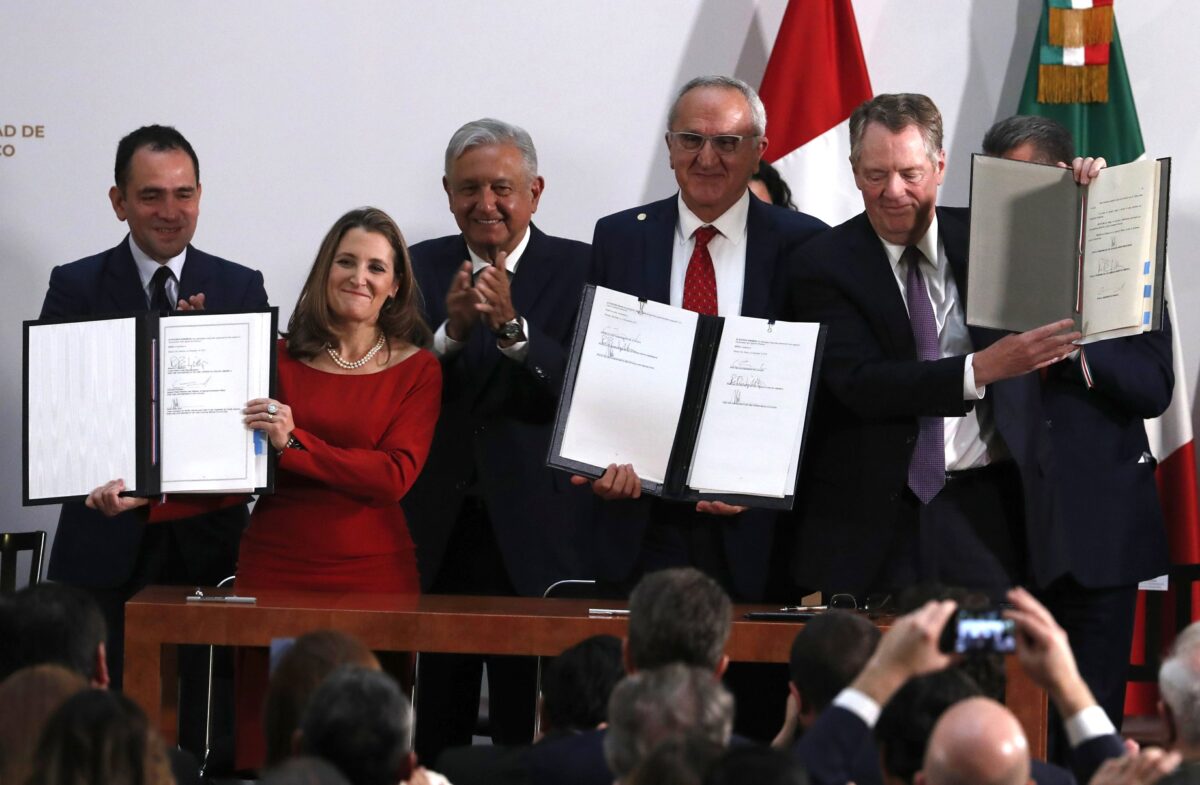 The Senate Appropriations Committee approved the deal, known as USMCA, 29-2 and the HELP Committee advanced the USMCA implementing bill 22-1, this week.
The Commerce Committee also voted to approve the pact and the Foreign Relations Committee advanced the USMCA implementing bill.
"After months of discussions between members of Congress and the administration, I am glad our committee has done its part to advance this important, bipartisan legislation," Foreign Relations Chairman Jim Risch (R-Idaho) said in a statement. "The USMCA strengthens North American trade relations and the international competitiveness of our country and our two biggest trading partners. It is in our national interest that our closest neighbors and trade partners continue to chart a path toward prosperity, which USMCA facilitates."
The Senate Finance, Budget and Environment, and Public Works committees previously approved the deal.
The trade deal, a revamp of the North American Free Trade Agreement that was originally agreed upon in early 2019, passed the Democrat-controlled House last month.
It includes bolstered protections for American workers, manufacturers, and farmers, and stricter rules of origin for automobiles and auto parts.
The deal also includes Canada lowering tariffs for dairy and incentives for using high-wage manufacturing labor.
Correction: This article has been updated to correct the date on which the USMCA is expected to be passed. The Epoch Times regrets this error.