GOP lawmakers attempted to block the Biden administration from diverting Veterans Affairs (VA) resources to address the border crisis.
A coalition of Republican senators introduced legislation (pdf) on April 26 to prioritize the needs of the nation's veterans over illegal immigrants. The new bill would secure the VA funds from providing "emergency assistance at the southern border of the United States resulting from the repeal of certain public health orders, and for other purposes."
It comes as the administration is preparing an interagency response to an expected surge at the southern border as it plans to end a Trump-era immigration policy, known as Title 42, in late May.
Since being invoked in March 2020, the public health order has quickly expelled a majority of asylum seekers at the border, in a bid to minimize non-essential travel and mitigate the spread of COVID-19 at U.S. borders. Its termination was announced on April 1 by the Centers for Disease Control and Prevention.
Homeland Security Secretary Alejandro Mayorkas confirmed that his department is planning to reallocate resources, doctors, and nurses from the VA system.
"America's veterans have given everything for this country," Sen. John Boozman (R-Ark.), lead Republican appropriator for VA funding and a senior member of the Senate Veterans' Affairs Committee, said during the press conference.
"We can't let the resources and personnel that are supposed to be dedicated to taking care of them get ripped away because the president and his administration have so badly mismanaged our border security and illegal immigration problem," said the senator.
Led by Boozman, the bill is co-sponsored by Sens. Thom Tillis (R-N.C.), Marco Rubio (R-Fla.), John Cornyn (R-Texas), Jim Inhofe (R-Okla.), Steve Daines (R-Mont.), John Thune (R-S.D.), Cindy Hyde-Smith (R-Miss.), Deb Fischer (R-Neb.), Tom Cotton (R-Ark.), and Bill Hagerty (R-Tenn.).
"Regardless of this administration's continued mishandling of the southern border," Tillis said in a press release, "the Biden administration's disastrous decision to end Title 42 should have no impact on the accessibility, timeliness, or quality of care and benefits that veterans need and deserve."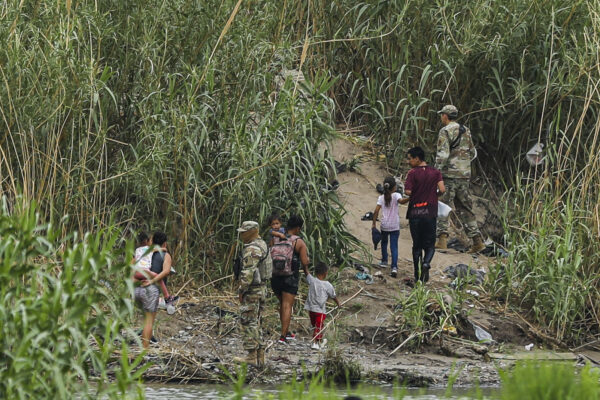 Prioritizing resources for illegal immigrants over the veterans is "despicable," said Rubio. "This bill would ensure that VA resources are not diverted to deal with the administration's growing border surge."
Thune deemed it a "self-inflicted crisis" by the administration, urging VA to focus on "the men and women who bravely served our country."
"Their care should not be compromised by the Biden administration's inability to secure our southern border," said Daines.
Last week, Boozman sent a joint letter to President Joe Biden, demanding not to divert VA health-care personnel away from helping American veterans and prioritize illegal immigrants, calling it a misuse of the Fourth Mission—the primary medical backup to the Department of Defense during times of national emergencies.
The Fourth Mission isn't "a tool to clean up the mess from a foreseeable and avoidable crisis, especially while the VA is already experiencing record-high turnover rates and issues of workforce resiliency amongst its health care employees," senators warned.
The VA is also experiencing a 15-year high turnover rate with its nursing staff and increased vacancies for a wide variety of health care professionals, Boozman notes.