President Donald Trump has signed off on the House's emergency aid package passed hours earlier in the Senate on Wednesday in an effort to deal with the economic fallout stemming from the pandemic and widespread disruptions to everyday life.
The emergency aid package will provide paid sick and family leave for a number of Americans, offer free CCP virus testing, and bolster unemployment insurance. It's the second such aid package this month.
The Epoch Times refers to the novel coronavirus, which causes the disease COVID-19, as the CCP virus because the Chinese Communist Party's coverup and mismanagement allowed the virus to spread throughout China and create a global pandemic.
The bill passed 90-8, with eight Republican senators voting against the measure. Senate Majority Leader Mitch McConnell, however, backed the House bill.
"It is a well-intentioned bipartisan product assembled by House Democrats and President Trump's team that tries to stand up and expand some new relief measures for American workers," McConnell (R-Ky.) said of the House measure on the floor of the Senate.
McConnell noted that while the bill isn't perfect and has serious flaws, "I do not believe we should let perfection be the enemy of something that will help even a subset of workers" amid the pandemic.
Senate Minority Leader Chuck Schumer (D-N.Y.) praised the bill's plan to address the outbreak.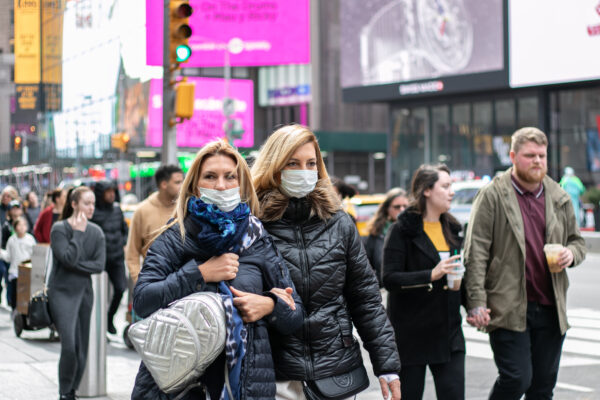 "It allows, for instance, for free testing and treatment," Schumer said on the floor. "We can send this bill to the president and begin work on the next phase, phase three."
McConnell and Senate Republicans said the chamber won't go on an extended recess until a third economic relief plan is passed. A third bill is expected to include financial assistance for small businesses, families, and industries—and it may include cash payments to Americans.
The eight to vote against it are Sens. Marsha Blackburn (R-Tenn.), James Inhofe (R-Okla.), Ron Johnson (R-Wis.), James Lankford (R-Okla.), Mike Lee (R-Utah), Tim Scott (R-S.C.), Rand Paul (R-Ky.), and Ben Sasse (R-Neb.).
"There is a herd mentality around this building right now where a lot of normally smart people are literally saying things like: The most important thing is to be fast, even if the ideas that are being advocated for are not really ready for prime time and can't really withstand the scrutiny of debate. That is a really dumb idea," Sasse said on the floor.
On Wednesday, Trump said he was invoking the Defense Production Act to directly order firms to produce critical goods in response to the outbreak, allowing for the hastening of production of medical supplies like ventilators, masks, and test kits. Trump also directed the Department of Housing and Urban Development (HUD) to suspend evictions.
The Internal Revenue Service (IRS) will deliver payments to people through a direct deposit and is attempting to provide payment in other ways electronically, said Treasury Secretary Steven Mnuchin.
"That is money that we can get to hard-working Americans right away," Mnuchin told CNBC.