The Senate left Washington on Thursday and won't return until September, according to Majority Leader Mitch McConnell (R-Ky.).
Speaking on the Senate floor on Thursday, McConnell said that he wants the Senate to act on a widely anticipated COVID-19 relief package in the near future.
"We will have our regular pro forma meetings through the end of the state work period. If the speaker of the House and the Minority Leader of the Senate decide to finally let another package move forward for workers and for families, it would take bipartisan consent to meet for legislative business sooner than scheduled," McConnell stated.
He added that if a deal is met, senators would receive at least 24 hours notice before any "unanticipated votes" on a pandemic relief deal. The "state work period" that he referred to ends on Sept. 8.
The White House negotiating team of Treasury Secretary Steve Mnuchin and chief of staff Mark Meadows, House Speaker Nancy Pelosi (D-Calif.), and Senate Minority Leader Chuck Schumer (D-N.Y) haven't met in nearly a week.
Sticking points include providing $1 trillion for state and city governments as well as providing billions of dollars to the U.S. Postal Service and election infrastructure. Trump on Thursday morning told Fox News that it is an attempt to rig the upcoming election.
But McConnell, on the floor, criticized Democrats for seeking to include projects in the bill that are not related to the COVID-19 pandemic.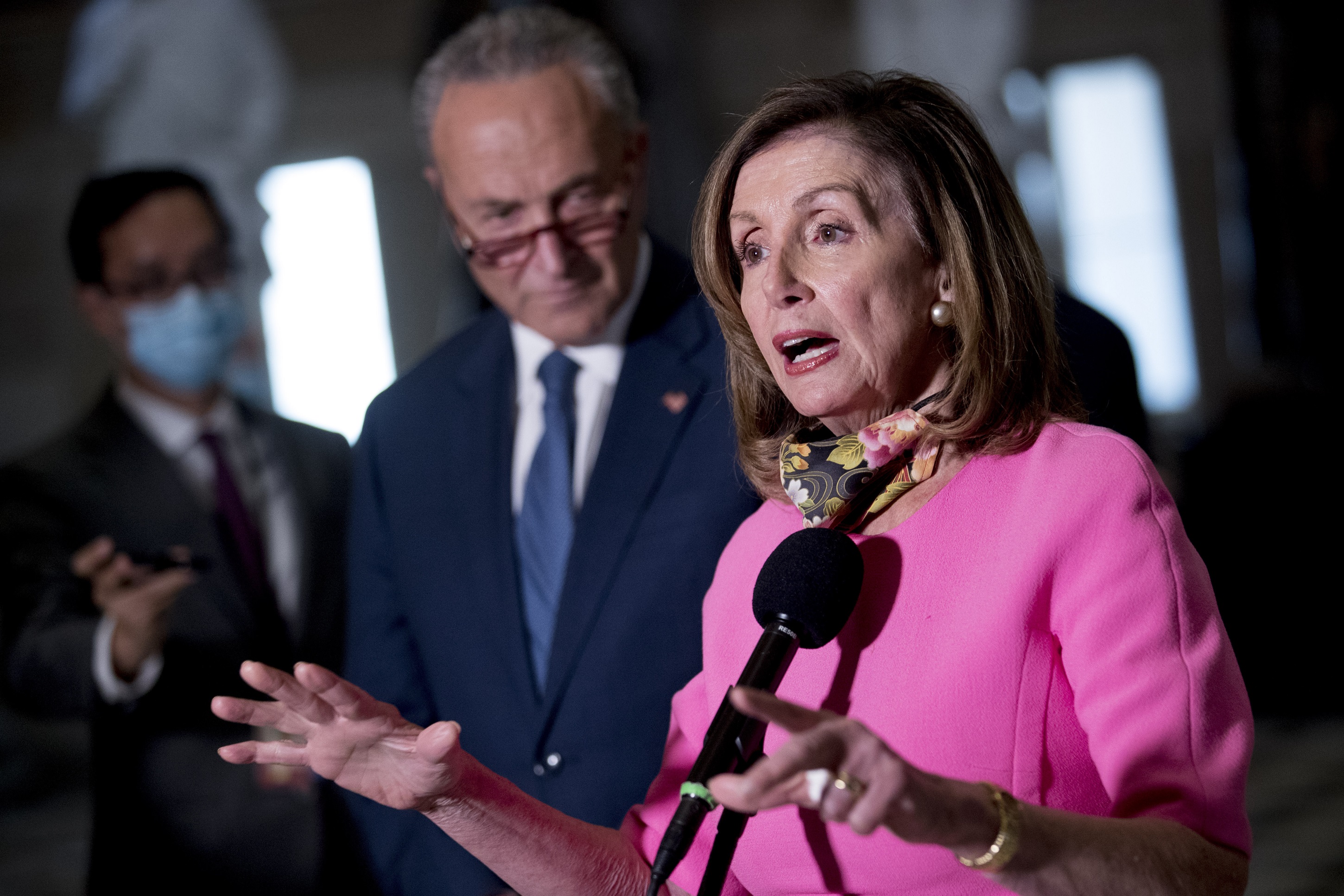 Pelosi on Thursday said that any deal will have to be worth $2 trillion or more.
"You would think they'd have a little sensitivity, but so obsessed are they to undermine absentee voting that this is their connection there," Pelosi said at a news conference. "So the president says he's not putting up any money for absentee voting and he's not putting up any money for the Postal Service."
It's not clear when the parties will meet again on a possible stimulus package.
"It's no wonder we have a vast difference because this administration, other Republicans in Congress have never understood the gravity of this situation," Pelosi said.
McConnell, however, said that Democrats have "not conceded anything" in the talks. "They haven't budged on their absurd demands. Their partisan games continue. And so the nation's pain continues, too."
In May, the Democratic-led House passed the $3.4 trillion HEROES Act that would provide $1 trillion to state and local governments. Republicans, meanwhile, offered a $1 trillion bill known as the HEALS Act that would provide no funding to those jurisdictions.
The bills were crafted in order to deal with the economic fallout created by the CCP (Chinese Communist Party) virus, which has reportedly killed more than 160,000 Americans since March.
Over the past weekend, Trump took executive action to provide expanded unemployment payments of $400 per week, defer student loan payments, a moratorium on evictions, and temporarily suspend payroll taxes.