Sen. Dianne Feinstein (D-Calif.) and a group of Democrats formally called for a delay in the confirmation of Supreme Court nominee Amy Coney Barrett until the presidential inauguration is over, suggesting that Democrats want to wait until the victor of the November election to replace late Justice Ruth Bader Ginsburg's seat.
Feinstein, the ranking Democrat on the Judiciary Committee, wrote to Senate Judiciary Chairman Lindsey Graham (R-S.C.), to challenge the planned Oct. 12 date for Barrett's hearing. Feinstein argued that there is not enough time to rush the vetting process for Barrett.
"The timeline for consideration of Judge Barrett's nomination is incompatible with the Senate's constitutional role," Feinstein wrote. "We again urge you to delay consideration of this nomination until after the presidential inauguration. The Senate and the American public deserve a deliberative, thorough process, and this falls far short."
Feinstein asserted that the current process to nominate Barrett "is a sharp departure from past practice" and "undercuts the Senate's ability to fulfill its advice and consent role and deprives the American people of a meaningful opportunity to gauge the nominee and her record for themselves."
The longtime California Democrat asked about whether the FBI can "thoroughly vet" Barrett's background, review documents related to the judge, review her entire record, and provide "adequate time" for questioning her.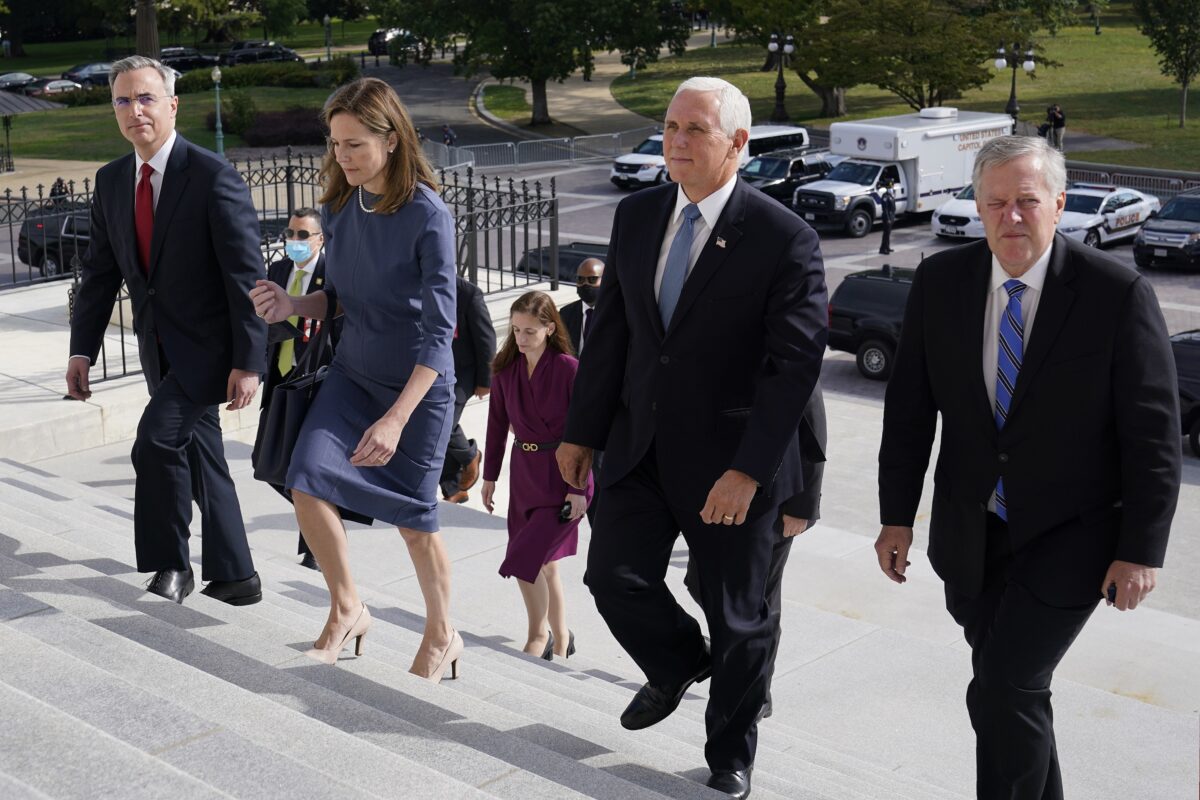 But Graham and GOP senators have said they believe she is qualified to be nominated for the Supreme Court.
In a statement, Graham said he met with Barrett this week, saying, "I think [Judge Barrett] is one of the most qualified people to ever be nominated to the Supreme Court."
"The question for the country is, is [Judge Barrett] ready to be promoted?" he asked. "I think the answer is yes. I think she's done everything anybody could hope a nominee for the Supreme Court would do in their life."
Barrett, meanwhile, provided a 65-page questionnaire to the Senate Judiciary Committee on her legal and professional history. She also turned in hundreds of documents related to her writings and legal opinions.
Democrats have cried foul on the process, saying that the winner of the upcoming election should be the one to nominate the next Supreme Court justice after Ginsburg's death late last month. They have accused Republicans of engaging in hypocrisy for working to confirm a justice with weeks to go before the election, saying they did not give Democrats the opportunity to do so in 2016 after Justice Antonin Scalia's death.
However, President Donald Trump said during Tuesday night's debate with Joe Biden that he was elected for "four years," not "three years."
"We won the election. Elections have consequences," he said. "We have the Senate, we have the White House, and we have a phenomenal nominee."
According to Feinstein's office, all 10 Judiciary Committee Democrats signed the request including Sens. Kamala Harris (Calif.), Corey Booker (N.J.), Mazie Hirono (Hawaii), Richard Blumenthal (Conn.), Patrick Leahy (Vt.), Chris Coons (Del.), Dick Durbin (Ill.), Sheldon Whitehouse (R.I.), and  Amy Klobuchar (Minn.)