The Senate on Friday at the end of a marathon session narrowly approved a budget resolution aimed at ramming through President Joe Biden's COVID-19 relief bill.
The 51–50 vote was only possible because Vice President Kamala Harris used her tie-breaking ability as president of the Senate.
Every Democrat senator voted for the resolution and every Republican voted against it.
"I am so thankful that our caucus stayed together in unity. We had no choice given the problems facing America and the desire to move forward," Senate Majority Leader Chuck Schumer (D-N.Y.) said on the Senate floor in Washington after the vote.
Schumer tried painting the work as bipartisan despite Republican support, noting that some of the flurry of amendments proposed overnight were adopted with backing from the GOP.
"This was a giant first step, a step in concord, and we're so grateful that President Biden put together a plan with input from so many of us, both sides of the aisle, to bring America back to overcome this horrible crisis," he added.
With slim chances of convincing 10 Republican senators to back the $1.9 trillion package, Democrats quickly became frustrated with GOP attempts to compromise with a small bill and have turned to a budget reconciliation process to push the package through with no Republican support.
Schumer and House Speaker Nancy Pelosi (D-Calif.) on Monday introduced the joint budget resolution. The House of Representatives approved it 218–212. No Republicans voted in favor.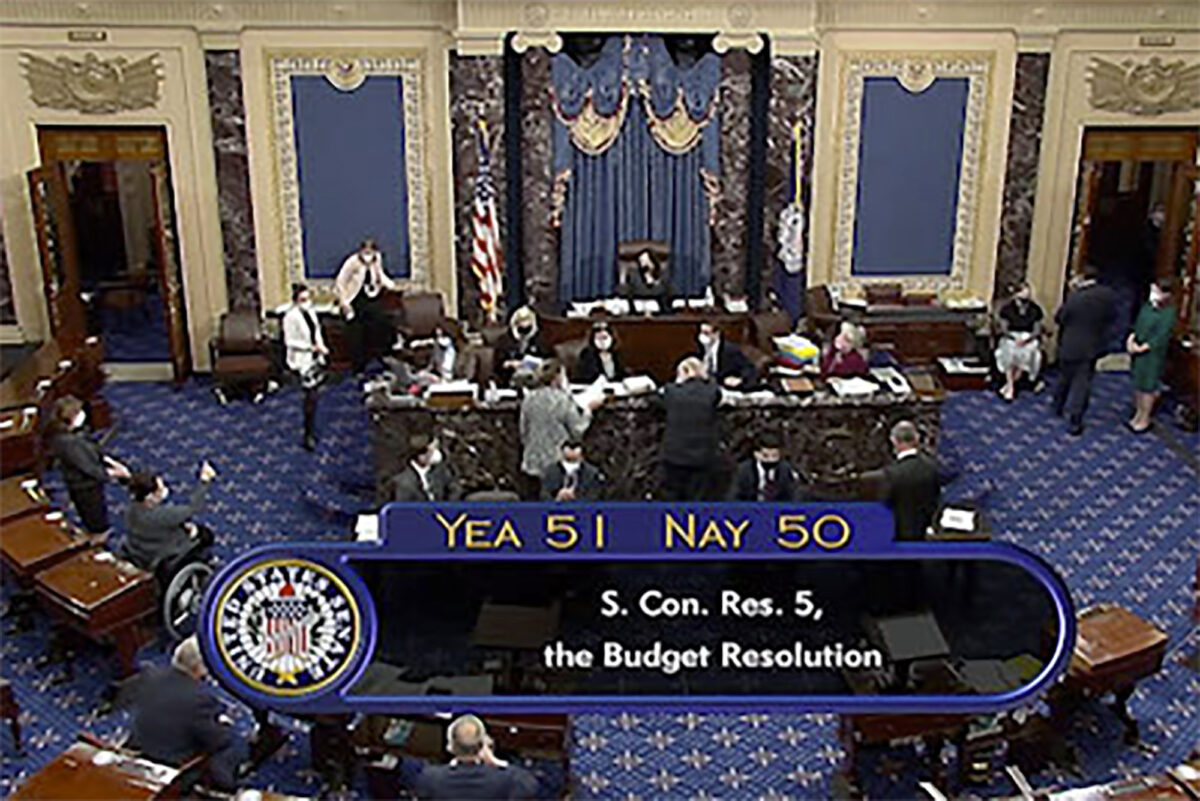 Because the Senate amended the resolution, the House will take it up again in a fresh vote.
If it passes again, Congress will be tasked with crafting a relief bill. They'll only need a simple majority to pass it, which would require marshaling all 50 Democrats again in the Senate. The bill is expected to closely hew to the package Biden unveiled last month before being sworn into office. That package includes a new round of stimulus checks, a federal minimum wage hike, and $130 billion to schools so they can reopen safely.
Some of the nonbinding amendments dealt with key issues of the proposal, such as one that voiced opposition to the minimum wage increase. That amendment, from Sen. Joni Ernst (R-Iowa) succeeded in a voice vote.
Another amendment called for more targeted checks than were authorized in the previous relief package last year. Only Sen. Rand Paul (R-Ky.) voted against the amendment.
Sen. Joe Manchin (D-W.Va.), a moderate, proposed the amendment and has said he wants checks more targeted, as have a number of GOP lawmakers.
The White House on Thursday said Biden would maintain the $1,400 payment level—he originally promised $2,000 payments—but is flexible on who is eligible for the checks.
A group of 10 Republicans who have been trying to negotiate with Biden released a letter Thursday night contesting a compromise should be reached between his plan and their competing approximately $600 billion proposal.
"We have received some information and data from your office on your request for $1.9 trillion for your American Rescue Plan, and we look forward to receiving additional information on your small business and tax proposals," the group, which includes Sens. Susan Collins (R-Maine) and Mitt Romney (R-Utah) wrote to Biden.
"In the spirit of continuing to have an open and productive dialogue, we want to provide feedback on the documents we received to date. We remain committed to working in a bipartisan fashion and hope that you will take into account our views as the legislative process moves forward."