Former Michigan Gov. Jennifer Granholm was confirmed by the U.S. Senate on Feb. 25 to serve as secretary of the Department of Energy.
Granholm, the second woman to lead the department, was confirmed in a 64–35 vote, with all Democrats, two independents, and 14 Republicans, including Senate Minority Leader Mitch McConnell, voting yes.
She has long supported alternative energy sources and outlets, such as electric vehicles, and wrote in a November 2020 op-ed before being nominated that a "low-carbon economic recovery" would be the best path.
Granholm also signaled support for Biden's moratorium on new oil and gas leases, telling senators during the Jan. 27 hearing that the pause "gives us time to be able to work on the technologies that reduce greenhouse gas emissions that will keep people employed."
The Biden administration has already "declared a war on American energy and American energy workers," Sen. John Barrasso (R-Wyo.) said in comments on the Senate floor.
"President Biden seems to want to pull the plug on American energy dominance. I cannot in good conscience vote to approve his nominee for secretary of energy," added Barrasso, the ranking Republican on the Senate Energy Committee.
In introducing Granholm and other choices for similar positions, Biden told a virtual news conference last year that the former governor "worked with states, cities, business, and labor to promote clean energy future with new jobs, new industry, cleaner and more affordable energy."
"Now I am asking her to bring that vision and faith in America to the Department of Energy," he said.
Other senators spoke out in support of Granholm, including Sen. Gary Peters (D-Mich.), who served under her while she was governing Michigan.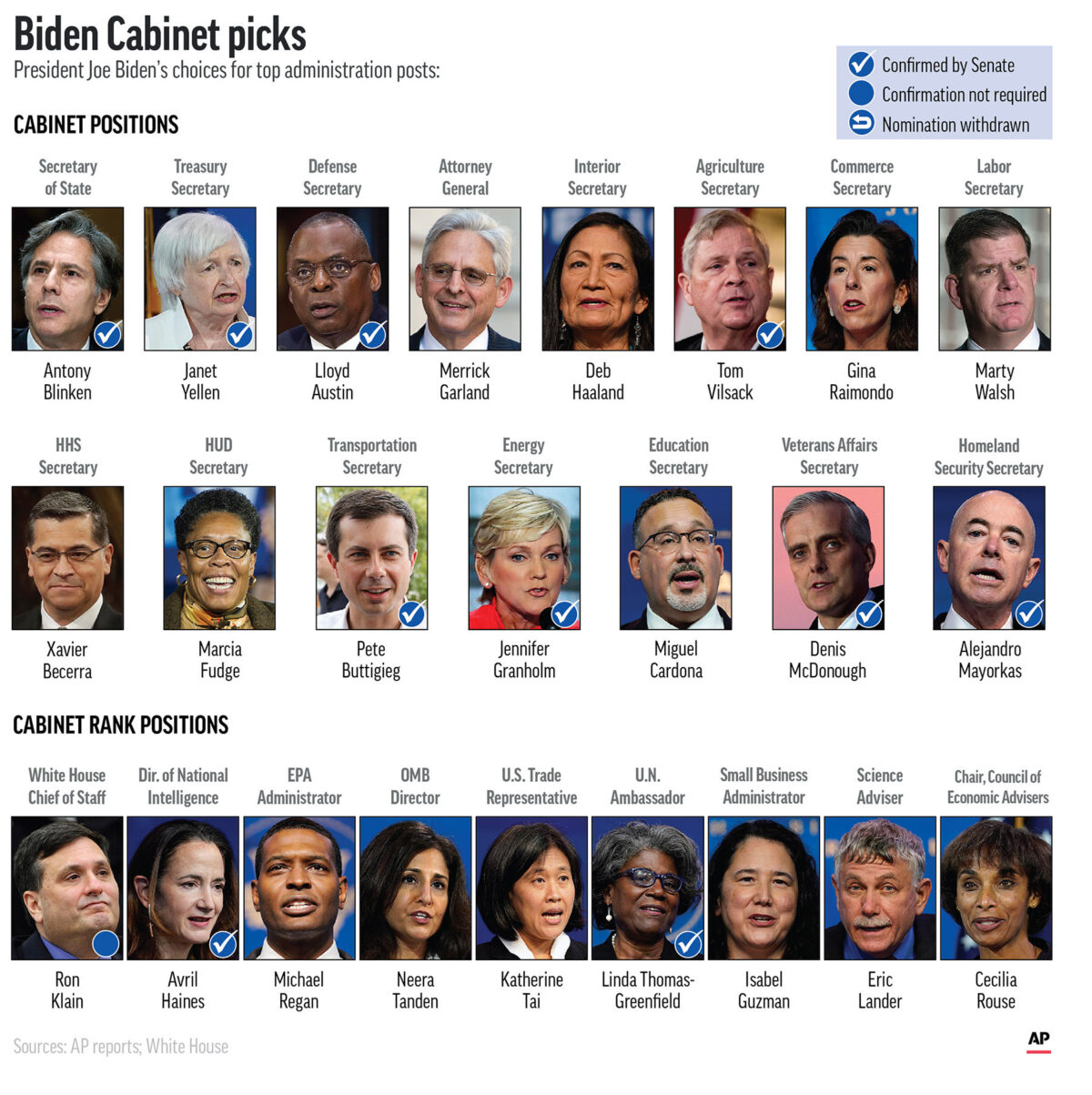 "As the governor of Michigan, she led our state through an economic crisis. She knows how to deal with multifaceted challenges and has a documented record of strong leadership," Peters told colleagues in Washington on Feb. 25.
Granholm championed strengthening national security, supporting research and development, and creating new, well-paying jobs while answering questions from senators, Peters added.
Sen. Joe Manchin (D-W.Va.), who represents a red state and chairs the Senate Energy and Natural Resources Committee, said Granholm's remarks last month amounted to a promise to "innovate, not eliminate" fossil fuels, while transitioning to using more alternative energy.
"She understands when markets shift, and basically leaving people behind that had good jobs and now have a hard time just surviving, let alone living any quality of life they lived before," he said. "She understands that."
Granholm, 62, governed Michigan from 2003 to 2011. She also worked on Barack Obama's transition team before his first term as president.
Since leaving the governor's mansion, Granholm has contributed to CNN, worked for the University of California–Berkeley, and advised groups founded by Hillary Clinton ally David Brock, including Media Matters.
After the vote, Granholm tweeted gratitude to the Senate.
"I'm obsessed with creating good-paying clean energy jobs in all corners of America in service of addressing our climate crisis. I'm impatient for results. Now let's get to work!" she wrote.
The Department of Energy is focused on maintaining a safe, secure, and effective nuclear deterrent and reducing the threat of nuclear proliferation, and overseeing the United States' energy supply, among other tasks.
Granholm is Biden's 10th Cabinet nominee to be confirmed. Tom Vilsack was confirmed as secretary of Agriculture this week, as was Linda-Thomas Greenfield as U.S. ambassador to the United Nations.