Sen. Susan Collins (R-Maine) said she's working with a "small group" of GOP Senators on allowing witnesses during the upcoming Senate impeachment trial.
House Democrats impeached Republican President Donald Trump on Dec. 18, 2019, but still have not transmitted the impeachment articles to the Senate, preventing the trial from starting. House Speaker Nancy Pelosi (D-Calif.) said Friday the articles could be sent over next week.
Also on Friday, Collins told reporters that in Maine that she worked all week with a "fairly small group" of Republican senators and others in the party to try to make sure both House impeachment managers and representatives of Trump can call witnesses during the upcoming trial.
"We should be completely open to calling witnesses," she told reporters, according to the Bangor Daily News. "I am hopeful that we can reach an agreement on how to proceed with the trial that will allow the opportunity for both the House and the president's counsel if they choose to do so."
Collins declined to state the size of the group she's working with.
Republicans in the Senate have largely dismissed the impeachment efforts and convicting Trump on the charges of obstruction of Congress and abuse of office would require a supermajority vote, which is widely considered unlikely in the body, where the GOP holds a 53-47 majority. More likely to pass is a vote to allow witnesses, though the timing of that vote has divided the majority and minority parties.
Senate Majority Leader Mitch McConnell (R-Ky.) has repeatedly said he wants to follow what the Senate did during the 1999 trial of President Bill Clinton. An initial vote set guidelines for the prosecution and defense and a vote on witnesses didn't take place until after each side presented their case.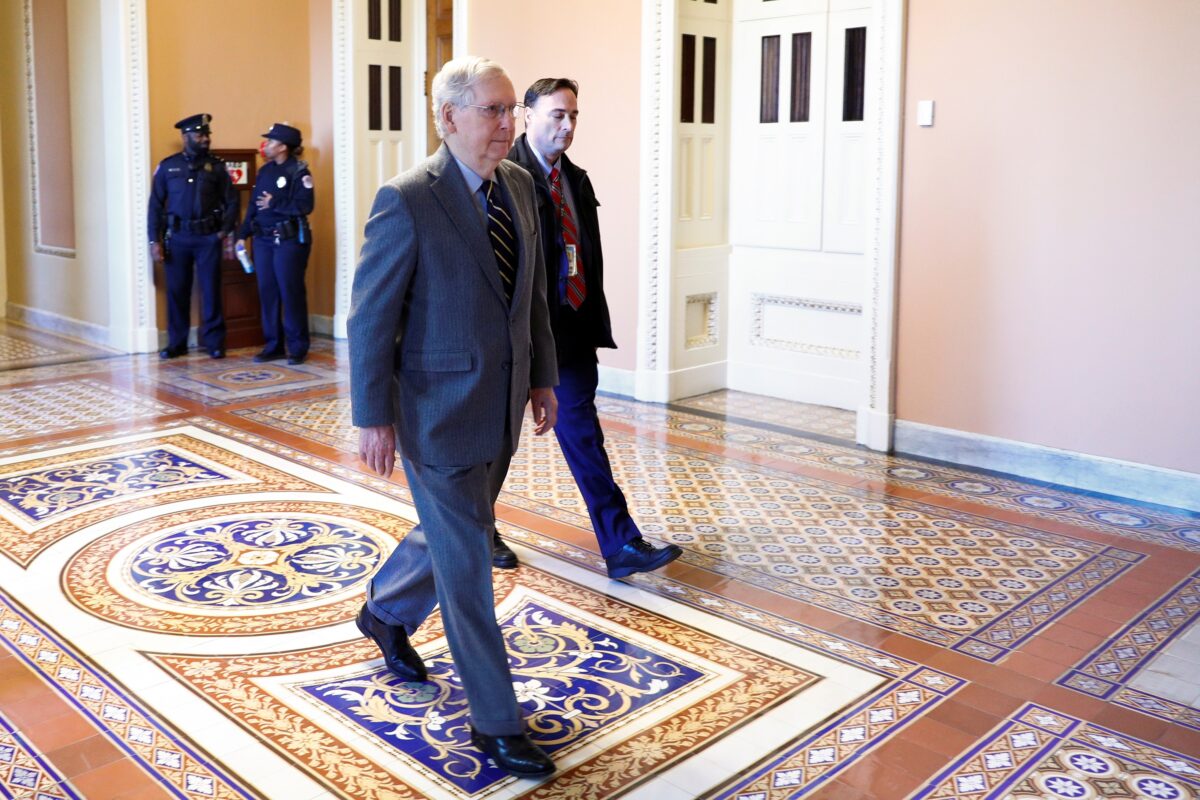 Senate Minority Leader Chuck Schumer (D-Calif.) has pushed for the witness issue to be included in the initial.
McConnell told reporters on Jan. 7 that he's gathered at least 51 votes for the Clinton-era rules. He emphasized that he wasn't necessarily ruling out witnesses, but leaving the matter until later in the trial. The announcement came after Collins and fellow moderate Sen. Lisa Murkowski (R-Alaska) said they supported McConnell's plan.
Collins has been critical of other aspects of the coming trial. She said last month that it wasn't appropriate for senators to declare their intentions to vote to acquit or remove the president before the trial starts.
"Each of us will take an oath, an oath that I take very seriously, to render impartial justice," she said.
She singled out a lawmaker from each side: McConnell, who said he was coordinating impeachment trial guidelines with Trump's team and Sen. Elizabeth Warren (D-Mass.), who is running for the Democratic presidential nomination and who has said she believes Trump is guilty and should be removed from office.
"There are senators on both sides of the aisle, who, to me, are not giving the appearance of and the reality of judging that's in an impartial way," Collins said.
Along with Collins and Murkowski, moderate GOP senators considered to be on the fence about impeachment include Sens. Mitt Romney (R-Utah) and Cory Gardners (R-Utah).