Sen. Susan Collins (R-Maine) said she's going to vote in favor of Judge Brett Kavanaugh's nomination to the Supreme Court. Her announcement in the Senate was followed up by Sen. Joe Manchin (D-W.Va), who also signaled that he would vote for the judge.
Collins noted that under common law, there is a presumption of innocence, which is the principle that one is considered innocent unless proven guilty.  "Fairness is most in jeopardy … when passions are inflamed," she said on Oct. 5, referring to allegations of sexual misconduct against Kavanaugh.
"The presumption of innocence is so important," Collins said.
Collins said that the four witnesses Christine Ford listed couldn't corroborate the 36-year-old assault claim she made against Kavanaugh while they were in high school.
"I do not believe that these charges can fairly prevent Judge Kavanaugh from serving on the court," Collins said.
"I have been alarmed and disturbed that unless the Kavanaugh nomination is rejected, that the Senate [is] condoning sexual assault. Nothing can be further from the truth," she said.
But she added that people must listen to the survivors of sexual assault, noting that she doesn't necessarily think Ford's allegations are false.
Moments after Collins spoke on the floor of the Senate, Manchin issued a statement saying he would confirm Kavanaugh. He said,  "I believe he will rule in a manner that is consistent with our Constitution."
'Rock Bottom'
Collins noted that the Supreme Court confirmation process of Kavanaugh is akin to a "gutter-level political campaign" and a "dysfunctional circus" when it should be a "solemn occasion."
Meanwhile, she accused "special interest groups" of whipping their followers "into a frenzy" with distortions of Kavanaugh's record. She said that false news reports have also been spread through social media to discredit Kavanaugh, adding that "dark money" is being used to fund anti-Kavanaugh efforts, without elaborating.
Due to news reports on Kavanaugh over the past two weeks, the process of confirming a Supreme Court justice, she said, hit "rock bottom" with protests and theatrics.
"I've never considered a president's party or identity" in confirming a Supreme Court justice, Collins said, adding that she confirmed President Obama's Supreme Court picks Justice Elena Kagan and Justice Sonia Sotomayor.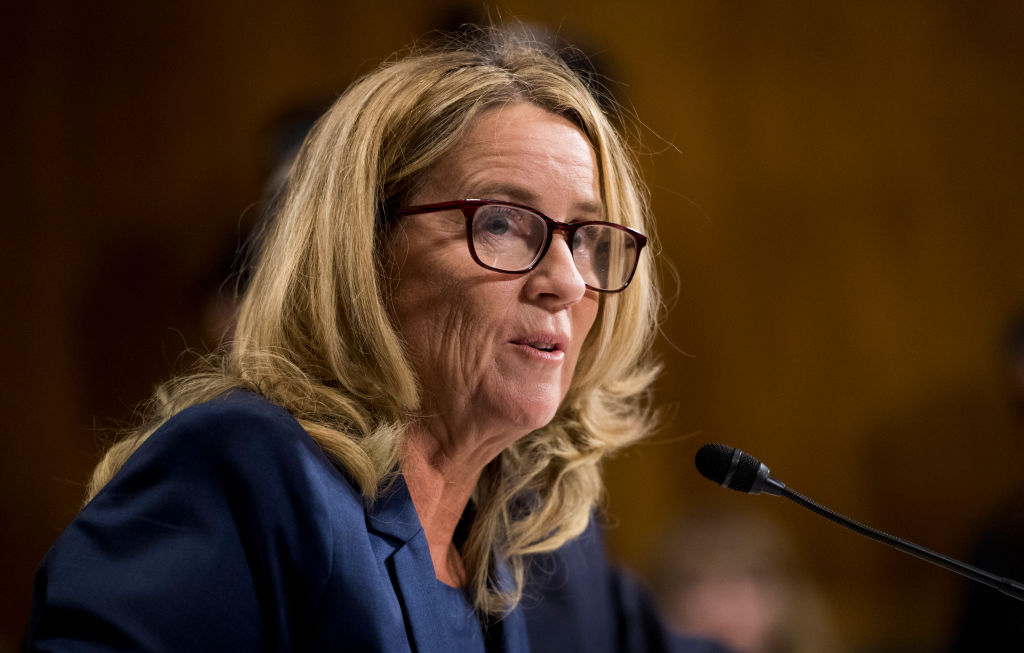 Collins also noted that Kavanaugh "received rave reviews" for his performance and judicial temperament as a judge in Washington D.C.
The Maine senator has been seen as a key swing vote in the confirmation of Kavanaugh.
In a viral video, Collins was accosted by protesters this week on Capitol Hill. She said she would vote to move Kavanaugh's nomination forward, which was met with screaming and accusations by protesters.
Protests
"Very proud of the U.S. Senate for voting 'YES' to advance the nomination of Judge Brett Kavanaugh!" President Donald Trump tweeted after the U.S. Senate voted 51-49 to push the nomination forward with a final vote on Oct. 6.
Trump also made note of the throngs of protesters who accosted senators in the Capitol building.
"The very rude elevator screamers are paid professionals only looking to make Senators look bad. Don't fall for it! Also, look at all of the professionally made identical signs. Paid for by Soros and others. These are not signs made in the basement from love! #Troublemakers," Trump tweeted. He's referring to billionaire investor George Soros, who has long been accused of supporting protesters and election interference.
Two key Republican senators said they were satisfied with the FBI's background investigation report on Oct. 4, and said it didn't corroborate the claims of the women accusing Kavanaugh of misconduct.
Sen. Dianne Feinstein (D-Calif.) said she got a letter from Ford, who alleged Kavanaugh sexually assaulted her 36 years ago in high school. Feinstein withheld the allegation until after the confirmation hearings. All of the witnesses that Ford named haven't corroborated her allegations.
Epoch Times reporters Ivan Pentchoukov and Petr Svab contributed to this report.