Senate Democratic hopeful Raphael Warnock owes more of an explanation than he's given about police body camera footage that shows him and his wife talking to officers after he allegedly ran over her foot, Sen. David Perdue (R-Ga.) said late Monday.
"We've got a lot of questions that people are Georgia asking about this," Perdue said. "Raphael Warnock has said he not only wants to defund the police, he calls them, thugs, criminals."
Warnock has said he does not support defunding the police. In 2015, he compared police to gangsters and thugs.
Warnock and fellow Senate Democratic hopeful Jon Ossoff "are out of step with most Georgians," Perdue added, accusing them of being "the most liberal candidates that I can remember in my lifetime."
The senator, who is battling Ossoff for reelection in the Jan. 5, 2021, Senate runoff elections, was speaking during a virtual appearance on Fox News.
Warnock, who is facing Sen. Kelly Loeffler (R-Ga.) for a chance to finish retired Sen. Johnny Isakson's (R-Ga.) term, was accused in March of running over his wife's foot. Police body camera footage obtained by The Epoch Times shows him saying he did not think he ran over her foot. A police officer and medical personnel said they found no indication that he had. Warnock and his wife later divorced.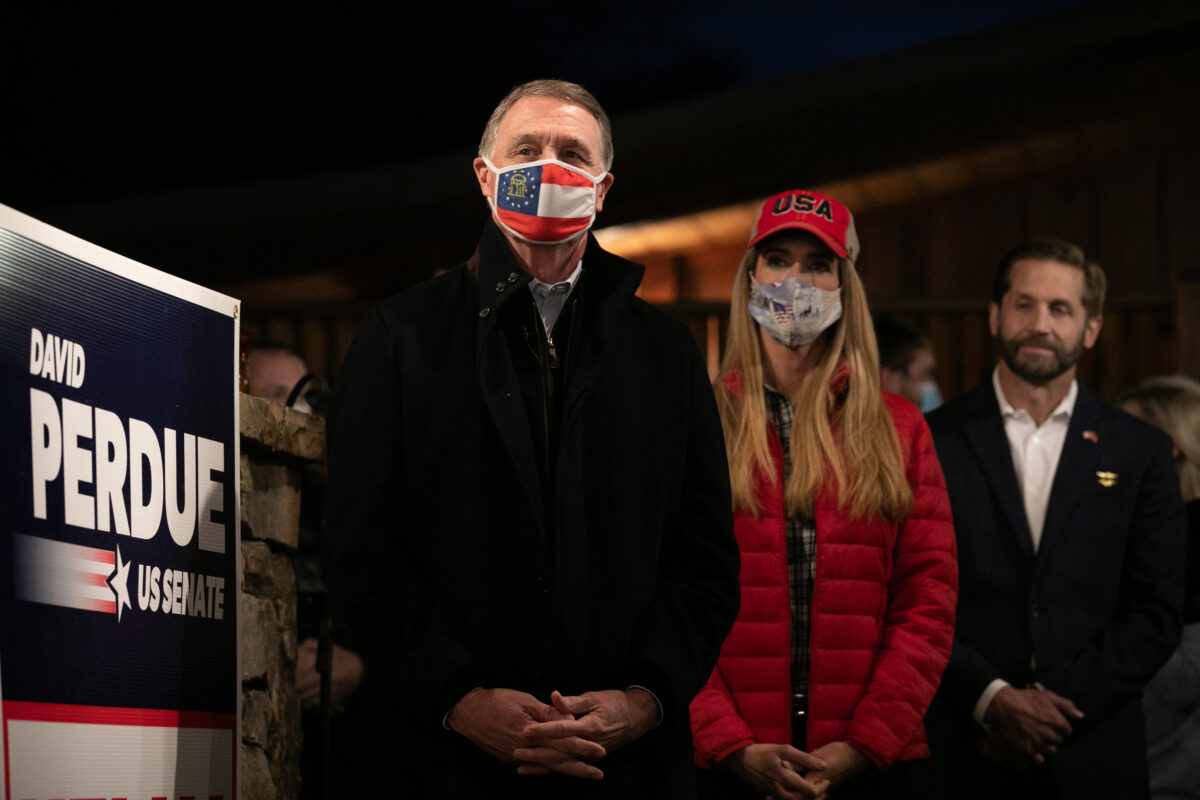 Loeffler seized on the recently released footage, saying, "Georgians deserve answers to these very serious allegations, and his ex-wife's voice deserves to be heard."
Warnock's campaign told The Epoch Times in an emailed statement: "This is desperate and shameful. Kelly Loeffler has spent her entire campaign attacking Reverend Warnock and has now stooped to a new low of attacking his family. While she continues to wage her pathetic and dishonest campaign, Reverend Warnock will keep fighting for the people of Georgia who Kelly Loeffler left behind."
In a separate statement to a local CBS affiliate, Warnock added: "I'm going to stay focused on my family which includes their mother and I'm going to stay focused on the people of Georgia who during a pandemic are still waiting on relief all these months later while politicians including Kelly Loeffler are busy playing games."
During a rally with Ossoff on Monday, Warnock made no mention of the video or the situation. He called on voters to check his record, "because some folks are trying to misrepresent my record."
"You can tell what someone will do when they're in office based on what they were doing before they ever ran," he said.