Sen. Majority Leader Mitch McConnell fractured his shoulder at his home in Kentucky on the morning of Aug. 4, his office said.
"This morning, Leader McConnell tripped at home on his outside patio and suffered a fractured shoulder," David Popp, McConnell's spokesman, said in a statement, reported CNN. "He has been treated, released, and is working from home in Louisville."
Popp said that the longtime Republican lawmaker recently spoke to Sens. John Cornyn of Texas and Rob Portman of Ohio to convey his condolences after the deadly mass shootings in their states.
#BREAKING: Mitch McConnell recovering at home after fracturing shoulder https://t.co/z2C7pq3qxB pic.twitter.com/GuFFEEwJSS

— The Hill (@thehill) August 4, 2019
The spokesman said, "This afternoon he contacted Senators Cornyn and Portman to express his deepest sympathies for the people of El Paso and Dayton and discuss the senseless tragedies of this weekend," Politico reported.
At least 20 people died during a massacre in El Paso, Texas. Hours later, at least nine people were shot and killed in Dayton, Ohio.
Mitch McConnell broke his shoulder this morning after tripping on his patio. pic.twitter.com/BL1FnCebFH

— southpaw (@nycsouthpaw) August 4, 2019
House Speaker Nancy Pelosi on Sunday demanded that Senate Republicans "must stop their outrageous obstruction and join the House to put an end to the horror and bloodshed that gun violence inflicts every day in America. Enough is enough."
Other details about McConnell's injury are not clear.
Trump Comes to Defense
Last week, President Donald Trump defended McConnell after he was criticized in a Washington Post column that called him a "Russian asset" for blocking election security measures.
"I think the Washington Post is the Russian asset, by comparison. Mitch McConnell loves our country. He's done a great job," Trump told reporters at the White House before boarding Marine One.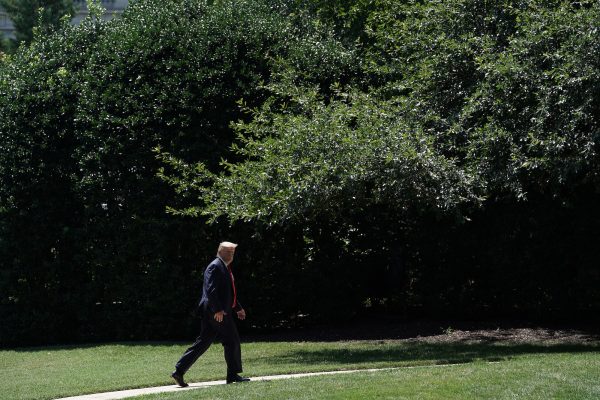 "If they actually said that—that Mitch McConnell is an asset of Russia—they ought to be ashamed of themselves and they ought to apologize," the president added.
The opinion piece, written by Dana Milbank, pilloried McConnell's opposition to the Democrat-sponsored bill, saying that his actions were "aiding and abetting Putin's dismantling of Americans' self-governance."
McConnell retaliated in saying that he has spoken "on the Senate floor today about my extensive record of standing up to Russia, election security, and why we won't let some Democrats exploit this crisis to push unrelated partisan priorities that have been on their wish list long before 2016," according to a tweet.
The senator said the claim is tantamount to "modern-day McCarthyism," according to a transcript of his remarks on the Senate floor.
"These absurd smears weren't thrown out there by anonymous Twitter accounts or fringe bloggers. Oh, no. This modern-day McCarthyism was pushed by big-time outlets. The smear that I am, quote, a 'Russian asset' ran in the opinion pages of The Washington Post. The accusation that I am, quote, 'un-American' was broadcast on MSNBC," he said.
He added: "This modern-day McCarthyism is toxic and damaging because of the way it warps our entire public discourse. Facts matter. Details matter. History matters. And if our nation is losing the ability to debate public policy without screaming about treason—that really matters."