Sen. Ron Johnson (R-Wis.) on Friday blocked two proposals that would have given Americans another round of stimulus checks.
The proposals were put forth separately by Sens. Josh Hawley (R-Mo.) and Bernie Sanders (I-Vt.).
Each called on the Senate floor for unanimous consent for his bill, which enables smooth passage without a vote but only if no other senators object.
The checks would give struggling families "a chance to get back on their feet, a chance to provide for themselves, a chance to recover when they have been asked again to sacrifice so much," Hawley said. "And that is why the least this body can do is to provide direct relief to every working American who needs it."
Hawley's proposal, which would give $1,200 checks to most Americans, with an additional $500 to parents for each child they have, was then blocked by Johnson.
The Wisconsinite said he shares Hawley's concern for people who are hurting because of the COVID-19 pandemic and noted he supported the CARES Act in March. That $2.2 trillion bill sent checks to most Americans, among other provisions.
He then cited a survey conducted by the Federal Reserve Bank in New York that found that most of the money from the first round of stimulus checks went to pay off debt or was saved.
"So I don't think you can take a look at these direct payments to individuals as stimulative," he said.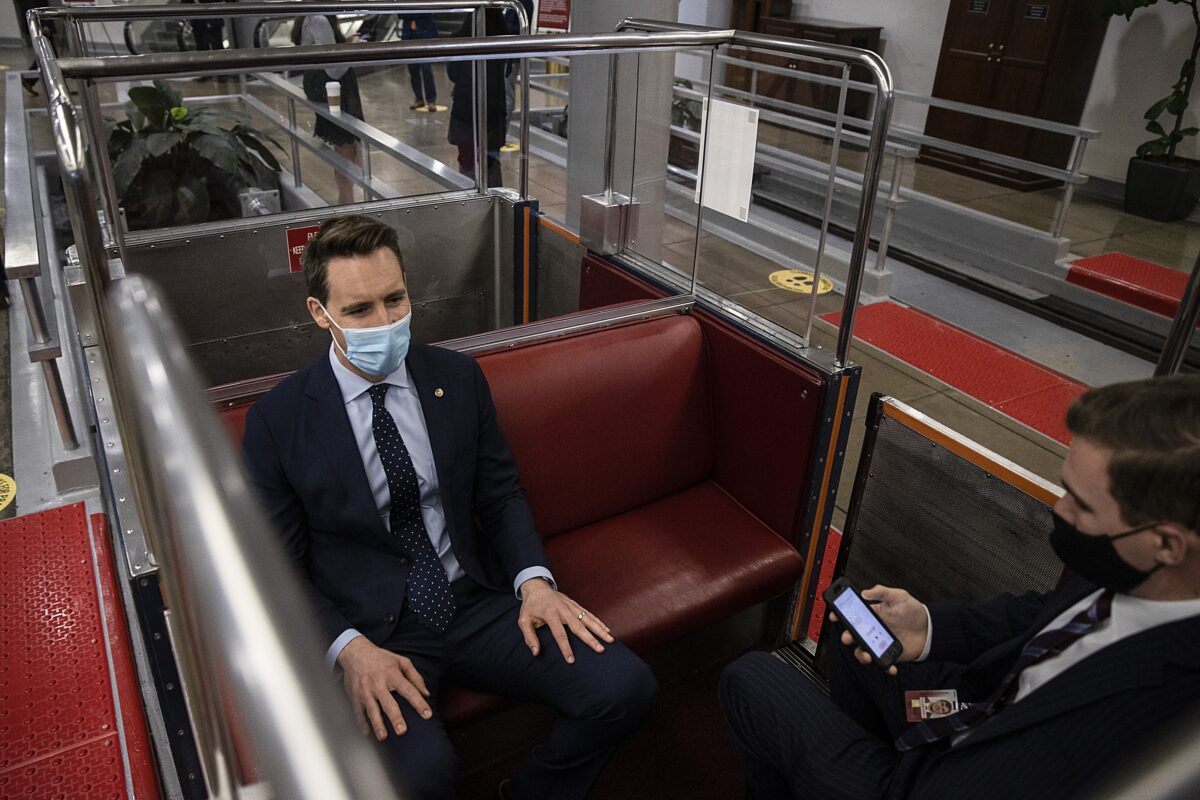 Johnson also decried what he described as a "shotgun approach" to dealing with the economic fallout caused by harsh measures imposed amid the pandemic.
Hawley responded by saying Congress appears to be poised to authorize another $1 trillion or so to give relief to people and businesses, but as of now the package doesn't appear to include direct payments.
"The senator is right. This body has spent trillions of dollars this year alone on COVID relief. We're getting ready to spend apparently another $1 trillion more. And yet working people are told they may be last—if they get relief at all. I don't think the American people understand that. I know people in Missouri don't understand this. Go home and trying explaining that to the people of your state. Go ahead. Just try," he said.
Later, Sanders attempted the same effort to pass a proposal for stimulus checks. Johnson  blocked it.
Hawley has said he may vote against the fresh relief package if it doesn't include payments. Hawley and Sanders last week teamed up to push for an amendment to the package that would include checks.
Both threatened to block a stopgap funding bill on Dec. 11 but ultimately did not.
"I will not be prepared to withdraw my objection next week," Sanders said on the Senate floor at the time. "We will deal with the financial crisis facing tens of millions of Americans, and if I have anything to say about it—and I guess I do—we're not going to go home for the Christmas holidays unless we make sure that we provide for the millions of families in this country who are suffering."