A powerful Republican senator who has recently fought off criticism for not issuing subpoenas in the review of the investigation of the Trump campaign says the ranking member on his committee is working to "undermine" efforts to subpoena a former State Department official.
Senate Homeland Security and Governmental Affairs Chairman Ron Johnson (R-Wis.) said Sen. Gary Peters (D-Mich.) is "trying to undermine my investigation with absurd process arguments to delay or derail our subpoena" of Jonathan Winer, who used to work in the State Department.
According to a Senate Intelligence Committee report released this week, Winer destroyed records that British ex-spy Christopher Steele sent him.
Winer also did not disclose the fact he arranged a meeting for Steele with State Department employees until his second interview with investigators.
"After Steele's memos were published in the press in January 2017, Steele asked Winer to make note of having them, then either destroy all the earlier reports Steele had sent the Department of State or return them to Steele, out of concern that someone would be able to reconstruct his source network," the committee report states.
Winer told investigators: "So I destroyed them, and I basically destroyed all the correspondence I had with him."
Winer, who has known Steele since at least 2010, said previously that he met with his contact to discuss information in the dossier Steele compiled from second- and third-hand sources. Winer passed on information to Victoria Nuland, another State Department worker.
Johnson this week said Peters "wants to keep the American people in the dark by not letting us ask Jonathan Winer about his correspondence with Steele."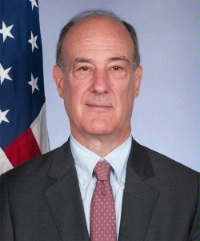 In an emailed statement to The Epoch Times, Johnson added: "Among other issues, Mr. Winer's admitted destruction of his records related to his contacts with Christopher Steele is concerning and deserves an explanation. I am looking forward to learning more from Mr. Winer in spite of Democrat attempts to further delay our investigation."
Johnson's office didn't respond when asked how Peters is holding up the subpoena, since Johnson was granted subpoena power by his committee in a narrow 8-6 vote in June.
A spokesman for Peters didn't respond to an inquiry.
Peters wrote to Johnson on Wednesday, claiming the attempt to depose Winer is in clear violation of committee rules.
"The subpoena for his personal appearance for a deposition is therefore unenforceable. In fact, none of the Committee's subpoenas for depositions are currently enforceable," he said in the letter (pdf).
Peters said committee rules enable the ranking member to disapprove of a deposition notice, triggering a full committee vote. Peters said he disapproves of the notice.
Peters before the June 4 authorization vote said he was disappointed the committee was spending time on what he sees as a "partisan investigation," urging Johnson to instead tackle issues related to the COVID-19 pandemic.
Steele was paid by the Democratic National Committee and Hillary Clinton's campaign to compile a dossier on her opponent, then-presidential candidate Donald Trump, months before the 2016 election. The dossier was relied on by the FBI when seeking secret spy warrants on a former Trump campaign associate. An FBI lawyer involved in the probe recently pleaded guilty to a criminal charge this week as part of a deal with prosecutors who agreed to propose a sentencing range of zero to six months.
Johnson issued his first subpoena on Aug. 10 to the FBI, requesting records related to the probe into Trump's campaign. He suggested during an appearance on "Fox News Sunday" that Winer had already been subpoenaed, though no public announcements of a subpoena have been made.
More subpoenas are coming, Johnson said.