Two measures to end the partial government shutdown, one backed by Republicans and one by Democrats, fell short in the Senate on Thursday, Jan. 24, as lawmakers explored other potential compromises to end a monthlong impasse with the White House.
A bill backed by President Trump to end the shutdown by funding the wall he wants to build on the U.S.-Mexico border and a separate bill supported by Democrats to re-open shuttered agencies without the wall funding did not get the votes required to advance in the 100-member chamber.
Several Republican senators voted with Democrats on their measure. They included freshman Sen. Mitt Romney of Utah, his party's 2012 presidential nominee.
Manchin Sides With Trump
One of the most moderate Democrats in the U.S. Senate approved President Donald Trump-backed legislation that would end the partial government shutdown but was the only Democrat to do so.
Sen. Joe Manchin (D-W.V.) said on Jan. 24 that he would vote for the bill and did so later in the day, he did indeed support the legislation. Two Republicans, Sen. Tom Cotton (R-Ark.) and Sen. Mike Lee (R-Utah) voted against it.
The bill featured $5.7 billion in border wall funding and some protections for illegal immigrants who were brought to the country as children.
In addition, Manchin said, he would also vote for a bill put forth by Democrats that would re-open the government for two weeks but would not include any wall funding.
That bill was viewed as a nonstarter because Trump would veto it if it somehow gained the support of some Republicans, who currently hold a 53-47 majority in the Senate. In the end, seven Republican Senators voted for the Democrat bill, including Sen. Cory Gardner (R-Colo.), Sen. Lisa Murkowski (R-Alaska), and Sen. Mitt Romney (R-Utah).
Manchin admitted that both bills would likely fail to gain 60 votes.
"Today I will vote for both government funding bills because I believe we must end this harmful shutdown immediately and it's our first opportunity in the Senate to do so. Even though they will probably fail, these votes are a start to finding a way to reopen the government and get West Virginians back to work," he said in a post on Twitter.
Manchin, who touted his ability to work with Trump and Republicans during the midterm campaigns last year, also said that he would support Trump declaring a national emergency, which he has threatened to do, in order to obtain funding for the wall.
Today I will vote for both gov funding bills b/c I believe we must end this harmful shutdown immediately & it's our first opportunity in the Senate to do so. Even though they will probably fail, these votes are a start to finding a way to reopen the gov & get WVians back to work

— Senator Joe Manchin (@Sen_JoeManchin) January 24, 2019
"Whatever it takes to open the government," he told reporters, reported The Hill. Manchin said that there "might be" additional Democrats that would vote for the White House-backed proposal crafted by Senate Majority Leader Mitch McConnell (R-Ky.) but didn't name any names.
Manchin's comments came a day after he and Sen. Shelley Moore Capito (R-West Va.) told a council on Wednesday morning how they'd vote the next day.
Manchin said that he would vote for both bills.
"I'd recommend everybody to vote for both," Manchin told reporters. "Do whatever it takes. Get us back to the table."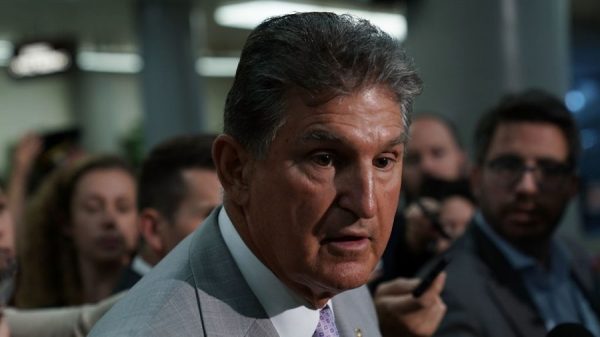 Capito, meanwhile, said she'd back the bill that included funding for the wall and not the other measure.
"We need to realize that we need to reopen the government but I do believe we need border security," she said. "The best way to achieve both of those goals is to solve both of those problems in the same bill. I think that is what President Trump's bill does."
"I will vote for the President's bill," she added.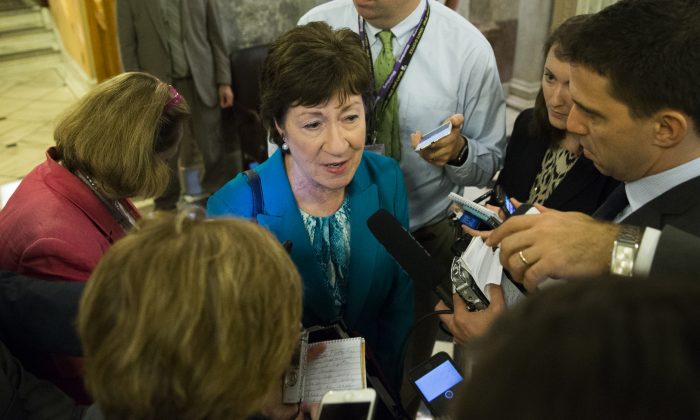 While no other Democrats have announced support for the Trump-backed bill, some Republicans who sometimes go against the president said they would support him this time.
Sen. Susan Collins (R-Maine) said that she would be among those voting for the bill, but also said she'd vote for the other as well.
Collins said that the Republican-crafted legislation represented a reasonable deal, adding that it was "long overdue for all sides to come together," reported the Bangor Daily News. A Collins spokeswoman added later that the senator would also support the Democrat plan to end the partial shutdown.
Voting started on the bills just before 3 p.m. EDT.
From NTD News