Sen. Joni Ernst (R-Iowa) said President Donald Trump's defense team "shredded" House impeachment managers' case against Trump in their opening arguments on Saturday. However, Senate Minority Leader Chuck Schumer (D-N.Y.) and other Democrats said that the defense's arguments underscored the need for witnesses.
"I thought today was an incredible two hours, and within two hours, I thought that the White House counsel and their team entirely shredded the case that has been presented by the House managers," Ernst said. "What we heard today was very concise; it was full of truths and facts, as presented from the House managers' own witnesses."
.@SenJoniErnst: "Within two hours I thought that the White House Counsel and their team entirely shredded the case that has been presented by the house managers." pic.twitter.com/RVvUq1U7Jp

— CSPAN (@cspan) January 25, 2020
Over the course of more than twenty hours starting on Jan. 22, the House managers presented arguments and evidence for removing the president. They accused Trump of abusing his power to interfere in an election and of obstructing justice when his alleged scheme was discovered. They allege the president withheld aid to Ukraine and the potential of a White House meeting in order to force the Ukrainian president to open investigations into Trump's political rivals, including former Vice President Joe Biden.
In arguments which lasted roughly two hours, Trump's lawyers used footage, documents, and testimony from the Democrat-led House impeachment inquiry to say that the Democrats failed to make a case for removing the president from office. The defense team stated that, according to evidence presented by the House impeachment mangers, the Ukrainians were unaware of the hold on aid until a month after the July 25 Trump-Zelensky call, the aid ultimately flowed to Ukraine and Trump went on to meet with Zelensky, and the Ukrainians, including Zelensky, have said there was no pressure from Trump and no suggestion of a quid pro quo.
Sen. James Lankford (R-Okla.) said that it's the first day that "the facts have actually been allowed to be cross-examined" and criticized House impeachment managers for providing statements without context and using parts of sentences to make their case.
White House counsel Pat Cipollone said a scheduled meeting between Trump and Zelensky in Warsaw proved that there was no condition placed on Zelenksy for a meeting with Trump.
Trump and Zelensky were scheduled to meet in Warsaw, Poland, on Sept. 1, 2019, Cipollone said. But Trump cancelled the trip because of Hurricane Dorian and sent Vice President Mike Pence instead. The meeting and its cancellation was reported on by various media.
Cipollone said House Democrats did not include the scheduled meeting in their case, suggesting that the omissions are intentional because the relevant facts would be fatal to the impeachment managers' case.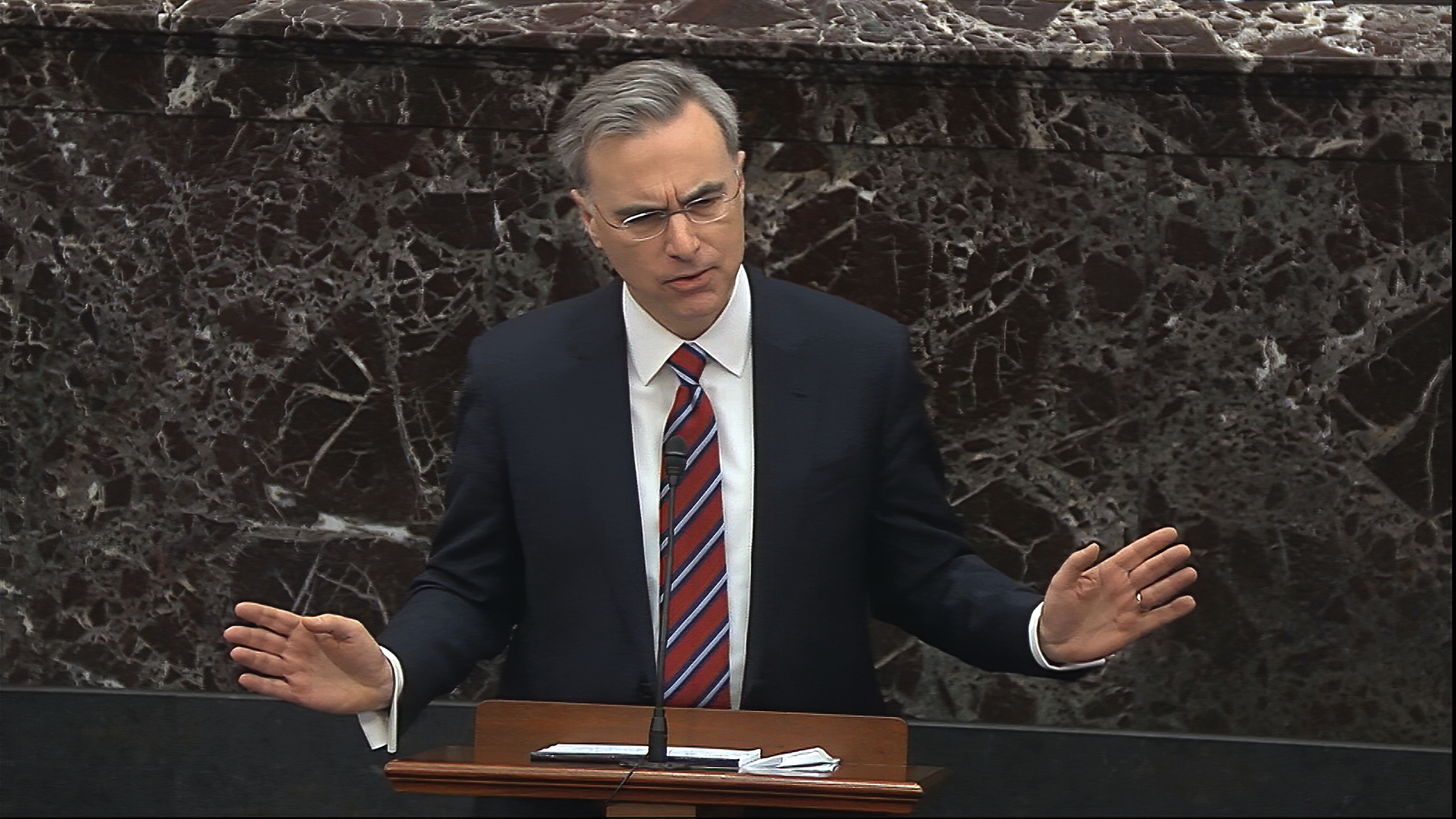 Democrats Double Down on Call for Witnesses
During the arguments, Mike Purpura, the deputy counsel to the president, said that the U.S. ambassador to the European Union Gordon Sondland used words like "assume," "presume," "guess," "speculate," and "believe" over 30 times during his public hearing before the House Intelligence Committee. Purpura then played a clip showing Sondland repeatedly saying that it's his "presumption" that the aid was tied to an announcement by Ukraine into an investigation against the former Vice President Joe Biden and his son Hunter Biden.
The presentation by the defense team seems to have convinced some senators that the case against Trump was built on a thin foundation, but added fuel to the call for witnesses from the Democratic side at the same time.
"One thing that stuck in my mind is they said there isn't a witness they have had so far that had direct contact with the president," Sen. Joe Manchin (D-W.Va.), who said Friday he was undecided on whether to convict Trump, told reporters after the defense arguments.
Manchin said he would like to hear from acting White House Chief of Staff Mick Mulvaney and former national security adviser John Bolton.
Schumer and other Senate Democrats also said that Trump's defense team underscored the need for more documents and witnesses.
"The president's counsel did something they did not intend, they made a really compelling case for why the Senate should call witnesses and documents. They kept saying there are no eyewitness accounts. There are people who have eyewitness account," Schumer said. "Why shouldn't we have witnesses and documents here?"
On the Republican side, some senators were also calling for more witnesses, including testimony from Hunter Biden. But Senate Judiciary Committee Chairman Lindsey Graham (R-S.C.) said that he doesn't "want to turn the trial into a circus."
"I'm more intent on ending this thing now with my vote. I know a lot of people on our side want to hear Hunter Biden. I understand why—litigate that whole issue. I just think it's best for this country to vote on the records established because if you go down the witness road, you run into the executive privilege and waiting," he said.