Sen. Doug Jones (D-Ala.) said he'll vote to convict President Donald Trump in the Senate impeachment trial on Feb. 6.
Jones, 65, was widely viewed as one of three Democrats who might vote to acquit Trump on at least one article of impeachment.
In a lengthy statement released on Wednesday morning, Jones said that he's studied the facts of the case for months, read thousands of pages of transcripts, watched videos of testimony given during the House impeachment inquiry, and reviewed history and precedent.
"In this case, the evidence clearly proves the President used the weight of his office and that of the United States government to seek to coerce a foreign government to interfere in our election for his personal political benefit," Jones said.
"The President's actions placed his personal interests well above the national interests and threatened the security of the United States, our allies in Europe, and our ally in Ukraine. His actions were more than simply inappropriate. They were an abuse of power."
Jones also said he would vote to convict Trump on the second article of impeachment, obstruction of Congress, even though he "struggled to understand the House's strategy" of not pursuing some witnesses and documents, then demanding the Senate pursue those witnesses and documents.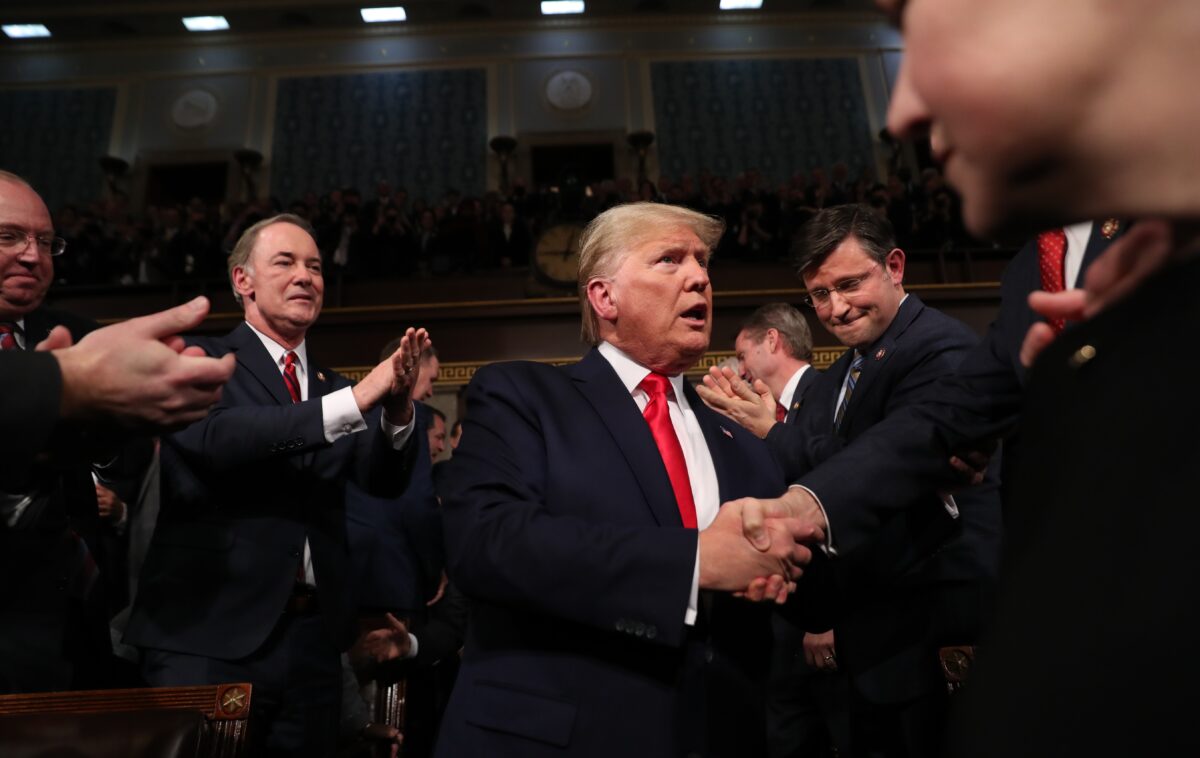 "After careful consideration of the evidence developed in the hearings, the public disclosures, the legal precedents, and the trial, I believe the President deliberately and unconstitutionally obstructed Congress by refusing to cooperate with the investigation in any way," Jones said.
Jones also in his statement decried "the partisan nature" of the impeachment proceedings and said Congress "must find a way to rise above the things that divide us and find the common good."
Trump will almost certainly be acquitted later Wednesday, but people were closely watching Democratic senators like Jones who were mulling voting to acquit the president. The House's impeachment vote saw four Democrats either vote "present" or vote against at least one article of impeachment, and the situation prompted Rep. Jeff Van Drew of New Jersey to switch to the Republican party.
Sen. Joe Manchin (D-W.Va.), 72, and Kyrsten Sinema (D-Ariz.), 43, were the other two Democrats who appeared open to voting to acquit. Sen. Mitt Romney (R-Utah), 72, was the only Republican who appeared to be a possible vote to convict Trump.
Jones had said on Jan. 29 that he hadn't made up his mind on how he would vote.
"Some folks seem to be surprised to hear that I haven't made up my mind yet," he said on Twitter. "But I took an oath here and I believe I owe it to the people of Alabama and to the President to hear all of the evidence before making a determination either way. That folks is #ImpartialJustice."
A raft of Republicans are seeking to unseat Jones in the November elections. Former Sen. Jeff Sessions (R-Ala.), former college football coach Tommy Tuberville, and Rep. Bradley Byrne are among those vying for the GOP nomination. Jones is so far running unopposed in the Democratic primary.
"Doug Jones announced this morning that he plans to vote for both articles of impeachment. In voting to remove our duly-elected President, Doug Jones personifies the left's irrational enmity against President Donald Trump," Sessions, 73, said in a statement.