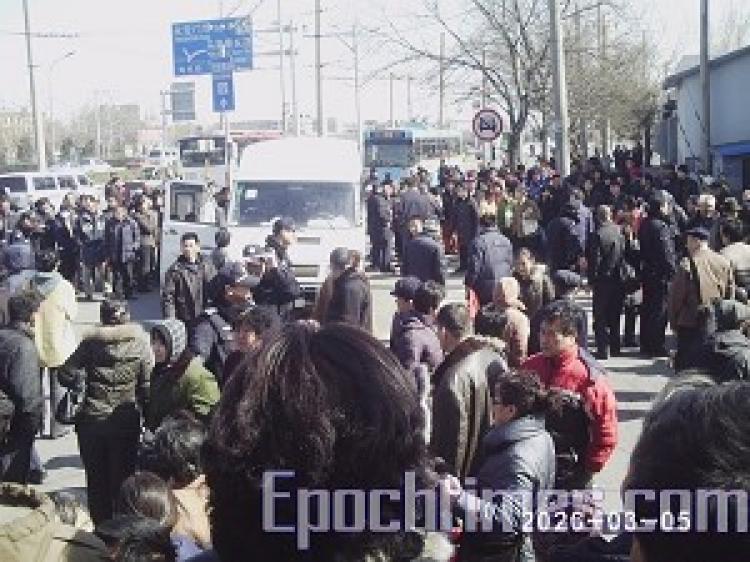 March 5, 2009 was the first day of the Chinese Communist Party (CCP)'s National People's Congress. Appellants from all over the country rushed to the capitol to voice their grievances to government officials through various means.
The first day of this congressional event saw many tragedies—one woman from Sha'anxi province set herself on fire, a little girl from Jiangsu Province was brutally beaten by police, and a Shanghai man distributing flyers was arrested.
"I saw a lady set herself on fire at 11 o'clock this morning," said Cong Shurong, an appellant from Jinlin. "She is from Xi'an and appeared to be in her 30s. She was definitely injured and her clothes were burned. In front of the Jinshui Bridge at Tiananmen, she was crying very hard. Police surrounded her the entire time. Many people were watching too."
Cong explained that many appellants who went to Tiananmen Square to appeal were arrested by local police. "Many police vehicles carried appellants to Majialou as well as Jiujingzhuang. There were over 300 people detained," she said.
Cong herself has been appealing for over three years to expose the rampant corruption of local officials in her part of the country. Yet because of her complaints, she was beaten by police and her lower back was injured.
"I want to jump out of a building in Tiananmen Square," said a clearly desperate Cong who seemed to empathize with the woman who burned herself. "If that is not possible, I will take poison."
During this congressional even, thousands of appellants can be found outside government offices hoping to be heard. These are often desperate individuals who will use any means necessary to voice their complaints. Police are stationed outside this office to stop any trouble.
Officers often use violence to silence appellants, though on-lookers have been known to retaliate. So far this year, two police vehicles have been smashed by angry crowds.

On the morning of March 5, a little girl from Jiangsu province was walking out of the Beijing Bureau of Letters and Calls when police chased after her. Officers dragged the child into their vehicle and beat her. This greatly angered the over one thousand appellants standing nearby.
"When I saw police chasing her, I immediately walked towards them. The little girl was dragged into the police car and beaten," observed passerby, Li Guizhi.
"She was beaten so severely her face was swollen. There were over one thousand angry people who surrounded the police and started smashing their car. They were screaming, 'Overthrow corrupt officials.' They deflated the tires and smashed the windows of the police car. Just a couple of days before, another police vehicle was also smashed by an angry mob. Police are just arresting people on the street and people are fed up with this Nazi-style government," explained Li.
"I saw police chase an old lady from Shandong. They tackled her and smashed her face against the ground. When passersby saw this they became extremely angry and smashed the police car," said Liang Yaxin, an appellant from Shanxi, explaining the previous incident.
According to Free Asia Radio, six elderly appellants from Fuzhou City took poison several hundred feet from the People's Congressional Hall to protest the rampant corruption of their local government who had forcefully demolished their homes. The oldest appellant, 88, is currently being hospitalized.
Also on the morning of March 5, Yao Yuping and her family members, appellants from Shanghai, were arrested for holding banners and distributing flyers to demonstrate their grievances. Their protest was held at the busiest shopping center in Beijing, Xidan.
Another appellant, Lin Xinyun from Heilongjiang Province, dressed in traditional Chinese funeral clothes, and along with her son attempted to break into the National People's Congress. They were both arrested.
Read original article in Chinese.