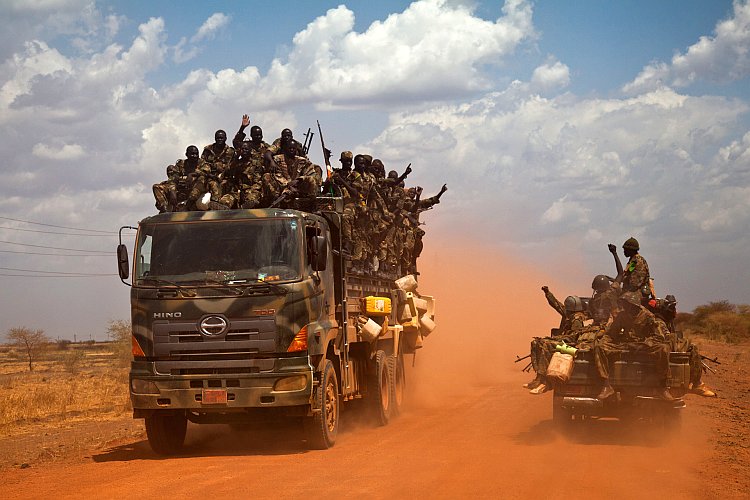 The United Nations Security Council is mulling imposing economic sanctions on both Sudan and South Sudan, after the African Union's peace mediator urged it to do something to stop the escalating violence along the disputed border areas.
Adding to the urgency, Sudanese President Omar al-Bashir—wanted by the International Criminal Court for crimes against humanity over Darfur—vowed to "liberate" South Sudan on Wednesday during a rally in Khartoum, Sudan's capital.
The oil-rich border region has been the cause of friction since South Sudan seceded last July, but the rise in violence in recent weeks has many Sudan-watchers worried about another bloodbath like Darfur.
There has been recent troop movement on both sides into and around Abyei. Fresh fighting Tuesday and Wednesday ended with the deaths of seven South Sudanese soldiers and 15 Sudanese soldiers.
Earlier this month, there was heavy fighting around oil-rich Heglig, just inside Sudan's borders. South Sudan's People Liberation Army (SPLA) occupied Heglig calling it payback for Sudan bombing oil fields 100 miles away in South Sudan's Unity State a few weeks earlier.
U.S. ambassador to the U.N. Susan Rice told reporters Tuesday that Security Council members "reiterated their demand for a complete, immediate, and unconditional end to all fighting."
On Tuesday, U.N. Special Envoy Haile Menkerios and African Union representative Thabo Mbeki, South Africa's former president briefed the Security Council. Afterward, American ambassador to the U.N. Susan Rice told reporters that the envoys had "described a disturbing situation in which both parties are locked in … 'a logic of war.'"
The African Union High Level Implementation Panel, which acts as mediator between Khartoum and Juba, further called upon the two countries to "act responsibly in the spirit of cooperation in pursuit of establishing two viable states."
South Sudan seceded from Sudan last July, but many outstanding issues between the two countries have not been resolved, principally how to share oil revenues and the demarcation of the border, where the richest oil reserves lie.
The current conflict is a continuation of two bloody civil wars, 1955–1972 and 1983–2005. The latter claimed 2 million lives, largely in Darfur. The war ended with a peace agreement that spelled out terms for South Sudan's secession.