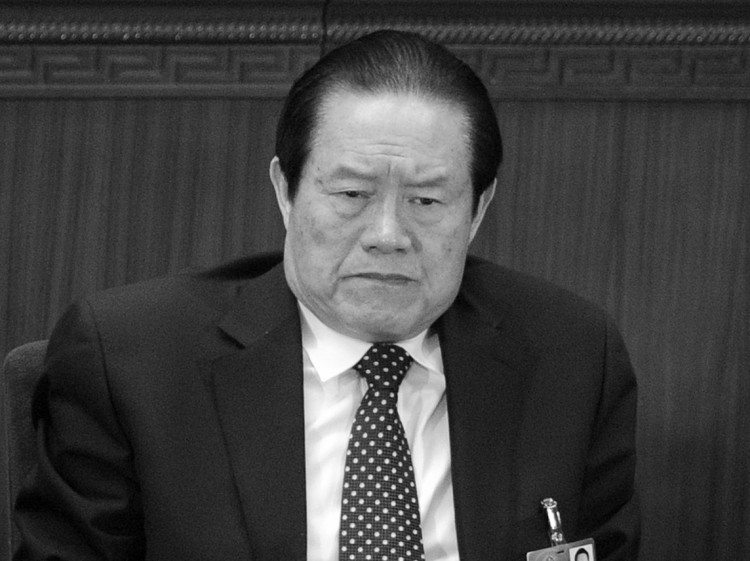 News Analysis 
Amidst the tense negotiations between China and the U.S. on the fate of Chen Guangcheng, one Communist Party official has been deliberately creating terror: Zhou Yongkang. 
Zhou is the head of the Party's Political and Legislative Affairs Committee (PLAC), making him the chief of all domestic security forces and law enforcement organs in China. 
On the first night of Chen's hospital stay, Chen and his family were not given food, putting fear in Chen's heart that revenge had already begun. Security forces also put Zeng Jinyan, a close friend of Chen's, under house arrest. They seized and beat Jiang Tianyong, a civil rights lawyer who tried to visit Chen at the hospital, and they kept Chen's supporters and friends from visiting him, for no discernible legal reason.
Zhou's people also disconnected Chen's phone now and then, but allowed Chen to tell others about his experiences. The purpose was to create an atmosphere of terror, attract attention to the heavy-handed measures, while threatening Chen and making the situation more difficult for U.S. negotiators, including Ambassador Gary Locke.
By doing so, the CCP's goal is to frighten Chinese people against following Chen's attempt at "relying on foreign forces," (a phrase of derision in Chinese) while warning away other countries from "interfering in China's domestic affairs."
This is in contrast to the Party's typical strategy of putting on a nice show and then taking revenge when international attention cools down. 
The Party media's attacks on the U.S. and its ambassador, and the violence towards Chen's family and friends, are meant for mass consumption. They are venting fear, but also undermining Chen as a role model, and scaring other countries from following the U.S.'s example of "meddling in China's affairs."
Discrediting the U.S.
American diplomats and their Chinese counterparts spent six days and nights in intense negotiations. On the afternoon of May 2, Chen was escorted by Locke and other U.S. officials to Beijing Chaoyang Hospital to receive medical treatment and unite with his wife and two children. This happened after the Party promised to guarantee Chen's and his family's safety.
U.S. officials said that Chinese officials had agreed to treat Chen humanely, and allow him to move from his village to a safe place with his family and attend college.
Only hours later, the situation changed. Chen found himself in the presence of security forces and plainclothes police, and felt his family's safety under threat. He said he wanted to leave China with his family as soon as possible.
Zhou Yongkang's staff did this deliberately. They also occupied Chen's home in Shandong, threatening his wife and children. They ate at his kitchen table. They turned Chen's home into a prison, setting up seven surveillance cameras inside his house and an electric fence outside.
These tricks have put the U.S. in an awkward position, and American officials were hit with a wide backlash for selling Chen out. VOA reported that the dramatic turn in the incident greatly upset Chinese democracy and human rights activists, who, though historically pro-U.S., are now criticizing the Obama administration for letting Chen leave the embassy. 
"Making ineffectual the agreement that China and the U.S formed on Chen Guangcheng was terribly awkward for the U.S., Hu Jintao, Wen Jiabao, and Xi Jinping," according to Washington-based Chinese affairs commentator Shi Zangshan. "With the CCP still around, there is no hope for reform or changing these things." 
Many people inside and outside China doubted to begin with whether the CCP would actually act in accordance with its promise. It may have had a greater incentive in breaking it and discrediting the U.S.
---
Click www.ept.ms/ccp-crisis to read about the most recent developments in the ongoing power struggle within the Chinese communist regime. In this special topic, we provide readers with the necessary context to understand the situation. Get the RSS feed. Get the Timeline of Events. Who are the Major Players?

---
Chinese Media Threaten Chen 
Chen Guangcheng was jailed for revealing dark truths behind the Linyi government's implementation of the one child policy, and the violent abuse of the rights of women. Linyi officials, in Shandong, sentenced him to four years and three months in jail. But when he got out of prison his entire family was put under house arrest. 
No Chinese media was allowed to report directly on his escape last week. 
But the Party was visibly furious. Foreign Ministry spokesman Liu Weimin demanded an apology from the U.S. and accused the U.S. of interfering in Chinese affairs.
The Global Times weighed in with an attack piece on May 2, before it was quickly yanked offline. A May 3 piece blamed Western media for turning the situation "into a stalemate."
And on May 4, media in Beijing began slandering Chen Guangcheng and Gary Locke, calling Chen "a tool for the U.S to blacken China." Locke was described as a reckless troublemaker. 
The Beijing Daily, which is directed by Liu Qi, an official allied with Jiang's faction, got involved in the vituperation. Chen was described as an "anti-society, anti-system character" that actually represents "the interests of Taiwan and western anti-China forces." Chen was now "a chess piece."
The CCP is obviously afraid that the U.S. will "interfere" in Chinese politics, which has a very low bar if monitoring the safety of Chen Guangcheng counts. To save face for the CCP, and prohibit the U.S.'s human rights monitoring, they first tricked Chen to come out, then threatened him some more, and in the end look as though they will kick him out of the country. 
At the same time Zhou Yongkang is scared of the three requests that Chen Guangcheng made to Wen Jiabao. The first was to investigate the dark inner workings of the Political and Legislative Affairs Committee.
Read the original Chinese article. 
chinareports@epochtimes.com
The Epoch Times publishes in 35 countries and in 19 languages. Subscribe to our e-newsletter.