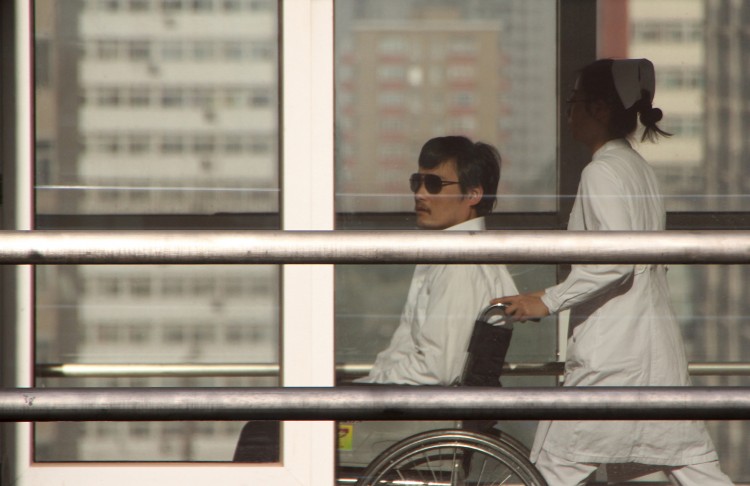 The threats made by Chinese officials to blind lawyer Chen Guangcheng were likely instigated by the security chief Zhou Yongkang, and were meant to make difficult the negotiations between the U.S. and China, according to analysts.
On May 2, Chen Guangcheng, accompanied by U.S. officials, was sent to Beijing's Chaoyang Hospital for medical treatment. 
However on the evening of May 2 it emerged that Chen had received a threat that if he did not leave the embassy that day, his wife and children would have been sent back to Shandong Province, where they would almost certainly have been subject to mistreatment. 
The coercion put the U.S. in an awkward position, having been accused of betraying Chen. 
According to China analyst and columnist Zhang Tianliang, "Zhou Yongkang is the top authority responsible for the persecution of Chen." 
He continued: "Hu and Wen's promise of safety for the Chen family has been broken by Zhou Yongkang's deliberate, behind-the-scenes threats." 
The Global Times, a Party mouthpiece, also published an editorial that was later removed from its website on May 2, titled "The Era of Relying on Foreigners is Over." 
According to Washington-based independent China analyst Shi Cangshan, the commentary was a veiled attack on Hu Jintao and Wen Jiabao. It implied they were "relying on foreigners for support" (xieyazizhong). 
The article also announced that "However, the West is no longer capable of influencing China in human rights issues." 
On May 3 the article was removed from the website. Shi, the analyst, saw it as an abortive attempt by hardliners in the Party, primarily Zhou Yongkang, to put pressure on Hu and Wen to resort to hardline tactics against dissent.
chinareports@epochtimes.com
---
Click www.ept.ms/ccp-crisis to read about the most recent developments in the ongoing power struggle within the Chinese communist regime. In this special topic, we provide readers with the necessary context to understand the situation. Get the RSS feed. Get the Timeline of Events. Who are the Major Players?

---