Secretive Party Investigative Agency Gets a Public Facing Website
September 2, 2013 7:08 pm Last Updated: September 2, 2013 7:08 pm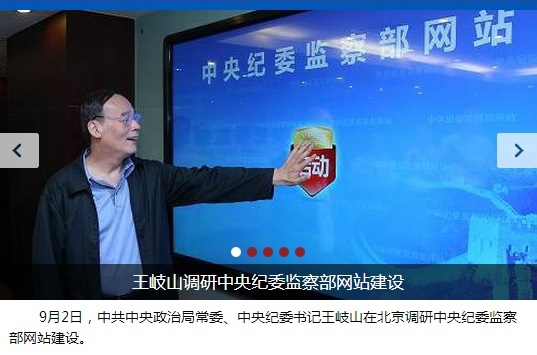 For the last year, a powerful Communist Party agency that mostly stays in the shadows has been investigating officials for corruption and, circumventing the judicial system, dragging them away for secretive interrogations that are reported to involve torture.
Now, the agency is making a bid for transparency by launching a new website, where the Communist Party's anticorruption precepts are explained, and users can ostensibly even report officials for corruption.
The Party may have trouble convincing the population to do the latter, though.
"I wouldn't dare report anything. I'm afraid they'll accuse me of slander and bring me no end of trouble," wrote a user under the handle Qingkongmodao.
Fushengrumeng said: "I want to know why Liu Hu was arrested and charged with "inciting unrest" when he submitted a report [official corruption] using his real name. How do they explain that?"
The establishment of the website also comes soon after the widely publicized arrest of activists demanding officials make public their assets, such as Xu Zhiyong, who was detained July 16 after a long period of house arrest.
Corruption in the Communist Party, and the enormous discontent it has engendered in society, threatens the stability of communist rule, according to recent speeches by top leaders. Anticorruption has been one of CCP General Secretary Xi Jinping's main concerns since he ascended to his position following the 18th Party Congress in late 2012.
Institutionally, the website is a creature of the Chinese Communist Party's Central Commission for Discipline Inspection and the Ministry of Supervision, a government agency that has roughly the same role, of ostensibly rooting out corruption.
It is unusual for a central-level Party agency to have a website available to the public. The Central Propaganda Department, for example, has no website, and is located in an unmarked building in Beijing.
The site features a public discussion forum, which says that it welcomes netizens' critiques and advice to the CCP's governance and anti-corruption efforts. The extent to which the submissions are censored is not clear.
Netizen Zhongzhenbuyu expressed pessimism: "The government says people have to abide by the law, but when the administration does something illegal, they term it reform. Local governments carry out demolitions without abiding by the compensation laws. Judges and courts know money but not justice."
"It's too late," wrote Dingtianlidi, a netizen. "Only when there is a trustworthy system of punishment to deter corruption can the root problem be solved."
Lu Chen contributed research.