The second round of CCP virus stimulus payments will be distributed in the next week, but some people expecting mailed, paper checks might have to wait up to 20 weeks to receive them.
Around 80 million people have already received up to $1,200 as part of the federal government's $2.2 trillion stimulus package that was passed in Congress to offset economic losses suffered after numerous businesses closed down to reduce the spread of the CCP (Chinese Communist Party) virus. The first deposits were sent to people who had already provided the Internal Revenue Service (IRS) with deposit information in their 2018 or 2019 taxes.
According to the House Ways and Means Committee (pdf), the next round will now go out on a weekly basis for people who recently handed over their information to the IRS and who haven't received the funding already.
But millions of Americans—including pensioners, retirees, and veterans—who haven't recently filed their taxes could wait up to 20 weeks to receive their stimulus money, the committee memo stated.
"Beginning the week of April 20, the IRS also will begin issuing paper checks on a weekly basis to individuals who have not provided direct deposit information but for whom IRS has a mailing address," the document said.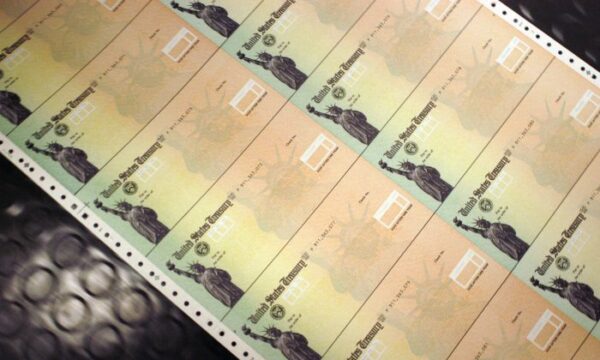 The Ways and Means Committee said that "paper checks will be issued at a rate of about 5 million per week, which could take up to 20 weeks." The checks will be issued "starting with people with the lowest incomes first," according to the memo.
The IRS only started sending physical checks this week to people who only have an address on file with the agency, it said.
The agency recently set up an online portal where people who didn't file tax returns for 2018 and 2019 can submit their bank account information to receive their money quicker.
And this week, Social Security recipients who have dependents and haven't filed a tax return for 2018 or 2019 were urged by the federal government to submit information to receive their pandemic payment.
"Social Security recipients will get their $1,200 automatically, but if they have dependents and did not file in 2018 or 2019, they need to use the IRS Non-Filers tool as soon as possible to input information to get their $500 per child," said Treasury Secretary Steven Mnuchin in a statement. "If the IRS does not receive this essential information by Wednesday, their payment will be $1,200 and the $500 per child will be paid to them with a return filing for tax year 2020."