Second Announcement from the "Relay Hunger Strike for Human Rights Support Group"
February 8, 2006 12:00 am Last Updated: February 8, 2006 12:00 am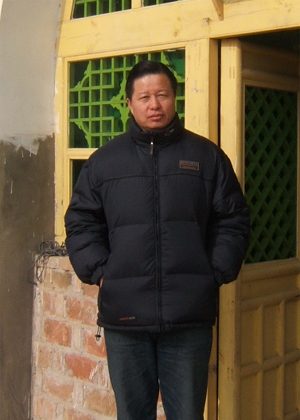 Linyi Village is in a state of emergency as police officers and thugs hired by the communist Regime attacked and beat villagers.
Chen Guangcheng from Linyi Village in Shandong province has been put under house arrest for 164 days by thugs from the Communist regime because he tried to help the villagers that were being persecuted by the local Birth Control Committee. Chen Hua and Du Dehai, villagers from Linyi, Shandong province, were beaten by the local authorities of the communist regime while visiting Chen Guangcheng during the Chinese New Years. Du suffered a fractured skull and he sustained cuts requiring several stitches. Chen was arrested. Other villagers also suffered minor injuries.
Villagers from Xingtai, Hebei province, who were infected with the HIV virus from blood transfusions, were threatened by the local communist regime's thugs. Also, HIV-infected villagers in Henan province are in desperate need of medical treatment.
The Purpose of the Relay Hunger Strike
There is no need to say another word. We use this hunger strike to express our anguish over these inhuman and barbarous violent deeds. Although the communist regime has become a cluster of gangsters and they will treat us with sneers, we will not be moved by how others judge us. The evil deeds must be stopped and the persecutions must be stopped!
Second Team in the Relay Hunger Strike for Human Rights Support Group
Members of the February 6th Hunger Strike team from China are: Mr. Hu Jia, Mr. Qi Zhiyong from Beijing, Mr. Qi Qinhong from Qinzhou, Guangxi province, and a person named Liu, a Mainland Falun Gong practitioner whose location is unspecified.
The overseas people taking part in the February 6th Hunger Strike team are: Ms. Yangfang, Ms. Xiaoxuecheng from the U.S., Mr. Wu Guoxiung, Mr. Zhuang Jiyang, Mr.Wang Xili from Hong Kong, Mr. Wang Haitao from Toronto, Canada, Ms. Yang and Guangzi from Taiwan.
Reportedly, there will be many people in Taiwan starting a hunger strike today (February 6). We will announce their names and statements as we receive them.
Worldwide Rights Relay Hunger Strike Groups Established On February 6 are:
Canadian Toronto Hunger Strike Group, Germany Rights Relay Hunger Strike Group, Hong Kong Rights Relay Hunger Strike Group
Statements from Relay Hunger Strike Group Members for February 6
Mr. Hu Jia: This has been an extremely upsetting Spring Festival (Chinese New Years holidays). Events happened one after the other without stopping. First, I was put under house arrest for 14 days. Then I had to say farewell to Attorney Gao, who has been closely monitored for 3 months; then Freezing Point weekly magazine was banned; the Beijing Police demolished the Appeals Village; volunteer AIDS workers had to give up their work because of attacks from the regime's thugs; Attorney Guo Feixiong suffered torture at the hands of the hired communist thugs and is still in danger.
Even though we are all separated in various parts of the county we are still managing to keep in touch by daily telephone calls, text messages, emails, and we are still able to break through various restrictions and blockades to disseminate massive amounts of information. Moreover, we have been in contact with overseas friends. We have all realized that we are not fighting alone, we are a strong and unified body widely distributed in every corner of the country, we are a strong heart that the communist regime is afraid of.
Hunger strikes bring unwanted exposure to the communist regime's tyrannical and brutal oppression. The hunger strike during the student democratic movement 17 years ago (Tiananmen massacre), gave the Chinese Communist Party (CCP) regime one nightmare after another.
In 2006, the Worldwide Relay Hunger Strike once again brings the strength of the Human Rights activists on the front stage with the Chinese communist regime to the world. This worldwide exposure makes it difficult for the communist regime to stop us from our voluntary hunger strikes. Our relay hunger strike directly exposes the human rights violations that are happening every day in China. Many of our friends are joining us every day to maintain a long-term Relay Hunger Strike. This is our way to support those who have been tortured and have died at the bloody hands of the communist regime and to expose these gross violations of human rights in China.
Mr. Qi Zhiyong: Within two days from returning to Beijing, the attacks resumed. I am a disabled person, but I have a healthy mind. I prayed the whole day during my fasting. I prayed not only for the victims, I also prayed for those who inflict the harm. As a child of God, I must seek the rivers in the desert and cultivate roads in wilderness! I construct this platform to awaken the soundly-sleeping people, to energize people's conscience, to appeal to all to fight for human rights to the end! Brothers and sisters, please join us.
Ms. Yang Fang, Ms. Xiaoxue Cheng: We are mother and daughter, the daughter is still breast-feeding her child, but when we heard about this Relay Hunger Strike, we are willing to help our fellow countrymen who are suffering persecution; we must say no to the evil! Our family has been torn apart because of the Chinese communist regime's persecution. The pain from the persecution, of "crying out loud to the heaven and earth with no response" is known only to those who actually have experienced it. When everyone knows to stand up and say 'No' when someone is being persecuted, and when everyone will be against persecution is the day the Chinese communist regime will fall.
Hunger Strike Statement from Mr. Qi Qinhong: Relay Hunger Strikes are a brave, honest and cooperative form similar to Gandhi's path to peace… Attorney Gao protested to the authorities for the suppression used on him, for the persecution of Falun Gong, and for the persecution of the human rights activists.
The communist regime replied by once again sending its thugs to beat attorney Guo Feixiung on the evening of February 4. I talked with Guo over the telephone and expressed my admiration of his actions; now, following the example set by attorney Yang Zaixin, I too announce that I will stand along side these human rights lofty advocates; attorney Gao, Guo Feixiung, Ai Xiaoming, Tang Jingling, Guo Yan, etc.!
Here, I advise the fearful fellow countrymen once again that the source of the few who commit all kinds of evils is the reserved majority!
Join the Resignation from the CCP campaign! Join the hunger strike!
Let the era that belongs to the Chinese people truly begin!
The Nine Commentaries has sounded the CCP's death knell!
In the Relay Hunger Strike, we have seen the dawn of a free democratic China. Let God in the west and Buddha and Tao in the east bless the 1.3 billion Chinese people. Let the Marxist and Leninist evil cults and the violent CCP collapse as soon as possible!
The dictators and evil rascals will tremble before our Relay Hunger Strike! My fasting date: On February 6, 2006 I will fast for for 24 hours.
Third Team of Relay Hunger Strike for Human Rights for Date February 7 (as of publication):
Guan Zengli, Li Yang from Beijing
Huang Sifan from Germany
Cheng Xue, Wang Dan from Canada