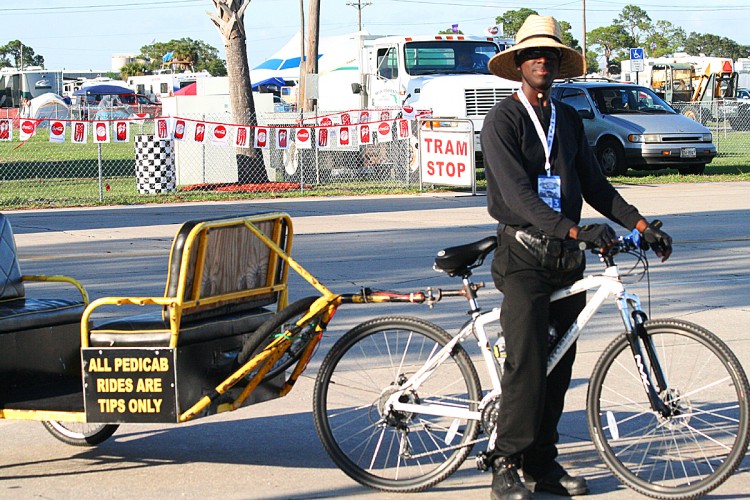 SEBRING, Fla.—It's only Wednesday and a huge flood of people has descended on Sebring International Raceway anticipating the 60th Anniversary Sebring 12 Hours this Saturday. The vast acreage within and around the track is is already half full, and the largest influx of fans won't come until Friday after work.
Judging by the turnout Wednesday, 2012 will be the best attended Sebring 12 Hours ever.
The housing market might be weak in some areas, but construction in Sebring Village is in full swing. The massive infields are already home to hundreds upon hundreds of motorhomes, trailers, campers, cars, trucks, and tents. Fans have erected scaffolding and built wooden viewing platforms, even set up restaurants.
Some of these people have been coming to the same Sebring campsites almost since the beginning. One set, a group of friends calling themselves McGruffs ("Free Beer Tomorrow" one of their banners proclaims; thing is, it is always today) have been attending the event for 47 years, always camping in the same spot.
There are even neighborhoods—the loud and rowdy Turtn Ten, the quieter but still extremely sociable Turn Five, and for the older folks who need more sleep at night, the Ulman Straight and Turn 17.
On top of what the fans bring, the track provides, showers, wifi, even ATMs. There are vendors of ever sort of unhealthy but delicious food imaginable (fried bubble gum?) as well as a wide variety of more normal fare.
The place even has its own pedicab. No aspect of a modern city is missing.[etssp 530]
For this week, Sebring Raceway becomes a community. Walk through the campsites and show interest, and people will regale you with stories from past Sebrings, offer you dinner, invite you to stay awhile.
Of course, the focus is the racing, but people will wait until the cars go by and pick up the conversation where they left it. With several days of racing and socializing, there is ample time for both.
For those who cannot experience it themselves … well, sorry. The next best thing is live coverage online on ESPN3.com, and ABC will broadcast the best parts starting noon Eastern. But for anyone in driving distance, get your tickets at Sebringreaceway.com and head out. With a 64-car field and quite possibly the biggest crowd in the history of the race, this is going to be a racing event people will brag about attending for years to come.