Sebastian Vettel and Red Bull Racing returned to their winning ways with a powerful performance in the Formula One Bahrain Grand Prix. The two-time world champion led flag-to-flag; though he was pressed hard for a few laps by 2007 world champion Kimi Raikonnen, the Red Bull driver didn't make the slightest error, finishing 3.3 seconds ahead of Raikonnen's Renault.
Renault took the third podium spot as well, the first for Romain Grosjean. Mark Webber brought his Red Bull Home fourth.
Sebastian Vettel looked like the Vettel of old (odd as that is to say about a 24-year-old;) He exploded off the line and opened a gap of 2.2 seconds by the end of the first lap. He stretched that to 10.8 seconds before he pitted on lap 12; even though he was pushing that hard, he kept his ties alive for 12 laps.
Later in the race the two Lotus cars trailed him closely, but only once was Kimi Raikonnen in a position to try a pass, and Vettel shut the door. The rest of the race was typical Vettel: quick laps, no errors.
"I think it was an incredible race. Extremely tough. Sometimes we had a decent gap but still … " Vettel said in the press conference on Speed TV. "We had a very good start, which was crucial. I was able to pull away immediately and pull away from the pack. That turned out to be a big advantage because we always had to go on a used set of tires as we used nearly all of them yesterday in qualifying.
"I can only say a big thanks to the boys in the garage. I said it yesterday: incredible job they've done over the first four races.
"The amount of work they had and that we gave them  because we weren't happy with the car and we asked for little tweaks here and there and they came back with new parts, old parts, back with the new parts, back with the old parts, back and forth—extremely tough and they spent a lot of hours in the garage trying to get the car to our liking.
"I think we got it this weekend together for the first time and I was very happy in qualifying and throughout the whole race."
Kimi Raikonnen had saved tires in qualifying, accepting a poorer grid position in exchange for better race pace. Despite having new tires for every stint, and about seven miles per hour top-end advantage, the flying Finn couldn't get around Vettel.
Apparently the Lotus bought speed with downforce—the Lotus lacked grip, particularly when under the red Bull's wing. Vettel was quicker out of corners even as the Lotus was faster approaching; in the end, the red Bull had the better balance.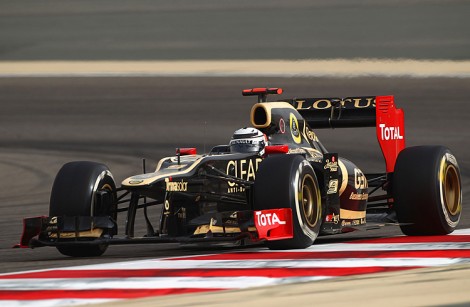 Raikonnen, in his typically laconic style, explained the race from his perspective:
"I think we gave ourselves a chance at least. It's a bit disappointing that I didn't manage to do it. But I made a small mistake at the beginning and lost one place to Ferrari. I had to re-overtake him and it took a little time.
"I got past the people quite easily but if you look in the end I think we still took too long and we couldn't win the race. But at least we got the podium with both cars.
"I think the team deserves what we have achieved now. We have been working hard. We've not been 100 per cent happy with how the weekends have run so far but finally we've got some proper results for the team, so it's an important step.
 
"It's always easy to say afterwards 'if we had done that' but in the end we were not fast enough to win and we have to take the second. I got one chance on Sebastian but I chose the wrong side under braking, so that was it really.
"It's disappointing to finish second but after the last race we have to take it and be pretty happy."
Next: Horrible Day for McLaren