A typo in ad copy can be embarrassing, but it usually isn't life-changing. But there's one typo that grew into one of the most popular holiday traditions in the United States.
It all started when Sears—one of America's oldest national retailers—published the wrong phone number on a cute ad designed to foster children's belief in Santa Clause in 1955.
The ad ran in the Colorado Springs newspaper with a phone number for kids to call Santa. The round-nosed Santa with a fluffy vintage beard invited kids to pick up the phone: "Call me on my private phone and I'll talk to you personally, any time day or night, or come in and visit me at Sears Toyland."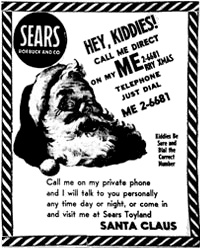 Sears Toyland used to be like a wonderland for children, and it's where the department store used to station Santa for holiday pictures, and a check-in with children about how good they had been to earn their Christmas gifts.
The ad, however, misprinted one digit, and the kids ending up calling Continental Air Defense Command (CONAD), the government entity responsible for U.S. air defense until 1975. Rather than tell children there was no Santa, employees at CONAD embraced the opportunity, and over time it evolved into the much-loved Santa Tracker.
Each year, 1,500 volunteers field more than 140,000 calls from children and adults alike who want to know when Santa will reach their home. Satellite systems, high-powered radars and jet fighters, are used to track the elusive Santa Claus.
Today, as the storied retailer files for Chapter 11 bankruptcy protection where it is expected to close its hundreds of stores across the country, the wrong number on that Christmas ad will still remain as an enduring legacy.
NORAD's Largest Outreach
"It all started with the Sears ad long ago, and developed into our largest outreach program," said Maj. Mark R. Lazane, Public Affairs Officer, from North American Aerospace Defense Command (NORAD) Strategic Outreach Division. NORAD succeeded CONAD and currently protects United States and Canada's air space.
"We feel the program, it has become such a legacy. We had grandparents, and now we have kids and grandkids tracking," Maj. Lazane added.
Santa Tracker receives calls, emails, and social media queries from around 200 countries. NORAD engages 1,600 volunteers every December, until Christmas eve, a mix of military and civilians, who work the operation center in two-hour shifts.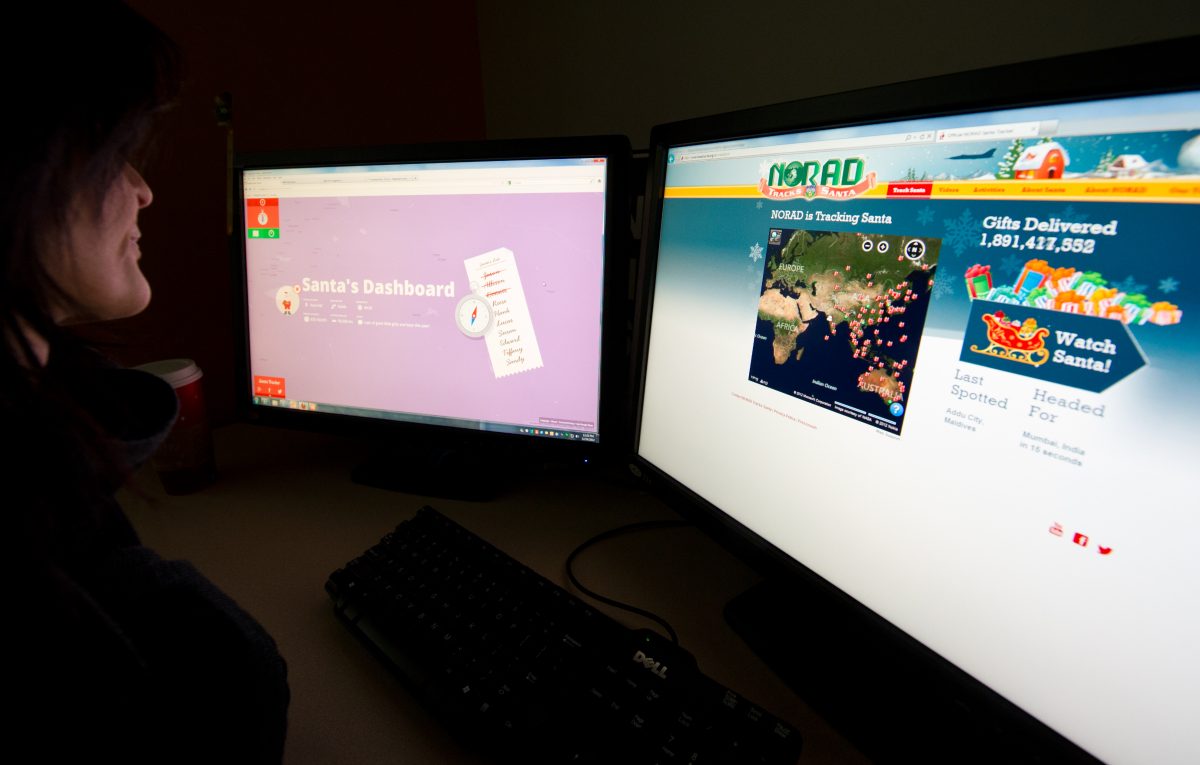 "When someone calls and asks when Santa is going to arrive," said Maj. Lazane, "we never know his exact route.
"But we do know he always arrives between 9 p.m. and midnight. We do know it helps parents with their little, excited ones."
Christmas Cheer All Around
Where there are children and Santa, there's bound to be excitement and surprises! NORAD's operation center in December is the best place for anyone to be.
Kids can ask things that can throw the entire room into guffaws, according to Maj. Lazane.  "Let Santa know he can wear shorts when he gets here. It's hot!," is what one child said.
Another asked, "Will Santa know my address if I'm adopted?"
Such innocence and cheer can attract anyone. No wonder Santa Tracker has become a tradition both with the kids and the volunteers.
"People [volunteers] fly from around the country just to do it. So it's exciting for them as well, and not just for kids," said Maj. Lazane.