A green sea turtle that was found with a 3-foot-long spear in its neck is the latest in a string of attacks on the endangered species in Florida this year, according to reports.
The 150-pound turtle, which has been named "Splinter," was discovered in distress entangled in trapline on Carysfort Reef off of Key Largo by a boater. It was found with a spear that went through more than half of its body on Sept. 7, reported Fox 35 Orlando.
Watch:
The sub-adult turtle was rushed to the Turtle Hospital in Marathon, Florida, for emergency surgery, where the spear was successfully removed by veterinarian Dr. Doug Mader, the hospital said in a statement obtained by The Epoch Times.
"Update on Splinter, sub-adult green sea turtle speared! No words for this horrific act," the hospital posted on Facebook alongside a photo of the turtle pre-surgery.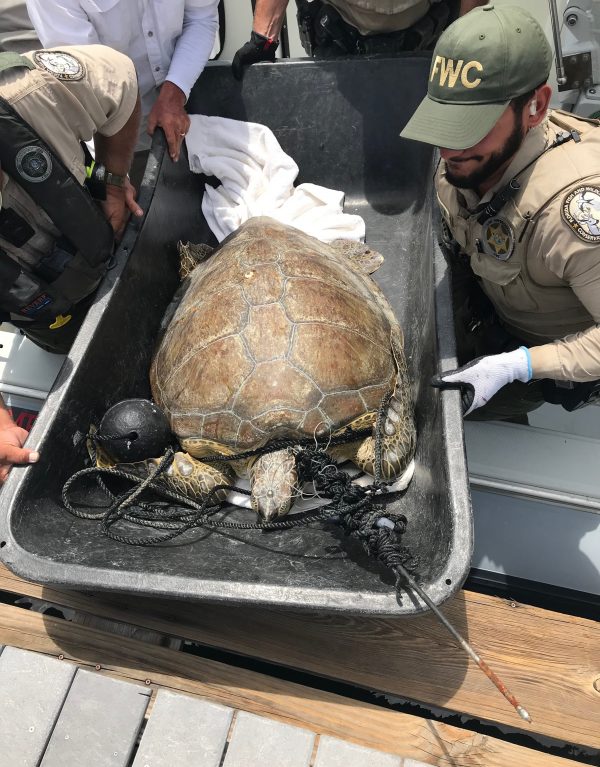 The hospital's manager, Bette Zirkelbach, said officials believe the spear was thrown deliberately.
"It's highly unlikely this was an accident as the turtle has an injury on its plastron that looks like someone tried to spear her on her underside," Zirkelbach said in a statement.
All species of sea turtles are endangered or threatened, and are protected under the United States Endangered Species Act of 1973 and Florida's Marine Turtle Protection Act. It is against the law to harm or harass the species, as well as their hatchlings and nests.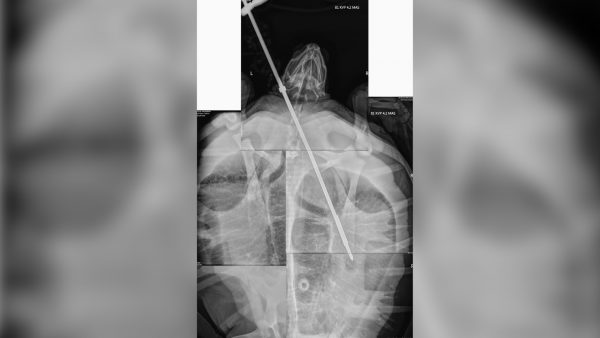 Splinter was in stable condition and "active and looking good in water" one day after surgery, said the Turtle Hospital, which posted a video of the sea turtle swimming in a small tub.
"Splinter is spear free!! Post surgery at the Turtle Hospital!" the hospital wrote on Facebook.
According to Fox 35, it is likely Splinter will be released back into the ocean after she makes a full recovery.
The Turtle Hospital's chairman of the board Richie Moretti is offering a $5,000 reward for information leading to the arrest and conviction of the person, or persons, who speared Splinter, the hospital said in a statement.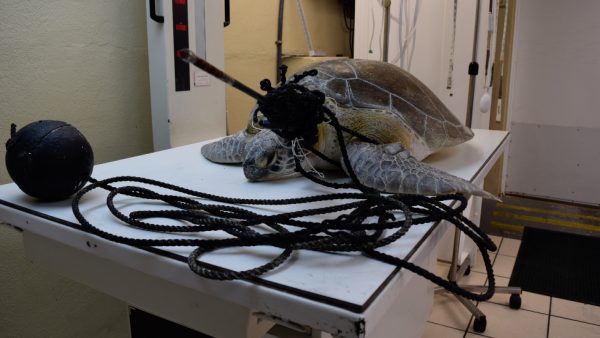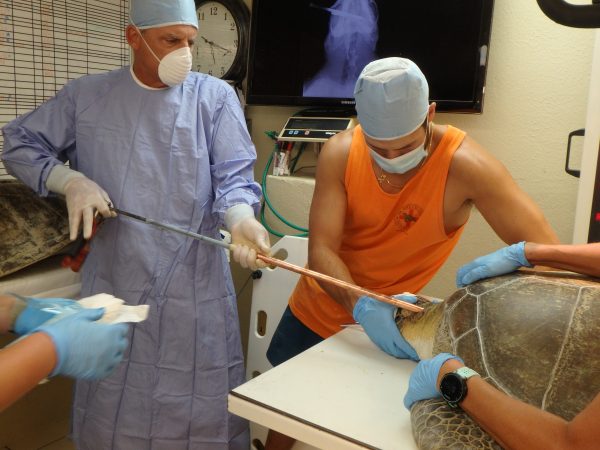 The incident is the latest in a series of similar attacks against the species in Florida this year.
In June, a sea turtle was found dead with a spear through its head in Florida, prompting a manhunt.
The sea animal was found dead in Florida's Biscayne National Park, located in the Florida Keys.
Biscayne National Park Marine Patrol Officers are investigating a poached sea turtle that was discovered with a spear shaft through its head," the park said in an announcement on Facebook.
"If you have any information about the poached sea turtle, please contact Biscayne National Park dispatch at 305-242-7740."
Patrons of the park shared their dismay over the development in the comments section of the Facebook post.
"This truly speaks volumes of cruelty! Let's hope and pray that whoever did this will be found, arrested, and punished to the fullest extent of the law!" said one user.
"That just breaks my heart, people are horrible," said another.
The Florida Fish and Wildlife Conservation Commission says that "the take, possession, disturbance, mutilation, destruction, selling, transference, molestation, and harassment of marine turtles, nests or eggs" is restricted by law.
According to CNN, the suspect could face $50,000 in fines and a year in prison.
The Turtle Hospital urges anyone with information about who speared Splinter to get in touch on (305) 743-2552.
Baby Sea Turtles Burned to Death
In a separate attack on the threatened species this month, a Florida woman discovered the charred corpses of sea turtles and an egg at a beach.
Rhonda Wundke made the discovery on Sept. 1 while walking along High Tower Beach in Satellite Beach with her husband.
"I want to report a crime. These baby turtles were found at High Tower Beach today 9/1/19," she wrote on Twitter. "They have been set in fire [sic]. Baby turtles and over there place burned even found an egg. I'm saddened and very angry!"