For several years, conservationists have been puzzled by thousands of brightly colored rubber bands appearing on an uninhabited island off UK's southwestern tip.
Their new theory is that sea birds have been mistaking the bands for worms, according to UK conservation charity the National Trust and the West Cornwall Ringing Group, which has been monitoring bird colonies on the island since 2013.
While scavenging for food, the birds have been scooping them up in their beaks, eating them, and then regurgitating them on the uninhabited Mullion Island, about a kilometer (just over half a mile) off the Cornish coast.
The little rocky outpost is a sanctuary for several bird species with vulnerable populations, including great black-backed and herring gulls, as well as cormorants and shags.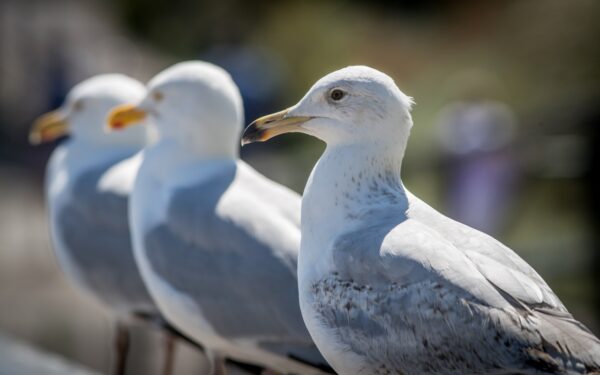 Experts Think They've Solved the Mystery
Conservationists usually try to leave the birds alone and limit their incursions into the avian refuge. But they made a special trip this fall, outside of nesting season, to clear litter on Mullion Island and try to crack the case of the mysterious rubber band appearances.
It wasn't hard to find tan, yellow, and green bands strewed about among pellets regurgitated by the birds.
Pellets contain the undigested parts of food birds have eaten—for instance, bones or teeth.
"Within just an hour, we'd collected thousands of bands and handfuls of fishing waste," Mark Grantham, from the West Cornwall Ringing Group, said in a press release.
Human access to the island is prohibited, except for those with a permit. But a human presence is making itself felt because of what the birds are bringing to the island.
In addition to the rubber bands, they also found green fishing net and twine mixed with undigested food.
They think the bands are coming from horticultural fields nearby, where they're used to tie cut flowers together in bunches, the West Cornwall Ringing Group said.
The Birds are Endangered
"Despite being noisy and boisterous and seemingly common, gulls are on the decline," Rachel Holder, a ranger for the National Trust, said in the statement. "They're already struggling with changes to fish populations and disturbance to nesting sites—and eating elastic bands and fishing waste does nothing to ease their plight."
The herring gull is on the UK's Red List, a designation for species experiencing a severe decline. Its population has declined 60% since 1969, according to the National Trust.
The population of great black-backed gulls is on the Amber List, signifying moderate decline—about 30% in recent decades.
"Places like Mullion Island should be sanctuaries for our seabirds, so it's distressing to see them become victims of human activity," Holder said.
The National Trust says it's "calling on businesses to consider how they dispose of plastic, latex, and other materials that could cause harm to wildlife."