The Kurdish-led Syrian Democratic Forces (SDF) said on Oct. 12 that securing prisons holding ISIS suspects is no longer its priority and that it's more focused on fighting the Turkish forces and defending its people.
"Securing ISIS detention centers or chasing sleeper cells is not our priority. We are solely focused on fighting Turkish aggression and protecting our people from it. World can handle ISIS issue if they really care about it," senior SDF official Redor Khalil wrote in a message on Twitter on Saturday.
The statement came after five ISIS terrorists escaped from a prison in North-East Syria on Friday amid Turkish shelling in the Syrian border city of Qamishli.
Thomas McClure, a researcher at Rojava Information Center based in Qamishli, Syria, confirmed the escape to The Epoch Times in a telephone call. He said the escape was documented on video and was also confirmed by the Kurdish authorities in the region.
ISIS separately claimed responsibility for a car bombing in the same city.
"An explosion due to a car bomb happened now nearby an ISIS prison in Hessakeh province, ISIS sleeper cells are taking advantages from the Turkish offensive on NE Syria since the level of SDF protection for prisons and detention centers are getting weak/low," said Mustafa Bali, an SDF spokesperson in a message on Twitter on Friday.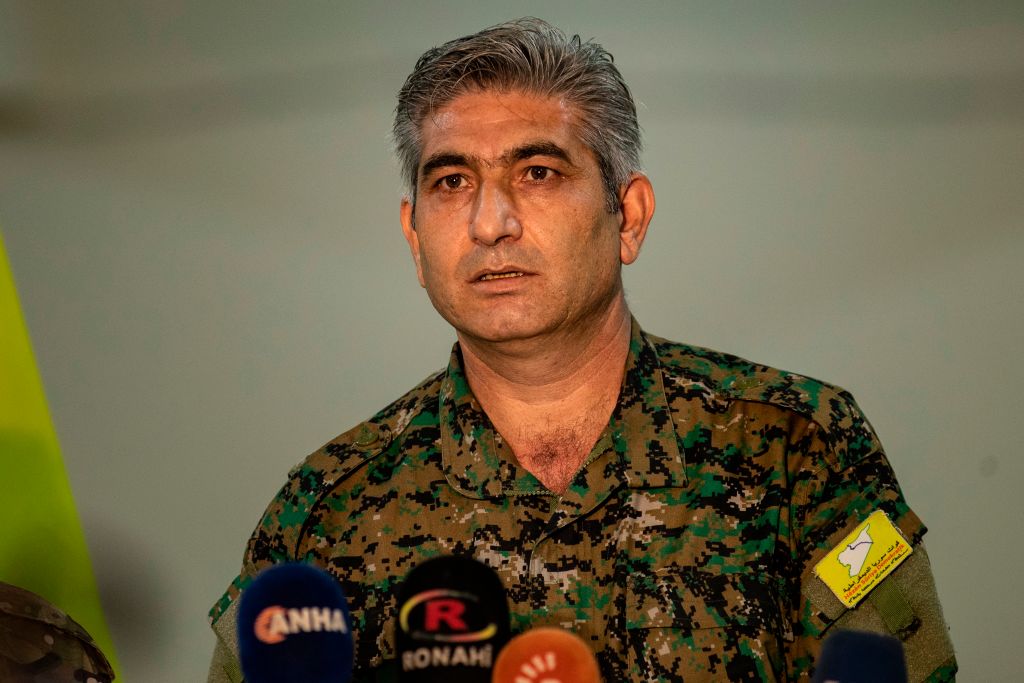 McClure said this is not an isolated incident and similar things are happening in other prisons holding ISIS suspects.
"Of course, this is not the only incident, there's a lot is going on in the IS holding facility and prison around the country, sorry, around northern Syria," said McClure.
Robin Fleming, another researcher at the Rojava Information Center based in Qamishlo North-East Syria, told The Epoch Times by email that the Turkish attack that President Recep Tayyip Erdogan launched on Oct. 9 against the Kurdish-led forces has led to a humanitarian crisis.
"The conditions of the civilians are reaching the level of a humanitarian disaster. With the estimated number of displaced civilians between 60,000 and 100,000. Our team on the ground has seen families with all their possessions in the back of a truck, people walking on foot, taking only what they can carry with their hands, all rushing to leave the cities in the face of attack," she said.
Emre Kursat Kaya, Research Fellow at the Istanbul based Turkish Think Tank EDAM, gave The Epoch Times a different picture.
"On the ground, it means the cleaning of the area by all terrorist groups. The Turkish safe zone plan foresees a 30 km (18 miles) deep zone, and the Turkish Air Force is already conducting precise airstrikes at the limit of the these 30 km (18 miles). Initially, the operation and thus the safe zone should be limited to the region between Tal Abyad and Rasulayn," he told The Epoch Times over email.
According to Kaya, this area is dominated by the Arab population. "Most of the Syrian National Army fighters, the friendly indigenous components of the operation, are local Arabs and Turkmens from the region," he said.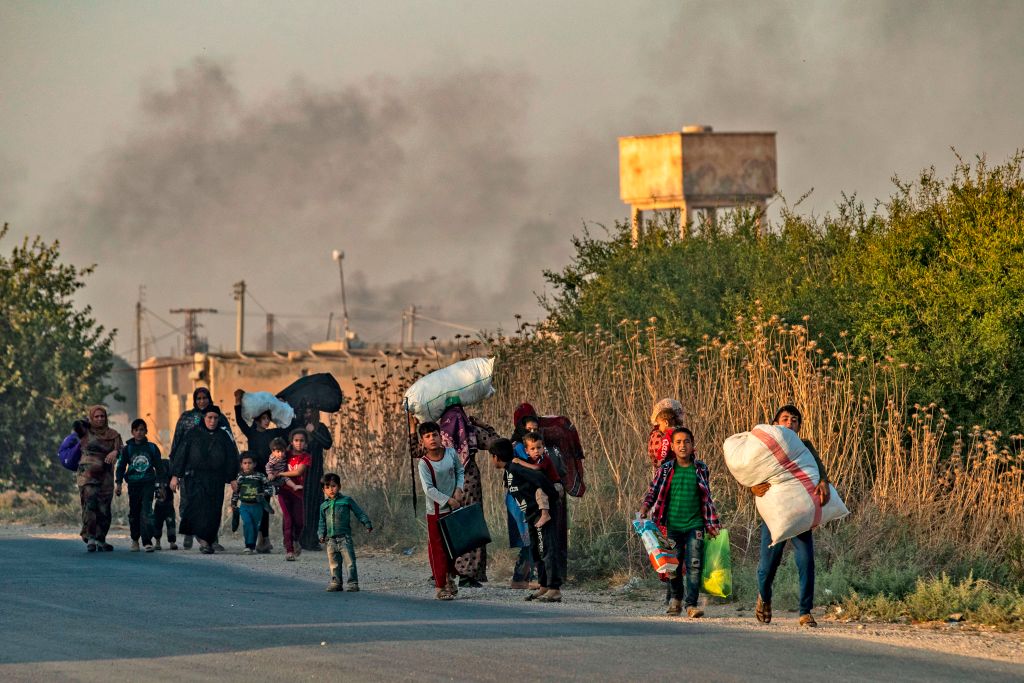 IS Terrorists Allegedly in Turkish Proxies
Some ISIS terrorists allegedly joined Turkey's Syrian Rebel Allies, according to Fleming.
"Multiple former ISIS elements are present in the Turkish-backed jihadist forces now being transferred into Turkey to attack NE Syria. Some of these individuals include:
"Abu al-Baraa al-Ansari, commander of ISIS in Deir-ez-Zor, now a commander for Ahrar-al-Sharqiya, Ammar Abdul Aziz al-Abbas from Ahara al-Sharqiya, Abdul Qader al-Saweij from Hasekah Shield, Commander Basil Nayef al-Shehab of Sultan Murad.
"These are just some of the former ISIS elements now part of forces Turkey is deploying as its proxies," Fleming told The Epoch Times.
The Rojava Information Center (RiC) had earlier released on Aug. 8 a list of 40 former ISIS terrorists joining Turkish-backed forces.
"Some names and photos were obtained by Rojava Information Center and OSINT researchers following opposition Telegram channels in Afrin, others were provided by the Foreign Relations Bureau of North-East Syria, and others identified in research presented at the International Forum on ISIS," said the RiC report.
Kaya said there's no confirmation on these reports and cautioned against misinformation campaigns coming from the region.
"When we look at the Syrian forces, we can see that Turkey chose to invite the most moderate rebel factions for this operation. These are fighters who have been forcibly displaced by PKK/YPG militants. They have been intensively trained and equipped by Turkish military advisers," said Kaya.
While Kaya said Turkey was preparing for an attack for months, Fleming said that the region would still face an ISIS threat even if the United States hadn't withdrawn and if Turkey didn't invade.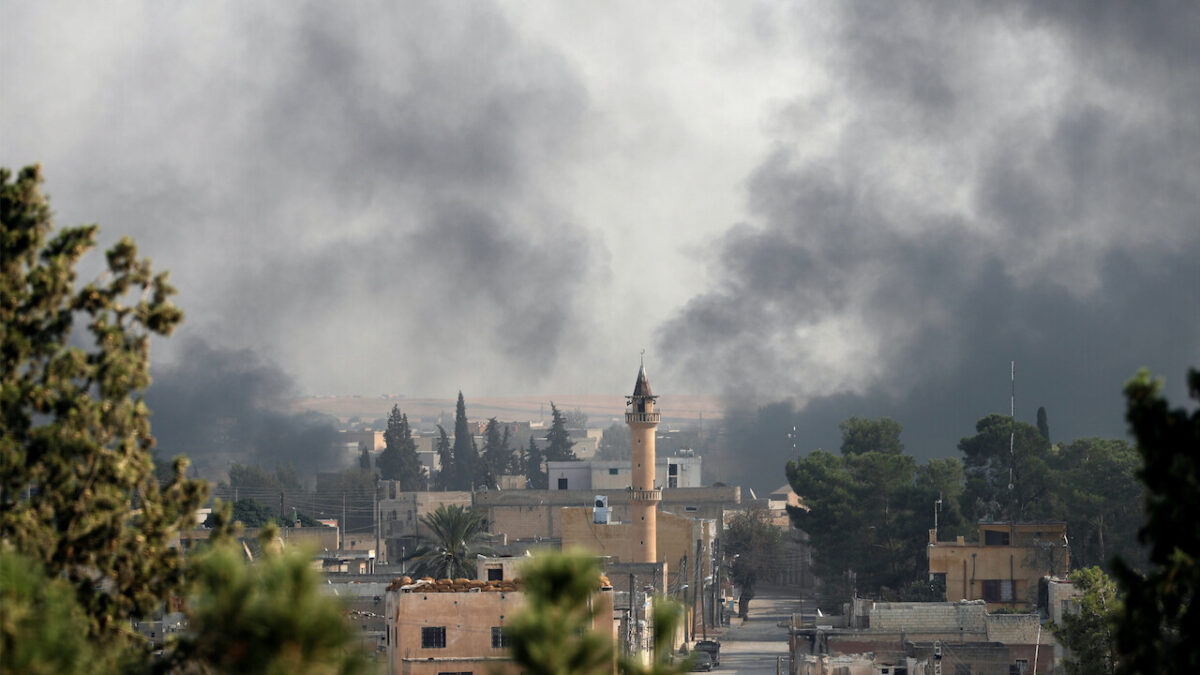 "Of course, it would not be without problems. For example, even after the territorial defeat of ISIS, ISIS and other sleeper-cells conducted regular attacks throughout north and east Syria," Fleming said.
Fleming explained that the SDF and internal security forces, Asayish, were helping to counter these attacks.
They were "helping stabilize the region with raids and arrests of sleeper-cells."
Because of the SDF's efforts, IS attacks were reduced to 51 in September from 95 in August, Fleming claimed.
"Now that Turkey has started its attacks, the stability that has been being built here is all compromised, and we can expect the threat of ISIS and other sleeper-cell groups to again increase."