HONG KONG—Bloomberg Hong Kong Scottish convincingly beat Nataxis HKFC 34-22 on Saturday Dec 3 at Hong Kong Football Club. The match was won in the first half by Scottish, who dominated play, running-out a 27-10 lead by halftime.
HKFC was first to put points on the board, with an early penalty goal from flyhalf Nate De Thierry. Then followed an impressive display by Scottish who scored 27 points, to dominate the match. They scored 3 tries; the first by flyhalf Gregor McNeish, then Jarrod Mongston and finally captain Kane Boucaut. All converted by McNeish, who add two penalty goals during the half. A penalty try to HKFC just before halftime, converted by De Thierry, meant that after 40 minutes, Scottish had a comfortable 27-10 lead.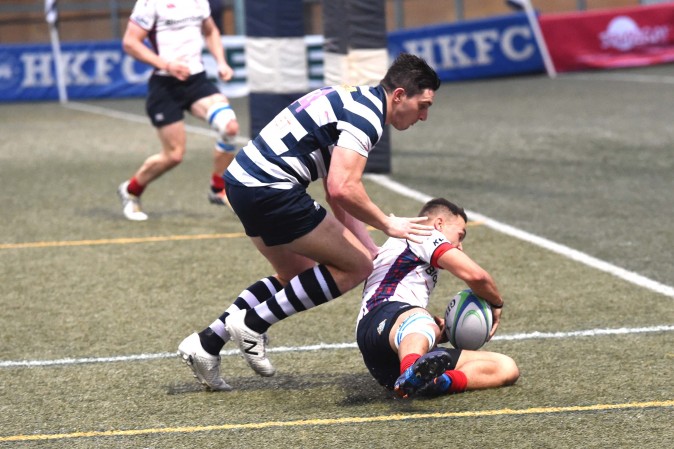 HKFC fought back in the second half, despite plenty of possession they could not impact the Scottish defense. De Thierry also missed two penalties that would have helped HKFC with scoreboard momentum. It was Scottish who scored first after 70 minutes, with prop Jack Parfitt, rumbling over the line, after Scottish decided to turn the screw on HKFC, opting for a lineout that resulted in the try instead kicking the penalty goal. McNeish converted giving Scottish a healthy lead 34-10.
Still HKFC fought, more for pride than victory: and in the final minutes scored twice. The first by centre Ben Axten-Burret, and then prop Leon Wei Hon-sum barreled over at the end. Both tries were converted, and the 37-22 score-line look more respectable at the final whistle.
It was satisfying bonus point victory for Scottish. The 5 point win means they alone command the top of the Premiership. after Societe Generale Valley despite beating Borrelli Walsh USRC Tigers, could only do so 15-10, without adding a bonus point.
HKFC will be disappointed to have let the game slip. Their final flurry salvaged some pride; the effort came too late. They paid the price for being unable to penetrate the Scottish defense and cross the gainline to create momentum and space to trouble their opponents.
In the earlier match, Valley had another lacklustre day. It was only the metronomic boot of flyhalf Ben Rimene that kept them in control of the game and saved them suffering two defeats on the trot. Valley had built a 15-3 lead before Tigers scored in the final 5 minutes, with a try from No 8 John Hrstich, to reduce the score to 15-10, and secure Tigers a losing bonus point.
In the match at Aberdeen between Kowloon and Herbert Smith Freehills HKCC, Kowloon managed their 3rd victory in succession with a deserved win over HKCC 20-10. It was a tough match, pitting the strong HKCC pack against the defensive enterprise of the Kowloon backs led by Jack Neville and Ollie Barclay. The win puts Kowloon in third place in the Premiership, and pushes HKCC back to fourth.
As it stands, Scottish head the Premiership with 28 points, followed by Valley on 27 points. There is some distance to Kowloon in 3rd with 17 points, HKCC 4rth with 14 points, HKFC 5th with 12 points and finally Tigers with 10 points. The games this season are tight contests. Valley and Scottish are setting the pace for the League, but once the Championship knock-out starts the eventual winner is an open guess.
Grahame Carder is a sports enthusiast, former player and now resident in Hong Kong.